Page 2 of 2
First, they've been working on their own chip to replace the Intel processor inside the AppleTV. If the Linux-based (like Android-based GoogleTV - which will run on Intel) Boxee Box can use the ARM Cortex A9-based Nvidia Tegra 2, Apple's chips surely can power a 1080P AppleTV.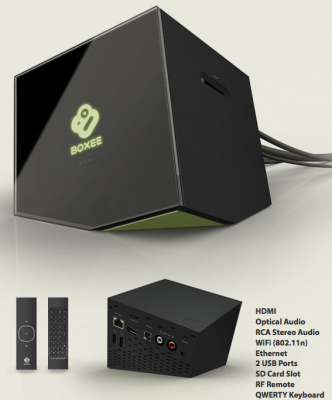 As an aside: Why did Boxee make its Box so obnoxious? I understand the need to stand out, but after 10 minutes of looking at the Box's 'wow', it immediately becomes a monstrosity to incorporate into a home theater system.
It is very possible that getting that much power out of their processor isn't going just right or perhaps setting up an Apps Store ecosystem for TV isn't working out as planned. They are working on it as this recent Job Posting shows.
Or that the other component isn't going as planned:
Steve Jobs is trying to get cable operators to agree to a plan where Apple sells just the most watched programs on its AppleTV for a certain set price. A simplified cable service with only shows that people want for a reduced price. Or sell TV episodes without commercials for $.99/each.
Apple, up until this point, could take its time getting a compelling product to market -- playing hardball with the networks and studios. Now that Google is heading down the very same path, Apple might want to step up its efforts.
Some of what makes AppleTV compelling is YouTube. What if Google offers a 1080P version of Youtube and keeps Apple where it is currently at...or pulls its content from AppleTV like Apple pulled Google Voice apps from the iPhone?
Sure, letting other company's media on the AppleTV may sacrifice some iTunes sales for Netflix or Hulu, but Apple stands to lose a lot more if Google gets a footing in this space.
As MG Siegler points out, the GoogleTV might be exactly what's needed to get Apple to unleash the real power of AppleTV.
This story, "Hey, Apple TV: Wake Up and Smell the Google TV" was originally published by Computerworld.