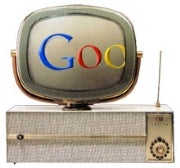 Google's eying the television as its next Web conquest. While the unconfirmed report raises lots of questions, the very idea of a Google TV and a Google set-top box, manufactured by Sony and powered by Intel, has great potential. It could also be a tremendous flop, if history's any indication (Remember AOLTV?). Here are four things you'll probably hear from naysayers, and four perfectly good rebuttals.
Reason 1: Web TV has failed in the past. At the turn of the century, several Internet-connected services emerged, letting people access the Web, e-mail and other content you can't get through cable. Where are they now? Exactly.
The Rebuttal: That was 10 years ago, before YouTube, Hulu, Twitter and Facebook. Major manufacturers including LG, Samsung, Vizio and Sony now build Internet widgets into their televisions, and there set-top boxes galore from Roku, TiVo and Apple. If Web TV didn't have potential, there wouldn't be so much interest from the big players.
Reason 2: Apple TV and Boxee, when combined, basically do the same thing Google reportedly wants to do. And Apple TV hasn't taken off.
The Rebuttal: Combining Apple TV and Boxee is a niche solution. A Sony television powered by an Intel chip and Google's Android is already more marketable simply due to the brand names involved.
Reason 3: Google TV would rely on creative applications from third-party developers. But right now, TV app development is a mess. There are too many platforms and not enough incentive to make software for any of them.
The Rebuttal: Android could solve this problem if it was easy enough to develop for both phone and television. Developers won't view TV app creation as a waste of time if their work can also be sold as a cool mobile app in the Android Market.
Reason 4: Web TV isn't ready for primetime yet. It's too slow, the quality's not good enough, and you can't get the same content as cable.
The Rebuttal: That's true now, but things could be different by the time Google TV becomes an actual product. Besides, Google doesn't give up on ideas easily. If the company's persistent enough, this could be the force Web TV needs to become a true cable alternative.
This story, "Can Google TV Conquer the Boob Tube? You Decide" was originally published by PCWorld.