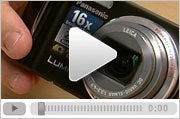 Panasonic's Lumix DMC-ZS5 is a 12.1 megapixel digital camera with an ultrawide lens that has excellent picture quality and image sharpness. This edition of the camera has added full manual controls, and the zoom motors on the camera's lens are very quiet, which is helpful in shooting video.
This story, "Panasonic's Lumix DMC-ZS5 Digital Camera Features Manual Controls And a Top-Notch Lens" was originally published by PCWorld.
At a Glance
Generic Company Place Holder Panasonic Lumix DMC-ZS5 Compact Camera

TechHive Rating

The Lumix DMC-ZS5 brushes aside most fancy extras and gets down to brass tacks. Its manual controls and fast-focusing 12X-optical-zoom lens make it a big step up from 2009's Lumix DMC-ZS3.
Shop Tech Products at Amazon