Tips on Reusing Old Electronics for DIY Projects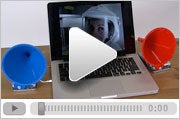 A new book, "62 Projects to Make With a Dead Computer" by Randy Sarafan, includes a large variety of DIY tips that can help you find new uses for old electronics. Using its instructions, PCWorld's Nick Mediati turns a set of earbuds into speakers.

Amazon Shop buttons are programmatically attached to all reviews, regardless of products' final review scores. Our parent company, IDG, receives advertisement revenue for shopping activity generated by the links. Because the buttons are attached programmatically, they should not be interpreted as editorial endorsements.