Google Nexus One Smartphone
Google Nexus One

The Google Nexus One impresses with a stunning AMOLED display, speedy performance, and cool tweaks to the Android OS; but some network issues prevent it from being a superphone.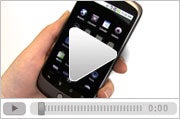 The Google Nexus One trumps other phones in performance, display quality, and speed. But the native Android soft keyboard is in desperate need of a redesign. And throwing in multitouch--to enhance the navigation and typing experience--wouldn't hurt.
For comprehensive coverage of the Android ecosystem, visit Greenbot.com.