Olympus Pen E-P2: A Compact and Creative Digital Camera
Olympus PEN E-P2 Mirrorless Camera

The Olympus Pen E-P2 serves up unique in-camera controls and an attractive, durable design, but it costs significantly more than an entry-level DSLR, lacks a built-in flash, and has autofocus issues.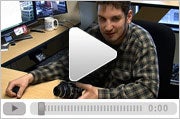 The $1100 Olympus' Pen E-P2 is the newest entry in the company's interchangeable lens line of Micro Four-Thirds cameras. Senior Editor Tim Moynihan expecially liked its selection of art modes and its crisp 720p HD video capability.