Page 3 of 3
Recording/Live Sound
Korg SOS (SOUND on SOUND) Unlimited Track Recorder: This pocket-sized multi-track touchscreen recorder allows you to overdub your recordings as many times as you want, while helping bring your creativity to the next level.
There are many handy features, including loop recording and Sound Stretch, allowing you to change the playback speed of your recordings without affecting the pitch. In addition to the internal mic, there is an external microphone jack, dedicated guitar input, and line input for an external audio device. Also included are 100 effects that can be layered onto tracks both during and after recording. There are even on-board rhythm patterns, useful in situations where you might need a little inspiration or at least a tempo guide.
Each overdub is recorded to individual tracks as WAV files at 44.1 kHz/16-bit resolution. You'll be undo/redo as many times as you want, and then move those files onto a computer-based DAW by the use of a microSD or microSDHC card.
It will be available in April for $400.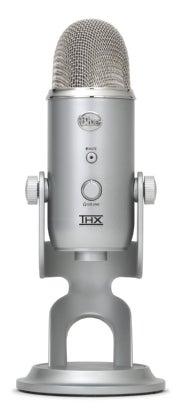 Blue Microphones Yeti USB Condenser Microphone:. Blue Microphones can stand proud as being the first company to produce a THX-Certified microphone. The Yeti boasts four patterns (Omni, Cardioid, Stereo, Bidirectional) for "incredible versatility and superior results in any situation". It also includes studio-quality performance and features, with zero latency, amplified headphone monitoring, microphone mute, and hardware-based gain adjustment.
The Yeti has a driverless installation and works with both PCs and Macs. It has an estimated MSRP of $150.
Mackie HD Series Powered Subwoofers: Mackie has released the 15-inch HD1501 and 18-inch HD1801 subwoofers as complements to its highly successful HD Series High-Definition Powered Loudspeakers. These compact units include Class-D Fast-Recovery amplifier technology and deliver up to a whopping 1600 watts (800w RMS) of peak power in the HD1801 and 1200 watts (600w RMS) in the HD1501.
These beauties were designed and finely tuned by Eastern Acoustic Works (EAW) and contain active electronics with 3-band EQ. Both subs are pole-mountable and flyable (meaning, you can hang them) and their all-wood 15mm birch plywood construction makes them able to handle just about anything, or as Mackie says "Built-Like-A-Tank". The HD1501 has an MSRP of 1099.99 and the HD1801 has an MSRP of $1249.99.
Honorable Mention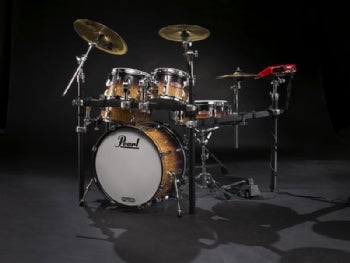 Pearl E-Pro Live Electronic Drumset: Pearl has created an electronic drumset that looks, feels and sounds like real drums! The set features 10-inch, 12-inch and 14-inch toms, a 14-inch snare drum, and a 20-inch bass drum (the sizes found on real acoustic drums), while the cymbals (a 3-zone ride, a crash, and hi-hats) on the E-Pro Live are Pearl's E-Classic high-end electronic cymbals, made with real brass.
One of the highlights of the E-Pro Live is that you can replace the electronic heads (Pearl's Tru-Trac Electronic Heads) with acoustic heads, so you're basically getting two drumsets in one.
The E-Pro Live powered by the r.e.d.box drum module which utilizes 128MB of memory, contains 1000 high definition sounds and 100 high definition kits, and has space for 100 user-created kits. Additionally, Pearl has teamed up with professional digital drum samplers Toontrack, Sonic Reality, Ocean Way, Steven Slate Drums, Virtual Drumline and BFD, to utilize the r.e.d.box's "Memory Switch" feature, which will allow you to flash the memory of the unit and substitute it with other high-end sound kits, which will be available on redboxsoundshop.com.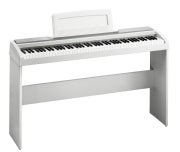 Korg SP-170 Digital Piano: Simple and sleek with an emphasis on playability and sound, the Korg SP-170 features a full 88-note keyboard with naturally weighted hammer action keys that resemble and feel like "real" acoustic piano keys. There are eight different useable tones and selectable Reverb and Chorus effects. It can also be used as an input device via the MIDI output.
The SP-170 has a built-in sound system with oval-shaped speakers, but more importantly has dual headphone outputs for situations like parent/child or teacher/student interactions. Students and hobbyists in the market for a straightforward, workhorse digital piano without all the unnecessary flair will appreciate the SP-170's simplicity, tonal quality, and relatively low price.
The SP-170 comes in two colors--black and soft white--and will come packaged with a music rest and sustain pedal. It will be available in April 2010 with a retail price of $600.
Korg WiTune Wireless Tuner: Korg touts the WiTune as ideal for tuning "any instrument in any situation, unobtrusively, accurately, and easily." The WiTune is comprised of two parts--the transmitter clip and the tuner--and is powered by 2 AA batteries. The transmitter clip attaches to your instrument and sends a wireless (2.4GHz) signal up to 5 meters away to the tuner. The tuner unit has a built-in mic and Sound Out mode that creates a reference tone for tuning by ear.
The WiTune comes in three models: The WR-01 for Guitars and other stringed instruments, the WR-01BW for Brass and Woodwind instruments, and the WR-01S that comes with a strap and is intended for use with instruments like Saxophones and Clarinets. All models are available at $150 MSRP.
Blackbird Guitars Carbon-Fiber Ukulele: Blackbird attempts a drastic renovation to the Ukelele by reinventing it completely with a (proprietary) hollow neck and all carbon fiber unibody construction. For those wondering why anyone would ever want a stringed instrument made out of anything other than wood, apparently carbon fiber is supposed to be more acoustically efficient than wood, and more importantly it is resistant to humidity, which is the bane of all wooden instruments.
Strutting its ability to resist the elements while remaining exceptionally loud and full of tone, Blackbird Guitars has designed this unique, ultra-lightweight ukulele to be the "ultimate travel instrument" (in addition to its carbon-fiber guitars). It will be available in Spring 2010 with a street price of $999.:
For more information about the NAMM Show, visit NAMM's Web site, and for more news from NAMM, check out Harmony Central's coverage.
What else would you have liked to have seen come from NAMM? Leave a comment with your thoughts!
This story, "New Music Gear Makes a Splash at NAMM 2010" was originally published by PCWorld.