Page 2 of 3
Guitars and Amps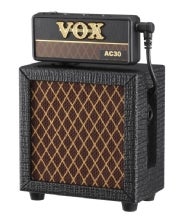 VOX amPlug Cabinet: VOX created quite a stir in the guitar community with its amazing amPlug headphone amplifiers and attempts to continue their hot streak with the all-new mini cabinet that transforms your VOX amPlug units into a tabletop mini-stack.
The amPlug plugs into your electric guitar like a regular cable and, with the use of your headphones, makes for a very portable, private and enjoyable practice session. These powerful preamps faithfully reproduce VOX-quality sound without disturbing the people around you anywhere you practice.
Continuing the themes of portability and quality, the VOX amPlug Cabinet is an add-on unit for your amPlug unit, which is powered by a 3-inch speaker that outputs around 0.7 watts and weighs a mere 0.65lbs, making it ideal for jam sessions with your buddies or even a little street performing. A 9V battery will give you up to 10 hours of play time. The cabinet will cost $50.
IK Multimedia's Amplitube 3: Arguably one of the best guitar/bass amp modeling software programs on the market to date, IK Multimedia has upgraded its popular Amplitude to its third version.
Amplitube's drag-and-drop user interface promises to make sound modeling as quick and painless as possible. Simply connect your guitar or bass to your PC or Mac, load up your favorite DAW (digital audio workstation) or use Amplitube as a standalone application, and start tinkering with over 160 pieces of gear – mix, match, and start making music. Inside the package are 51 individual stompboxes and effects, 31 amplifiers, 46 speaker cabinet models, 15 high-end stage and studio mics, and 17 rack effects.
The software will also be expandable with other IK Multimedia software. Preorders start at $349.99, but current users of other IK Multimedia software can upgrade starting from $199.
DigiTech's JamMan Solo and JamMan Stereo Looper Pedals: While looper pedals are nothing new to guitar players, DigiTech has done its best to create a pair of the most convenient and non-visiually-intimidating looper pedals to-date. Both pedals will allow you to record up to 35-minute long CD-quality loops. Both can record up to 99 different loops on separate tracks.
The JamMan Stereo will allow up to 16 hours of storage, and the JamMan Solo will allow up to 48 hours. If that's not enough space, both pedals have an SD-expansion slot perfect for the ultra-creative types.
Besides the metronome with multiple sounds and time signatures, one of best features available on both pedals is USB-connectivity (for both PC and Mac), which will allow you to save and organize your JamMan loops with DigiTech's free JamManager software. For more information, take a look at DigiTech's website here:
Grid1's G1: World's First Lithium Battery-Powered Guitar Tube Amp: Measuring in at 27-by-10-19 inches, and weighing around 40 pounds, Grid1's G1 (BPT212) is the first tube amp to be powered by built-in rechargeable lithium batteries.
It pumps out 60 watts (RMS) with its Eminence high-quality neodymium magnet speakers to produce a warm tube sound. Features include a clean and distortion channel with tone controls (treble, mid, and bass) for each channel, a proprietary double reverb circuit useable on each channel, and an "effects send/return that allows the 'send' input to act as a preamp out if no return is present".
There are "green" options for the construction of your G1, including a bamboo cabinet made of the highest quality bamboo plywood, and a hardwood elm cabinet that comes from salvaged fallen trees. A special plaque is mounted on every G1 amplifier made of local wood so that customers will know all of the details about the wood used in it. Pricing will be around $3995.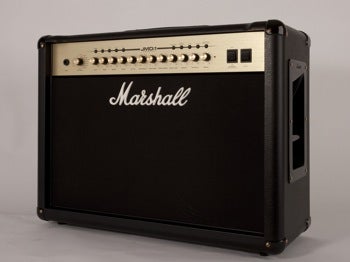 Marshall introduces JMD:1 Series Amps: Marshall's new JMD:1 series hybrid amps integrate an all-valve power amp, advanced digital preamp and studio-quality multi-effects to create a powerful library of sound.
The JMD:1 is powered by EL34 pentode vacuum tubes to produce the distinct Marshall sound. The digital preamp offers 16 different presets that are divided into clean, crunch, overdrive, and lead categories.
The JMD:1's range of effects include: modulation effects (chorus, phaser, flanger, and tremolo), delay effects (with Tap-Tempo timing, Hi-Fi, Analog, Tape or Multi voicings, and Reverb), and the Series/Parallel FX loop, which offers dedicated dry/wet mix control.
In addition to a headphone output and unbalanced (1/4") line output, there is also a balanced XLR line output on the back panel that will remove need to mic up the speakers during performances.
Next: Recording and honorable mentions!