CES 2010 Predictions: What's on Deck for Cameras?
Page 2 of 2
Pocket Megazoom Boom
Just a couple of years ago, you needed a fairly bulky camera to get a lens with an optical zoom range greater than 10X. Now, you can fit a high-zoom camera in your pocket. One of the big developments of 2009 was the introduction of compact cameras with wide-to-telephoto zoom ranges of 8X to 12X.
The ultimate pocket megazoom model might rear its head in 2010, sporting RAW-shooting capabilities, both automatic and manual settings, 12X to 15X optical zoom, HD movie shooting with the zoom lens enabled, fast autofocus, and library-quiet lens motors. It may also have other in-camera goodies that will depend on who makes it; major manufacturers have carved out their pocket-megazoom niches in the past year.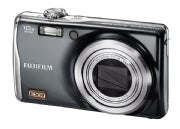 In 2009, the Fujifilm FinePix F70 EXR offered both a 10X-optical-zoom lens and the company's adaptable EXR sensor in a 0.9-inch-thick frame, making it one of the most versatile pocket cameras currently available. The 10X-optical Casio Exilim EX-H10 also came in at less than an inch deep, with fun in-camera features aimed at the young crowd; in its next models, the company may very well add its specialty high-speed shooting mode to the mix.
Thanks to practically silent zoom motors and quick autofocus, the 8X-optical Panasonic Lumix DMC-ZR1 excelled at shooting both stills and video. The company's other 2009 megazoom offering, the 12X-optical-zoom Lumix DMC-ZS3, had fully automated settings that made it dead-simple to operate.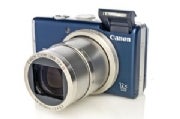 Though the 12X-optical-zoom Canon PowerShot SX200 IS was the bulkiest of 2009's pocket-megazoom lot, it also offered the best mix of manual settings for experienced photographers. And the AA-powered Kodak EasyShare Z915, a 10X-optical-zoom model that costs only $200, had the best mix of features for a budget-friendly camera that we've seen.
Which company will offer the ultimate blend of pocket-megazoom features for both rookie snapshooters and experienced photographers? We'll probably find out at CES (or shortly thereafter at PMA).
The Perfect $200 Point-and-Shoot
The crop of $200-or-less cameras announced at the 2009 CES served up serious bang for the buck, and this year's models should offer even more value for the money. In fact, the $200-and-less category has even started developing subcategories of its own, including pocket megazooms, fashion cameras, AA-powered models, and weather-resistant versions.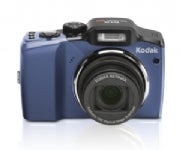 When we conducted our 2009 post-CES roundup of $200-range cameras, several bargain-bin models outscored higher-priced competitors in our subjective image-quality tests. And in terms of sheer specs, it was hard to top the 10X-optical-zoom Kodak EasyShare Z915, which also offered aperture- and shutter-priority controls for just $200.
In new $200 cameras coming in 2010, we're hoping to see wide-angle lenses, 5X to 7X optical zoom, 3-inch LCDs, manual settings such as aperture and shutter priority, and HD video recording (we'll settle for 720p). And they should look good, too.
Of Course, a Few Surprises
We should also leave a bit of room for the unexpected in 2010, as 2009 was a year of experimentation. The year staked claim to some innovative, seemingly out-of-nowhere developments in the camera realm; among the most innovative cameras were the following models.
-- Fujifilm's FinePix Real 3D W1 dual-lens camera created 3D images and video (if you viewed them on the special Real 3D V1 viewer).
--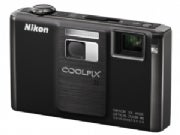 The Nikon Coolpix S1000pj came equipped with a built-in projector for viewing photos and videos shot with the camera.
-- Samsung's DualView TL225 offered two LCD screens: one huge touchscreen on the back, and a small display on the front designed to assist with self-portraits, baby photos, and timed shots.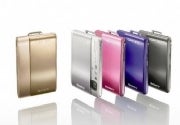 -- Sony's Cyber-shot DSC-HX1, DSC-WX1, and DSC-TX1 all featured a Sweep Panorama mode that allowed users to press the shutter button once, pan from side to side or vertically, and create a panorama image instantly.
-- The Olympus PEN E-P1 and E-P2 Micro Four-Thirds cameras combined old-school aesthetics with futuristic interchangeable-lens technology, making them fashionable DSLR alternatives.
Will this year's CES have a few out-of-left-field announcements that catch everyone by surprise? We're betting so, and we can't wait to find out what they are.
This story, "CES 2010 Predictions: What's on Deck for Cameras?" was originally published by PCWorld.
Shop Tech Products at Amazon