Great Audio Accessories for the iPod Shuffle and Nano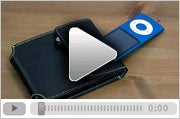 What could be a better gift than an iPod accessory? We take a look at a wallet that'll hold your Nano, and two adapters that make using the buttonless Shuffle just a bit easier.
For comprehensive coverage of the Android ecosystem, visit Greenbot.com.