Great Audio Accessories for the iPod Shuffle and Nano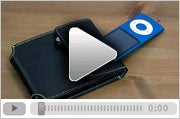 What could be a better gift than an iPod accessory? We take a look at a wallet that'll hold your Nano, and two adapters that make using the buttonless Shuffle just a bit easier.

Amazon Shop buttons are programmatically attached to all reviews, regardless of products' final review scores. Our parent company, IDG, receives advertisement revenue for shopping activity generated by the links. Because the buttons are attached programmatically, they should not be interpreted as editorial endorsements.