JVC's GC-FM1 Pocket Camcorder
JVC Picsio GC-FM1

The JVC GC-FM1 HD pocket camcorder shoots some of the best bright-light video we've seen, but it's hampered by its plastic build, its finicky controls, and the execution of its marquee features.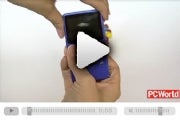 The JVC GC-FM1's video quality in good lighting is among the best we've seen. However, the camcorder is pricey and its build quality, buttons, audio quality, and controls all substantially detract from its usability.
For comprehensive coverage of the Android ecosystem, visit Greenbot.com.