Manage All Your Media in Windows 7
Stream Media Over the Internet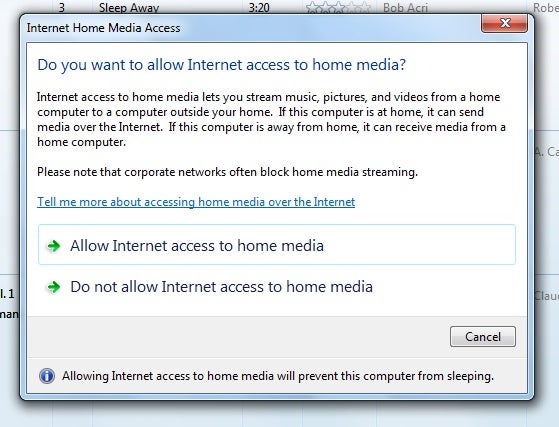 Windows 7 adds some great streaming tools, including one that lets you listen to your home music on another Windows 7 PC over the Internet. Like other online features, Internet streaming requires a Windows Live ID. Visit Windows Live home page to sign up for free, if haven't already registered there.
Open the User Accounts Control Panel, and choose Link online IDs. Select Add an online ID provider, and click the Windows Live logo in the newly opened Web page. Download the file (either 32-bit or 64-bit) that corresponds to your Windows 7 installation. Then run the installer.
The host PC (the PC that holds the media files) must be set up in a Home network and a HomeGroup. If yours isn't configured this way, click the Stream menu and select Turn on media streaming with HomeGroup. Follow the prompts, or skip this routine if you already have a HomeGroup.
Select Stream, Allow Internet access to home media. If you don't see that option listed, choose Link an online ID. The User Accounts Control Panel will open again. Select Link online ID, enter your log-in info, and press Sign In. Click Close.
Back in Windows Media Player, select Allow Internet access to home media, press Yes, and click OK. Leave this computer running whenever you want to share media.
Repeat these setup steps on the remote PC: Link the account with your Windows Live ID, and activate streaming. Once you've finished, the home media will appear under the 'Other Libraries' heading. You can browse and stream music, pictures, and video there. Note that corporate firewalls may block this streaming service if you are at work or on some other high-security network.
Control Media Streaming on Your Local Network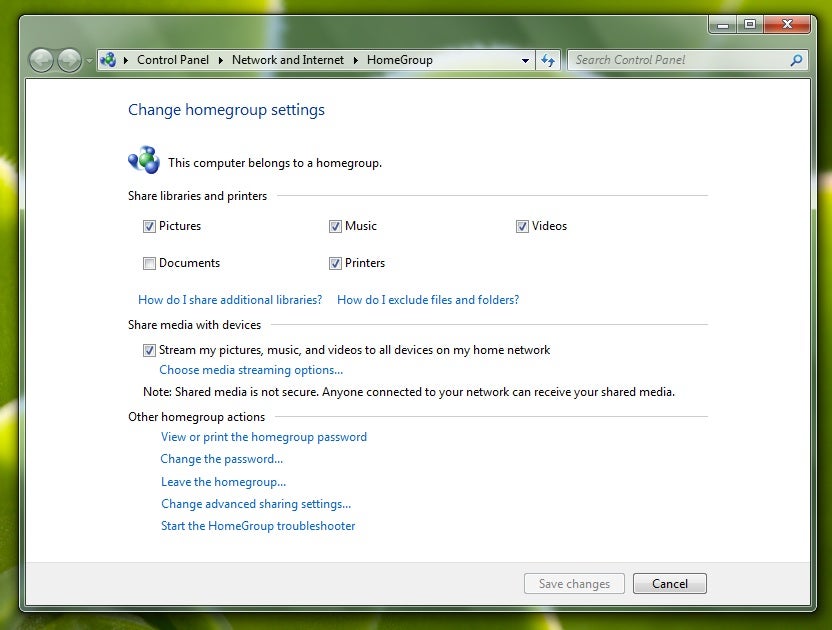 Windows 7 simplifies the process of local streaming with the help of HomeGroup networking. You'll let only trusted devices into your HomeGroup (your local network), and they'll have unfettered access to media files.
You can manage these settings within the HomeGroup section of the Networking and Internet Control Panel, including deactivating checkboxes if you want to share only certain kinds of media files. Your Documents folder, for example, remains private by default.
You can turn on streaming in the Networking and Internet Control Panel, too: Select Stream my pictures, music, and videos to all devices on my home network. Otherwise, you can activate local streaming within Windows Media Player: Select Stream, Automatically allow devices to play my media. Then choose Automatically allow all computers and media devices. Networked libraries will show up under the 'Other Libraries' heading within Media Player and Photo Gallery.
Play DVDs and Blu-ray Discs Within Windows 7
Most Windows 7 editions include the codecs for natively playing back many standard video formats, including .mov, DivX, and DVDs. (Starter and Home Basic omit this extra.) If you want to watch a movie, just pop in a DVD and start it with AutoPlay options, or within Windows Media Player or Windows Media Center.
Blu-ray discs don't work natively in Windows 7, so you'll have to add Blu-ray-capable software, such as CyberLink PowerDVD or ArcSoft TotalMedia Theatre. You can watch high-definition discs within those playback applications, or you can launch Blu-ray discs from within Media Center. (Media Player only works with DVDs.)
Activate Media Center after installing the necessary third-party software; then navigate to the heading, and activate that third-party option. If it's the first time you've played a Blu-ray movie, the extra software may still launch to complete installation. Otherwise, you can watch the Blu-ray disc from within Media Center.