Play Music Off an External Drive
Daniel Shaughnessy wants iTunes and Windows Media Player to see the music on his external USB hard drive.
This can be done, but there are two caveats: You have to tell these programs that a particular folder on the external drive should be part of their music "library." And you have accept occasional error messages when the drive isn't plugged in and the program can't find the music you want to play.
Here's how to add the appropriate folder to the library:
In Windows Media Player 11, with the external drive plugged in, press F3. Click Advanced Options, then the Add button below the list of folders. It's all pretty obvious from there.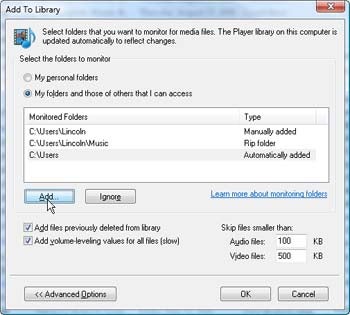 In iTunes 8, select File, then Add Folder to Library. Select the folder from the resulting Browse For Folder box.
Add your comments to this article below. If you have other tech questions, email them to me at answer@pcworld.com, or post them to a community of helpful folks on the PCW Answer Line forum.

Amazon Shop buttons are programmatically attached to all reviews, regardless of products' final review scores. Our parent company, IDG, receives advertisement revenue for shopping activity generated by the links. Because the buttons are attached programmatically, they should not be interpreted as editorial endorsements.