Channels.com: All Your Web Videos in One Place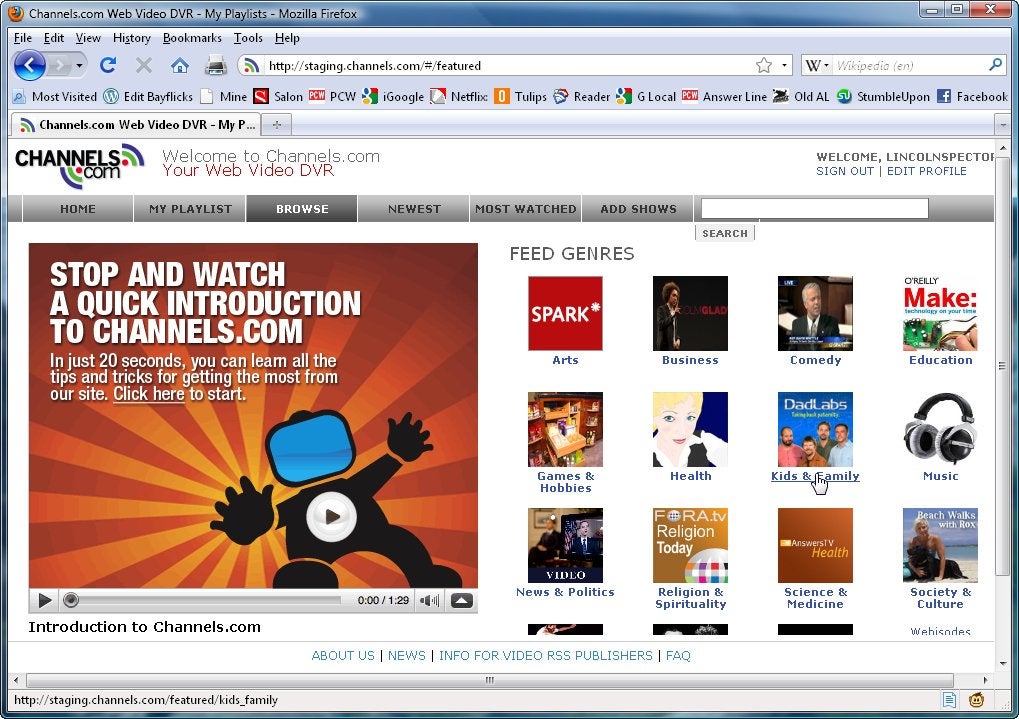 If you watch a lot of videos on the Web, Channels.com could make your life (or at least your leisure time) easier. From within Channels, on a single page, you can keep tabs on The Onion News Network, The Simpsons, Webisode series such as Anyone But Me, and thousands of other Web-based video sources.
I tried a limited, early-staging version of the Channels.com site. The full version, which goes live Tuesday morning, should offer access to far more programs.
Channels.com is touting the site as a "Web DVR," which isn't really a helpful metaphor. After all, we buy DVRs first and foremost for their time-shifting capabilities. But who needs time shifting on the Web, where everything is on demand?
The site is more like TiVo's Season Pass feature in that it gives you a menu of a program's recent episodes. It's almost akin to an RSS newsreader optimized for Web video rather than for blogs and articles. In fact, so long as a site has an RSS feed, Channels can include that site's video.
Like most newsreaders, Channels.com costs nothing. And you don't have to install special software to use it. Your browser needs only to support what's normally necessary to play back the video--things like Java, Flash, or other common browser add-ins.
The videos remain hosted on Hulu, YouTube, network-TV Web sites, and similar locations; Channels merely embeds them, and it has no say or control over the image quality or video content.
Straightforward Interface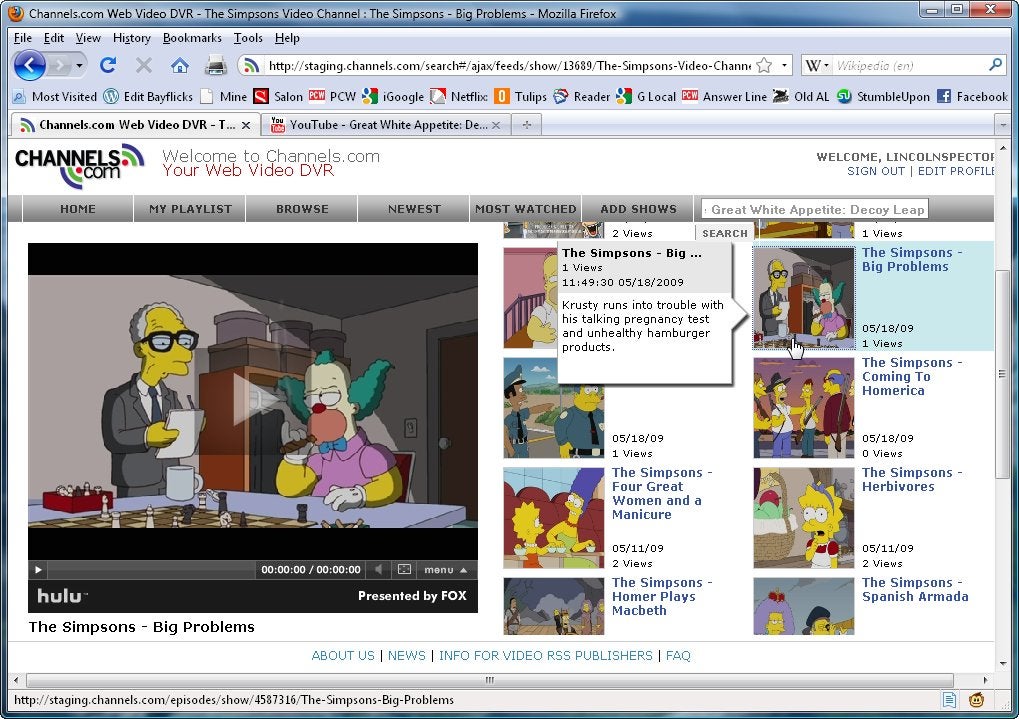 I found using Channels easy: I could search for shows (actually RSS feeds), pick from the newest and most-watched programs, and browse by genre. I could watch anything as I browsed, and if I found something I wanted to track, I could simply click the Playlist icon. (Of course, you'll have to register and log in first to have your own playlist.)
When you click the My Playlist link, you'll see a list of feeds to which you've subscribed. The list shows how recently each feed updated--useful information when you're trying to decide what to watch.
The site still has rough edges. Although you can search for a show and browse by genre, you can't search within a genre (a feature that Channels says it plans to add eventually). I found in my prelaunch look that options to display a video full screen or in HD didn't always work. And the 'Flag as Inappropriate' link, which allows any member to recommend that Channels consider censoring a particular show, could grow into a hornets' nest of conflicting opinion.
But if you've caught Web video fever, I recommend giving Channels a try. It can save you the hassle of checking multiple video sites to see what's new. And since it's free, you'll have nothing to lose--except the time you should spend doing something constructive.
This story, "Channels.com: All Your Web Videos in One Place" was originally published by PCWorld.
Shop Tech Products at Amazon