capsule review
Sonos CR200 Controller
At a Glance
Sonos CR200 Controller

TechHive Rating
The Sonos Digital Music System has a lot of things to like, but the thing that grabbed people at its launch in 2005 was the controller: It looked a bit like an overgrown iPod, complete with touch-wheel navigation and a big, beautiful screen. By now, though, that controller has started to seem a bit heavy and clunky. So it was time for Sonos to update its remote, and the company has done a fantastic job.
The new CR200 ($349, charging cradle included) is considerably lighter and smaller than the old CR100, and it ditches the wheel for a touchscreen. Plus, the 3.5-inch, 640-by-480-pixel screen makes your album art look better than ever.
The CR200 comes to life instantly when you pick it up or touch it. That may mean a hit on its battery life, but the instant gratification is worth it. Switching screens was virtually immediate on my test system, though volume changes (which you input with a toggle switch at the bottom of the remote) seemed to lag just slightly.
The redesigned music menu is efficient if dull, with rectangular boxes for the different music sources available to you. Add a music service (Pandora, Last.fm, Napster, Rhapsody, and Sirius are available), and that service immediately shows up in the menu. Many of those online services add extra information like tour dates or band bios for the music you're listening to. You can access that information right on the controller by touching the 'i' in a bottom corner of the screen.
The touchscreen really comes in handy for searching your collection. With the old controller, you had to pick out letters by scrolling to them with the click wheel. The CR200 has a software keyboard that's crisp and responsive--I wish my iPhone's keyboard worked as well.
My only beef (besides the premium price) is that the CR200, it seems to me, could still be a bit thinner. It's a little more than twice as thick as an iPod Touch, which has a similarly luxurious screen.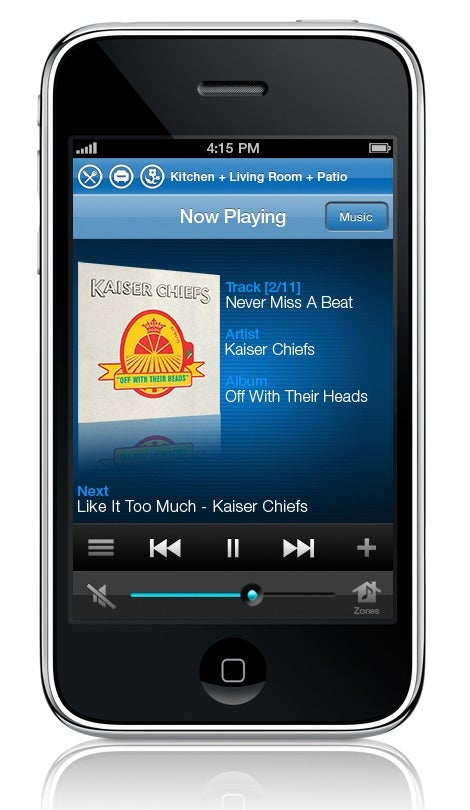 The only real competition for the CR200 is Sono's own controller app for the iPhone and iPod Touch. And given that the app is free, it's a compelling competitor. Essentially, this decision comes down to convenience and your wallet. While the hardware controller is quicker to start up and has a longer battery life, you'll get most of the same functionality from the free app. So if you have an iPhone or iPod Touch and don't need a dedicated controller, you'll save some serious cash by using the free app. But if you've got the money to spend, the CR200 may well be the most elegant remote in your living room.
--Edward N. Albro
This story, "Sonos CR200 Controller" was originally published by PCWorld.
At a Glance
Sonos CR200 Controller

TechHive Rating

Pros

Touchscreen makes navigation easier.
Extremely responsive

Cons

Still pricey
Seems like it could be thinner
Shop Tech Products at Amazon