Ditch Cable and Satellite for Free Internet TV
You pay a high cable or satellite TV bill every month--but what do you get for it? A lot of stations you don't watch, sprinkled with a few you like, containing entertainment that you can also find on the Internet. In fact, between the Net and old-fashioned, over-the-air broadcasts, you may have little reason to keep spending money on extra stations.
Of course, dumping your cable or satellite setup has some potential drawbacks. You might not get good over-the-air signals in your area. If your cable company also supplies your Internet access, dropping the cable means you'll lose the discount for two services from one provider. And you'll have to make some up-front investments in your new setup before you can start saving money. But for a lot of people, the investment will be more profitable than stocks bought two years ago.
To approximate your cable or satellite experience, you'll need a DVR that can receive over-the-air broadcasts (in the world of digital broadcasts, you can't time-shift with a VCR), and some sort of device for sending Internet video to your TV. I'll offer three strategies for acquiring these capabilities.
Getting Entertainment Into the Room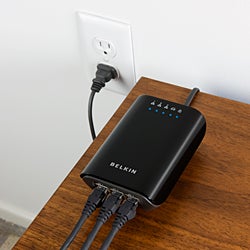 First, however, you'll need an Internet signal in the same room as your television, and you'll need a TV antenna. See "Now that my TV has gone digital, how do I get more channels?" for antenna purchasing suggestions.
Now, about the Internet: If you're thinking "No problem, I have Wi-Fi," think again. Most Internet-capable entertainment devices use ethernet, not Wi-Fi, and there's a reason. Wi-Fi isn't always reliable enough for video, especially HD, and especially if your TV is far from the router.
That's why I recommend Powerline AV, a standard for sending network signals over your home's AC power wires. I tried Belkin's Powerline AV+ Starter Kit, and found it ridiculously easy to set up. It really is plug-and-play. You can find the Starter Kit for about $140 if you go bargain hunting. See "Better Together: Wi-Fi and Powerline Networking" for more information.
First Strategy: A DVR With Internet Access
Here's the simplest solution: You buy the box, plug it into the antenna, Internet, TV, and power outlet, and it's ready.
But your choices are limited. Only two companies make DVRs that can receive over-the-air broadcasts, and only one, TiVo, makes DVRs that can use the Internet for more than updating firmware.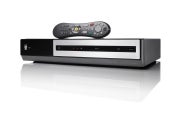 I looked at the TiVo HD, the cheapest DVR that meets those requirements. You can find one for about $250, but that price comes with a big caveat: The device won't work without a $13-a-month subscription fee. That amount is a lot less than what you pay for cable, but it seems counterintuitive to pay a monthly fee to avoid paying a monthly fee. TiVo offers other payment options, including $400 for a lifetime subscription.
The TiVo HD is a very fine recorder, with an easy-to-use interface and powerful search capabilities. It also serves up an impressive selection of Internet entertainment. If you're a Netflix subscriber (yes, another subscription), you can pick TV shows and movies from the Watch Instantly collection. Pay-per-view options include Amazon Video On Demand, Walt Disney Studios, and the arthouse-oriented Jaman. The free fare includes YouTube, which TiVo unfortunately displays full screen. (YouTube on a 50-inch HDTV is an ugly sight.)
But you can't get your daily dose of Keith Olbermann or Bill O'Reilly, because TiVo doesn't stream MSNBC or Fox News. No matter how many video services TiVo supports, it can't support all of them.
Second Strategy: A PC
If there's video streaming on the Internet, you can watch it on a Windows PC. And if you install a tuner on that PC and attach your antenna to the tuner, you have a DVR. Windows XP Media Center Edition, Vista Home Premium, and Vista Ultimate all come with acceptable DVR software.
In fact, a system with Vista's Media Center rivals a TiVo as a self-contained entertainment box. In addition to the DVR functions, you get Netflix, lots of radio stations, sports, and news from (of course) Microsoft subsidiary MSNBC. But unlike with a TiVo, you can close Media Center and watch unsupported video in your browser--even video that requires Java, Flash, or Silverlight.
Of course, if you don't have a powerful-enough spare PC hanging around, you'll have to buy one, although you won't need a monitor. And setting the PC up is more difficult than plugging in a TiVo.
First, you have to hook the computer up to the TV. See "From the PC to the TV" on the next page for details.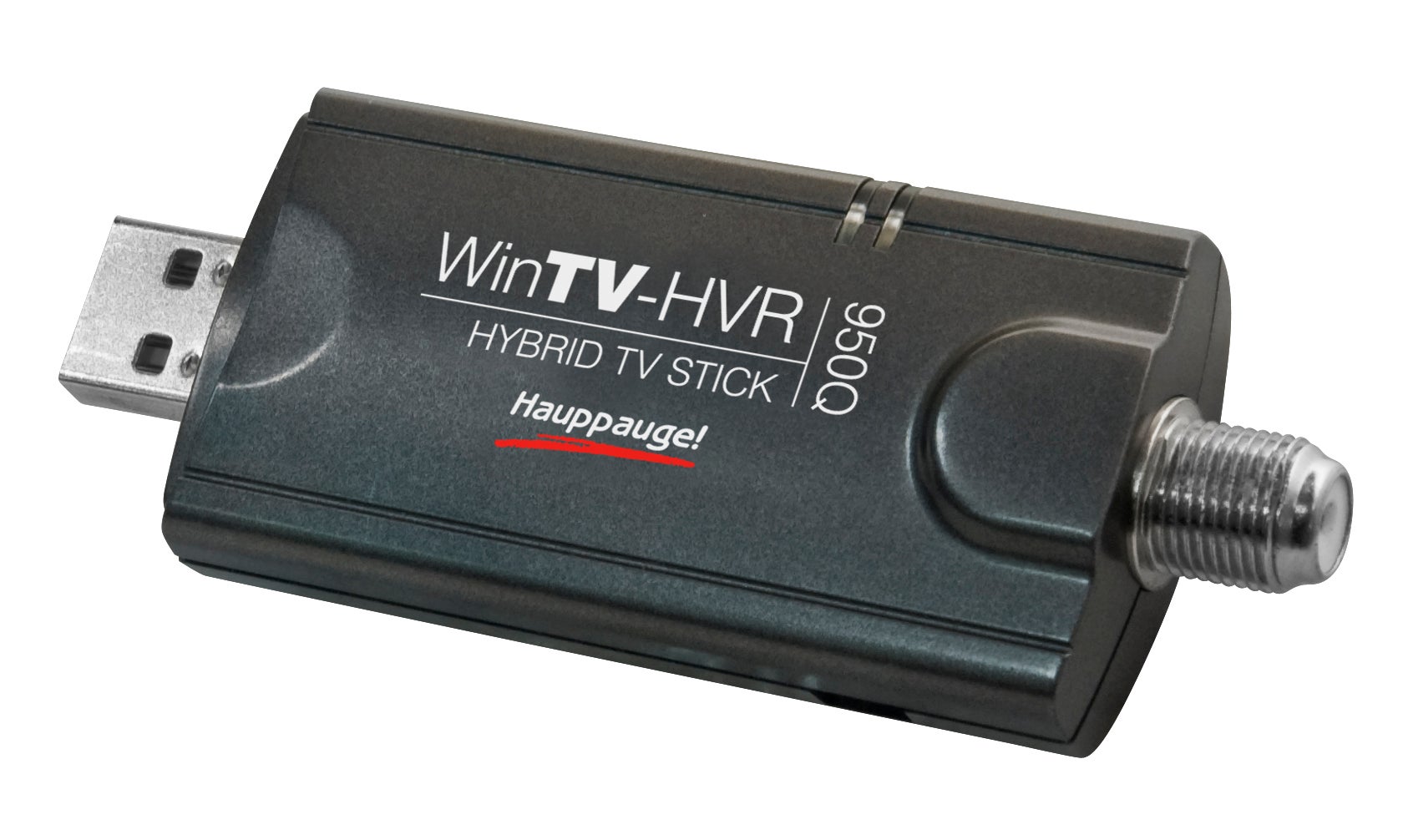 Second, you need a tuner. If you want to record two shows at a time, you'll need two tuners. I like Hauppauge's WinTV-HVR 950Q, a simple USB tuner that works. USB tuners have a couple of advantages: You don't have to worry about whether your motherboard has PCI or PCI-e slots, and you don't have to open the PC's case. If you look around, you can buy the 950Q for about $70.
The 950Q comes with a remote, but it's a chintzy little thing--I hated it. Better remotes are available; Hauppauge sells a large, comfortable, Microsoft-certified Media Center remote for $30, and a quick Web search will find others.
In fact, Hauppauge once bundled the 950Q tuner with that better remote as the WinTV-HVR-950Q Windows Media Center Kit. The kit is no longer made, but as I write this, you can still find some at Hauppauge's Web store for $100.
Third Strategy: A PC and a DVR
What if you don't have a spare PC to use as a DVR, and you don't want to spend $500 for a new one? You can buy a DVR for time-shifting broadcast TV, and plug your laptop into the TV (and the closest ethernet outlet) to watch Internet video.
Since you won't need TiVo's Internet offerings, you can save some money and instead buy the only other DVR that receives over-the-air broadcasts, the DTVPal DVR. Like the TiVo HD, the DTVPal costs about $250 if you shop around, but it imposes no subscription fee--buy it, and it's yours.
If you're currently a Dish Network subscriber, the DTVPal will feel familiar (Dish Network owns it). The remote, behavior, and menus are nearly identical.
But there's a price to having no subscription. The Guide is limited to the program information that stations broadcast with their digital signals, and that means you can see only what will be playing for the next 12 hours or so. That puts a pretty serious limit on searches.
As far as the PC is concerned, the only possible difficulty is getting the signal to the TV. See below.
From the PC to the TV
Depending on what ports are present on both your PC and your TV, making a connection can be difficult or impossible. Check the back of each device, and keep your fingers crossed.
If you have any of the following matches, you could be in luck.
Both have HDMI: You should be all set. A single cable will bring a great, high-def image and powerful sound from the PC to the TV. You may have to change Windows' audio-output device setting to HDMI.
Both have VGA: Of course your PC has this standard video adapter, and your HDTV probably has it, too. But just because an HDTV has a VGA port that doesn't mean the set can produce a decent-looking image from it. Try it out, and check your TV's manual for instructions and tips.
Even if the picture looks good (and with a newer HDTV, it probably will), you'll still have an audio problem. VGA is a video-only signal, and I've yet to see a TV with audio inputs matched to the VGA port. The solution: Find another set of speakers to plug into the PC. Or plug the PC into your stereo system. Doing so may require attaching a Y-adapter audio cable with a 1/8-inch stereo miniplug (like the one on your headphones or earbuds) on one end, and two standard RCA audio connectors on the other.
Computer has DVI, TV has HDMI: You can buy a DVI-HDMI adapter at any electronics store for $10 to $20. The result will look great, since the video portion of an HDMI signal is identical to a DVI signal. You'll have the same audio problem as with VGA--but fortunately, the same solutions will work.
Both have S-Video: The result won't be HD quality, or even DVD quality. But it will work, and unlike the connections above, even your pre-HD television probably has an S-Video input.
Anything else: Outside of upgrading your PC's video card, you probably don't have an option. You can buy adapters to convert VGA to various common TV inputs, but the expensive ones look lousy and the cheap ones simply don't work.
You have other alternatives for bringing the Internet to your television. Some HDTVs and Blu-ray players come with Internet connectivity and support Netflix, YouTube, and other entertainment providers. See "12 Ways to Bring YouTube to the Boob Tube" for details.
Lincoln Spector is a veteran tech journalist who writes PC World's Answer Line blog.