NAMM: AKAI Pro Announces Tiny USB MIDI Controllers & More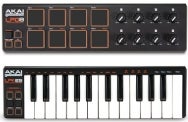 Today at Summer NAMM, Akai Professional announced some exciting new music-making products. The LPD8 laptop pad and the LPK25 laptop performance keyboard are ultra-portable USB-MIDI controllers. Both devices are completely plug and play on both Mac and PC, requiring no driver installation and powered solely by USB. Weighing under a pound each and spanning less than 13 inches across, these things fit easily into any backpack, laptop case, or messenger bag- bringing new meaning to the term, "portable studio."

In addition to tiny USB controllers, Akai Pro has also announced the not-so-mini MPK61, a professional 61 key USB MIDI controller. The MPK61 keyboard fills the gap between their smaller 25 and 49 key controllers, and their largest MPK88 offering. Like the MPK25 and MPK49, the new MPK61 is semi-weighted and somewhat portable but retains many of the features of the larger MPK88, such as the ability to divide the keyboard into two zones for playing two programs simultaneously.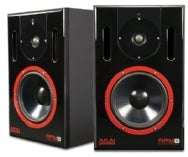 Last, but certainly not least, Akai announced RPM8 studio monitors. These speakers feature eight-inch woven Kevlar drivers specially optimized for clear reproduction of heavy bass frequencies. The RPM8's are a perfect companion for people who already use Akai's controllers or for those who have been craving a studio monitor specially designed for extended low-frequency playback.
All these new Akai products are being shown at the Akai Professional booth at NAMM July 17-19 and will be released Q3 2009 (with the exception of the RPM8 studio monitors- to be released Q4 2009).