Olympus is celebrating 50 years since the 1959 launch of its ground-breaking PEN 35mm film camera - the first affordable, consumer portable camera and one that Olympus believes was a ground-breaking launch.
This week, it launched a digital version broadly based on the original 1959 design. The 12.3Mp Olympus PEN E-P1 is larger than a standard compact digital camera such as a Canon Ixus or a Sony Cyber-shot and has interchangeable lenses.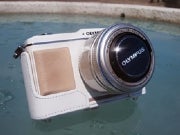 It uses the Micro FourThirds standard that Olympus co-developed with Panasonic and can be used with a standard FourThirds lens via an adapter ring. However, it's not an elite model and is aimed at a far broader market than the high-end digital SLR community. In fact, it's aimed at inveterate snappers and those with an interest in rather than an obsession with photography. People like me, in other words.
To chime with this, Olympus has given the E-P1 a more modest price tag than FourThirds cameras generally carry and, though it will cost around £599 (about US$990) at launch for the body only, you can get it with a 14-42mm lens for £699 (about US$1,155) all in. You'll still need to fork out extra for a detachable viewfinder and the rather fetching leather case shown in many of the press shots though.
First Impressions
Having seen a few shots of this Micro FourThirds camera on the web, we thought we knew pretty much what the E-P1 would be like. However, it's bigger than we imagined, at 121mm wide and 70mm tall, though its 33g didn't feel particularly heavy. We were lucky enough to have six full hours to get to know the camera and even after carrying around all day, didn't feel laden down by it. The jury is out on the colour options too.
The E-P1 comes in a choice of black, black and silver, or white. We went with the iPod-esque white and caramel and used it with the aforementioned 14-42mm lens. Thankfully, this lens is silver, rather than being given a white makeover.
When you switch on the camera it fires up quickly but every time you do so, you then get an onscreen message requesting that you check for the status of a lens. Presumably the camera can't sense whether one is attached, but this initially helpful message got old fast.
Once you've twizzled the attached lens a little to confirm its presence, you're ready to shoot. There's a large notched dial on the top left with a recessed indicator on the top of the camera to indicate which item is currently selected. As well as the iAuto and playback options, there are Scene, Art, P, M, S and A to choose from.
Using these you can exert as much or as little control as you little over the camera's settings, from image stabilisation and ISO levels to the white balance and colour temperature.
There's a familiar menu button on the lower half of the camera's rear too, while pressing the Info button in the middle of the navipad allows you to adjust settings related to your current scene mode. Press any of these and a context-sensitive menu appears onscreen with settings you can scroll through and select vertically or horizontally.
Manual Settings
The Olympus can recognise single or multiple subjects in a shot and prioritises their appearance. If you wish, you can invoke the e-Portrait and apply a little airbrushing so your subject looks fabulous even when blown up on an HD screen. There's an HDMI output to encourage direct display from the camera to a TV.
Single, spot and multi-point autofocus are of course included and we liked the fact that you can call up detailed image setting information at any point so you can see both your chosen and the camera's automatically selected ISO level and a histogram outlining the RGB distribution.
Boosting the ISO up to 3200 is possible, though we didn't put it to such an extreme test. Problem areas where there's a glut of light behind a subject, for instance, are highlighted both in shots you're about to take and those you've already taken.
The trickiest shot we got the E-P1 to take was a statue of a Buddha in a room set up for a pop art scene and bathed primarily in red. With image stabilisation on and the ISO setting boosted to 260, we got a shot with sufficient light to pick up the statue's detail but, unsurprisingly, the colour was very awry. This was easy enough to fix in Photoshop, however.