Have a question about digital photography? Send it to me. I reply to as many as I can--though given the quantity of e-mails that I get, I can't promise a personal reply to each one. I round up the most interesting questions about once a month here in Digital Focus. For more frequently asked questions, read my newsletters from March, April, and May.
Using a Polarizer on a Compact Camera
I read your article on polarizers and I was curious--can these filters be used on point-and-shoot cameras, or do they only work on digital SLRs?
--Carol Krom, Augusta, Georgia
Actually, a polarizer will work with any kind of camera, as long as you can see the effect of the polarizer before you take the picture. Since you need to spin the polarizer to control its intensity, you need to be able to see what it is doing to your image.
A digital SLR shows you the actual image in the lens using a mirror that deflects the light into the eyepiece, so it is obviously ideal. But you can use your point-and-shoot camera as long as you look at the LCD viewfinder. Optical eyepieces that don't show you what the lens is seeing won't work. The only downside: It can be really hard to see a LCD viewfinder outdoors in bright sunlight.
Getting Permission to Publish a Photo
I saw the Hot Pic runner-up photo "Daddy's Sunday Girl" in "Five Common Photo Mistakes." Did the daddy give permission to have his and his daughter's images published? How is that permission obtained? I've always hesitated to have people in the pictures I shoot as I'd been told they have to be unrecognizable or you need their permission to publish the shot anywhere. Can you explain how that works?
--Victoria A. Spendel, Cincinnati, Ohio
Let me preface this by reminding you that I'm not a lawyer, so please don't cite my comments in court. But as a working photographer, I need to have some understanding of photography law.
In general, you don't need anyone's permission to take their picture on public property, such as in a city park or out on the street. No one has the right to bar you from photographing them in public, where they would not ordinarily have an expectation of privacy.
Publishing that photo is another matter, though; if you are publishing it for commercial purposes, you need a signed model release. Many photographers carry a pack of model releases with them wherever they go, just in case, and there are many sites on the Web where you can find such forms. You can read more about this--and find Web sites with release forms you can use--in "More on Your Photos and the Law."
Getting Started in High Dynamic Range
I would like to try my hand at High Dynamic Range photography. What programs would you recommend?
--Dwight Short, Bozeman, Montana
HDR photography is one of the newest and most exciting branches of digital photography. It's a technique in which you combine several photos of the same scene taken with different exposure settings to get a final photo with far more depth of color and exposure than would otherwise be possible to achieve. You can read my introduction to HDR in "Stunning Photos With High Dynamic Range, Part 1" and "Stunning Photos With High Dynamic Range, Part 2."
In that series, I recommended using Photomatix Pro ($99). While I still think it's a good tool for producing HDR images, I've since learned of a free alternative. So if you're looking to dip your toes in the HDR tool, give the bafflingly named Qtpfsgui a try.
How to Get Better Color
I'm having a lot of fun with my new digital Canon Rebel. I'm considering joining a local photo group. When I look on the group's Web site, I see lots of vibrant colors that just wow me. Can you give me any tips on how to get bright, vibrant colors?
--Janise Crow, Steubenville, Ohio
To get bright, vibrant colors, you'll need to start with a good exposure--if your photos are under- or overexposed, it's difficult to get great color. Read "Use the Histogram to Avoid Exposure Issues" to begin learning about exposure issues. From there, you can fiddle with your photo editing software's saturation control to punch up the color a little. For tips on that, see "Take Command of Your Photo's Color Intensity."
And one more thing--you should definitely join that local photography group. You can ask the other, more experienced members how they achieved the specific effects you like so much on the Web site. There's nothing better than learning techniques firsthand from folks whose photos you enjoy.
More Places to Find Lost Photos
I would like to add one other possibility to your answer to Alyn McConnaha's question, "Where Are My Photos?" My father uses Adobe Photoshop Elements and connects his camera with the USB cable. In the past, he apparently skipped the automatic download, and unwittingly kept all his photos on the camera's memory card. He could see the photos in the organizer, so all seemed well. Later, when the camera wasn't connected to the computer, he couldn't find his pictures on the computer. Finally we found the pictures on the camera. We now have it set up so that the download is automatic.
--Tom Nation, Port Townsend, Washington
Thanks, Tom. That's a superb tip, and I hadn't considered that possibility when I answered that question last month. It's important to be sure your photos are copied to the PC, and if all else fails... check your memory card and hope you haven't formatted it recently.
Hot Pic of the Week
Get published, get famous! Each week, we select our favorite reader-submitted photo based on creativity, originality, and technique.
Here's how to enter: Send us your photograph in JPEG format, at a resolution no higher than 640 by 480 pixels. Entries at higher resolutions will be immediately disqualified. If necessary, use an image editing program to reduce the file size of your image before e-mailing it to us. Include the title of your photo along with a short description and how you photographed it. Don't forget to send your name, e-mail address, and postal address. Before entering, please read the full description of the contest rules and regulations.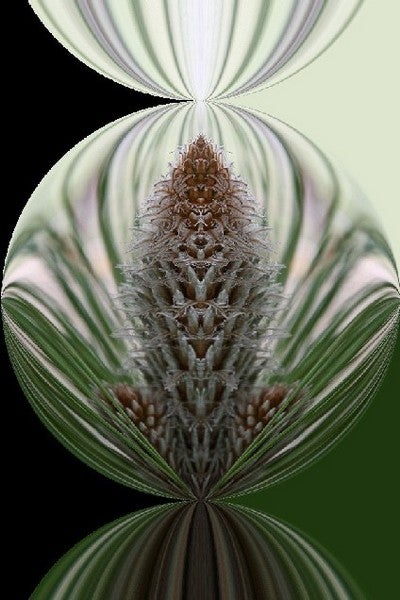 This Week's Hot Pic: "Caught in a Bubble," by Cindy Graf, Waco, Texas
Cindy writes: "I took this picture of a pine tree with my Canon Rebel XS. I used my editing program to make a reflection of the image, and then used the circular effects."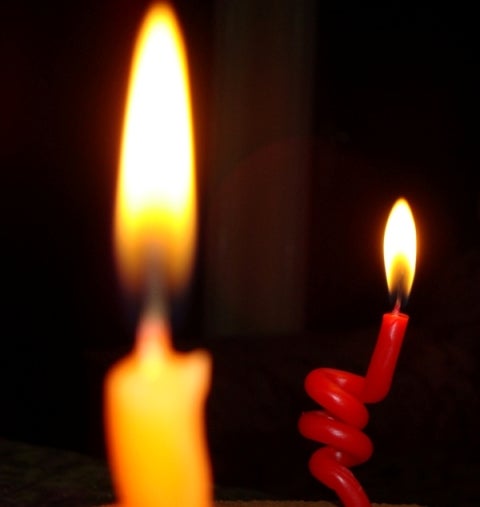 This Week's Runner-Up: "Candles," by Reza Haghighi, Iran
Reza used a Sony CyberShot DSC-W120 to capture a moment on a birthday cake.
To see the entire month's Hot Pics, visit our June slide show. Visit our Flickr gallery to browse past winners.
Have a digital photo question? Send me your comments, questions, and suggestions about the newsletter itself. And be sure to sign up to have Digital Focus e-mailed to you each week.
This story, "Frequently Asked Photo Questions for June" was originally published by PCWorld.