How the Unknown Digital TV Transition Could Screw You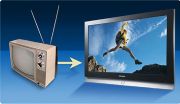 For months, you've been hearing about the impending digital TV transition now scheduled to happen on June 12; in fact, you probably prepared for it long ago. This transition marks the time when over-the-air broadcast stations will finally make the switch from analog to digital.
Meanwhile, however, a second, much-less-discussed digital transition is already under way among the nation's cable providers. This separate upgrade may cause you to lose TV channels that you've come to expect, or to pay more in monthly equipment fees to your cable provider to get the TV--or it may render useless some of your precious home-entertainment setup.
Read on for a detailed breakdown of what's happening, why it's happening, how the cable operators are dealing with the situation, and how all of it affects you. Let's start by looking at how to tell whether you'll be affected by the change.
Warning Signs That You're in Cable Trouble
People tend to assume that they are completely set for the digital TV transition if they have a cable subscription. And that's true--but only for the broadcast channels (ABC, CBS, Fox, NBC, and a clutch of others).
But have you tuned into a cable TV station recently and noticed a message announcing that it's no longer available? Or have you read marketing material from your cable provider that says you'll need a cable box on each of your TVs in order to view your favorite channels? Both are indicators that analog stations you know and love could cease to be available to you.
This less-publicized cable digital upgrade by some cable companies is already affecting the range of popular cable channels that typically fall between channels 20 and 90, including TV addict essentials such as AMC, CNBC, CNN Headline News, ESPN, History, MSNBC, MTV, Spike TV, TNT, and the USA Network. Depending on your cable company, these channels may be available only if you have a cable box.
Prior to the digital upgrade, such channels usually did not require viewers to rent an extra-cost cable box in order to view shows. Instead, you could plug your coaxial cable from the wall directly into any of the following:
An analog or digital television
An older digital video recorder such as a Replay or TiVo (Series1 and Series2)
A DVD recorder (or, gasp, a VCR)
A Microsoft Windows Media Center PC
A PC equipped with a TV tuner
If you now run your cable directly through any of these devices, you may be affected. See what plans your cable company has.
In some cases, you'll simply be inconvenienced: You'll now need to have a cable box and an IR blaster attached to it in order for your device to communicate with the box to change channels, but you'll still be able to view and record analog video.
In other cases, though, you may be out of luck. You might not be able to record or even view your channels. However, companies like TiVo are working closely with Comcast--the cable provider deploying the digital upgrade most widely--to make its legacy devices as compatible as possible.
For example, if you're a single-tuner TiVo Series2 subscriber, you'll need to put a cable box between your wall connection and your TV. But since TiVo has updated its IR blaster database to control Comcast's equipment, you can tune the cable box via the far superior TiVo remote. If you're a Series 2 dual-tuner customer, however, some of those dual-tuner channels will no longer be viewable. This is because you have only one input on the TiVo, which means you aren't allowed to have more than one cable box connected. (Lost your IR blaster accessory for TiVo? The company will sell you a new one for $7.)
Next: What Is This Cable Digital Migration?
Cable's Digital Migration: Why It's Happening
As cable companies push to achieve an all-digital world, the analog versions of existing channels are fast disappearing on some cable systems. This is happening because the cable operators are aggressively seeking ways to free up bandwidth for high-definition broadcasts and for additional programming channels. They are also interested in finding more bandwidth for services such as games, voice communications, and interactivity. In the end, consumers will gain more access to digital services--and cable companies will have more services to offer to consumers.
It's not all bad news: Customers who have a single TV in their home, set up in a straightforward, traditional arrangement, might (depending on the service) even get a little more for their dollar in the switch to digital. But enthusiasts who have complicated entertainment setups--and people whose homes contain multiple TVs--will feel the pinch.
Cable companies are pursuing two main strategies for freeing up bandwidth. Whether you're affected by either of these depends on a mix of where you live and what company provides your cable.
The first approach involves eliminating the analog feed for cable channels. Cable companies that take this approach--Cablevision and Comcast--are doing so with channels that they are also broadcasting in a digital format.
Approach number two is termed switched digital video. In this situation, channels are on a system that includes a switch, so they only get piped into your house if your cable box requests them. The arrangement works similarly to the way video-on-demand does. Say you want channel 132: You request it using your remote, after which the cable company sends the signal to your cable box. Before companies instituted this switch system, all signals were continuously broadcast through the pipe, and all you had to do was tune in to the station you wanted.
Switched digital works only with a set-top box, however. If you use a CableCard--which some cable companies supply in place of a box, and which users can slip into newer TVs or digital video recorders (like TiVo's Series3 boxes)--you'll find that the card can't communicate back to the cable provider. As a result, you won't be able to record channels on the switch. The next generation of CableCard, which supports Tru2way, will correct this deficiency. Tru2way allows interactive communication between the card and the cable company; unfortunately, as yet it remalns a rarity.
Time Warner Cable has deployed switched digital in some markets; only two Time Warner markets--New York and Los Angeles--have gone all-digital (and even there, only in some areas). Cox Communications is using switched digital technology in Arizona, Northern Virginia, and Orange County, California, and it has plans to roll out the technology in other markets this year.
Next: Where Does Your Cable Company Stand?
How Cable Operators Are Handling the Transition
Our survey of the top five cable operators--Cablevision, Charter, Comcast, Cox Communications, and Time Warner Cable--indicates that Cablevision and Comcast customers are the ones who will be most affected by this transition.
Here's the full story.
Cablevision: Cablevision will be the first major cable provider to offer new customers digital-only service for its expanded basic channels. Broadcast and local channels will continue to be simulcast in analog for the foreseeable future. Many expanded basic channels will continue in analog as well (45 channels currently), but Cablevision has begun eliminating various duplicate analog feeds of stations that it carries in digital format. The affected channels include ABC Family, AMC, BET, CNN Headline News, CSPAN, FUSE, Galavision, History, Lifetime, MSNBC, MTV, MTV2, Spike TV, TV Land, VH1, and WE. To receive these channels, you must attach a cable box to each television you plan on using, at a cost of $6.75 per box per month.
The company says that more than 91 percent of its 3.1 million customers have digital service, but a spokesperson acknowledges that this figure doesn't distinguish between subscribers with all-digital setups and subscribers who have one cable box in the home for digital service but additional TVs set up for analog service. (For example, a subscriber may have a cable box connected to a 55-inch plasma HDTV in the den, but no such arrangement for TVs in the bedroom, kitchen, and basement--and yet with analog service the subscriber can currently receive MSNBC on all four TVs.) Cablevision is offering its analog-only customers the option of accepting a free digital set-top box and free digital navigation for one year. If you have multiple TVs, however, you get no additional break.
Charter: Charter will offer an analog simulcast of broadcast stations. According to the company, some regions have migrated to the digital tier, but as yet it has no plans to go all-digital systemwide. Charter says that it's treating the digital migration as a gradual process. A spokesperson notes that only a handful of channels have gone from analog to digital in expanded basic, but eventually all of them will migrate. "We have tried not to make any sweeping changes for our customers," the spokesperson says.
Comcast: Comcast is pursuing in its migration to digital full-throttle: The company began what it calls "Project Cavalry" back in 2005 (some markets, including Chicago and Philadelphia, have already undergone the transition). Once the migration is complete, customers must have a set-top box for every TV in the house (either a fully interactive box, or what Comcast refers to as a "digital TV adapter") to receive Comcast's cable channels.
Comcast doesn't expect to complete its systemwide transition until the end of 2010, and probably on into 2011. "It's a complete coincidence that the government picked a [DTV transition] date that happened to be in the midst of our Project Cavalry," says Derek Harrar, general manager of video services for Comcast. Comcast's digital transition does not affect the 20 to 30 channels of broadcast and local programming, which is "why we're comfortable with saying there's no impact, because [this project] has no impact on the broadcast channels."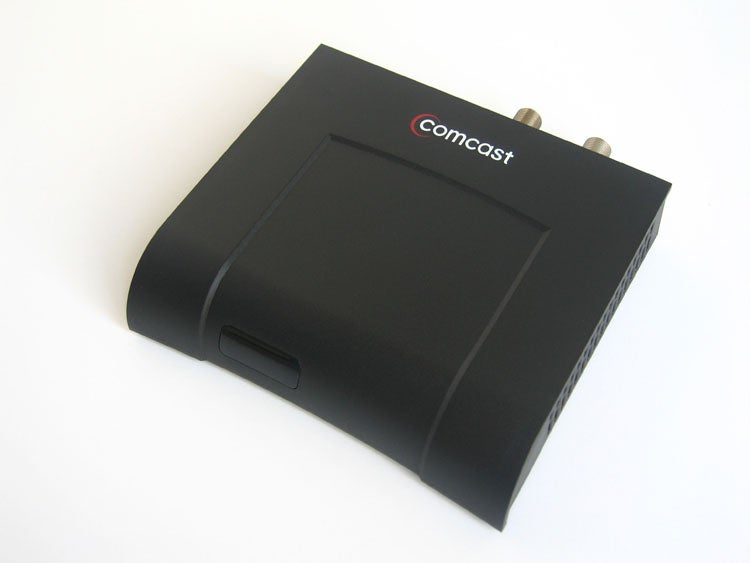 Comcast isn't charging extra for customers to go to an all-digital starter level of service. Existing analog customers making the switch will get a free set-top box, with video-on-demand and two-way communication between the box and Comcast (additional boxes will rent for $7 a month). A bonus for subscribers with multiple televisions in the home: All customers, including existing digital-cable customers, are eligible to receive two free one-way converter boxes. Called a Digital Transport Adapter (DTA), the box transforms digital signals into analog. The DTA thus does for expanded basic cable channels what a DTV converter box does for over-the-air broadcast channels.
Cox Communications: Cox isn't going all-digital at this time. The company will continue to offer a strong lineup of analog channels, which means minimal to no impact on your current setup if you don't have a cable box. A spokesperson says that Cox believes such a lineup will help sharply differentiate it from competing cable companies. According to Cox, the signal will actually be down-converted from its digital format, meaning that consumers will receive both over-the-air digital programming and some digital cable programming in analog format. On Cox.com, the company states its position explicitly: "For at least three years after the June 12, 2009 deadline, Cox will continue to offer analog broadcast signals to customers who do not receive Cox's digital services."
Time Warner Cable: Time Warner plans to use switched digital to free up bandwidth. A spokesperson notes, "We are generally migrating only a couple of our markets to all-digital (New York and Los Angeles), and in some cases only parts of those markets. At this time, we don't have any plans to migrate the rest of the country." But the spokesperson adds, "It's not hard to see a world where everybody would be all-digital." Some 67 percent of Time Warner's customers are already are subscribing to digital packages; the company didn't say what number of those customers already have boxes. Time Warner charges $7 to $9 per month for its set-top boxes, depending on the customer's location and on the type of box. If you live in an area where Time Warner has gone all-digital, you'll need a box.