Jo Meininger used to receive three channels with her rabbit ear antenna. Now she gets none.
I covered this topic a few weeks ago, but I've become dissatisfied with my answer, and wanted to research it more. I'm taking Jo's question as an excuse to do so.
First, your converter box needs to scan for channels before it knows what it can get. If you haven't already done this, check the box's instructions and scan for channels. If you've already done this, do it again. In fact, it's a good idea to rescan every few months--especially during the transition.
Another issue: Does your antenna support UHF? There are two kinds of TV broadcasts, VHF (channels 2-13) and UHF (14 and above). Many analog VHF stations are going UHF when digital. Your antenna needs to pick up both. If you have rabbit ears, it's easy to tell if they handle both: The two rods that inspire the name rabbit ears are the VHF antenna; the UHF antenna is a circle.
Digital broadcast signals are more directional than analog ones, so the placement of your antenna is all the more important. Try moving the antenna around, then scanning again. And remember, the higher the antenna, the better the signal.
If you're still not satisfied, you'll probably have to buy a new antenna. Here are some guidelines:
Go outdoor if possible. Outdoor antennas are difficult to install, and your landlord may not allow the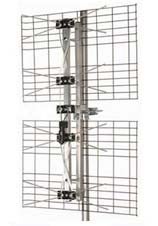 m, but they greatly increase your chances of getting more stations. Not only are they higher, but the signal doesn't have to contend with your home's walls and electronics.
Bigger is usually better. This isn't a hard-and-fast rule, but it's generally the case.
Look for higher gain. This is a number, expressed as dB (for decibels). The higher the number, the better. A gain of 13dB is much better than a gain of 6.
There's another option: Sit still and keep your fingers crossed. Some stations may boost their digital strength after they finally give up analog broadcasting.
One final recommendation: Visit AntennaWeb.org to see what stations you might be getting. Enter your address, and the site will list your local stations, give you their compass direction (remember, digital broadcasts are more directional), and tell you how far away they are. The site also recommends the best type of outdoor antenna for your location.
The image above is from Antennas Direct, a company that manufactures and sells antennas. I haven't tested their products, so this should not be considered an endorsement.
Add your comments to this article below. If you have other tech questions, email them to me at answer@pcworld.com, or post them to a community of helpful folks on the PCW Answer Line forum.
This story, "Now that my TV has gone digital, how do I get more channels?" was originally published by PCWorld.