Downloads for Managing Your Media
If you're a multimedia fan, you probably have a hard disk full of videos and songs. Keeping track of them all, playing them all, and managing them all can be tough. To help, we've assembled a selection of downloads that can do all that for you and more. With these ten free and low-cost utilities, you can download videos from YouTube, download streaming audio, and even edit your own creations.
Read on to learn more about the programs, or see our "Downloads for Managing Your Media" collection for quick access to all ten applications.
Video Downloaders and Converters
The Web is full of great videos, from YouTube and countless other sites. The problem is, the videos stream to your PC, so in order to watch your favorites, you have to head back to the particular sites that host them. Wouldn't it be nice if you could download the videos to your hard drive, so that you could view them whenever you want and send them to friends?
We've chosen two great video downloaders--one is a Firefox add-on and the other is a stand-alone program that works specifically with YouTube. In addition, we found a very good tool for converting videos into assorted formats so that you can view them on any device. And all three programs are free.
Any Video Converter Free Version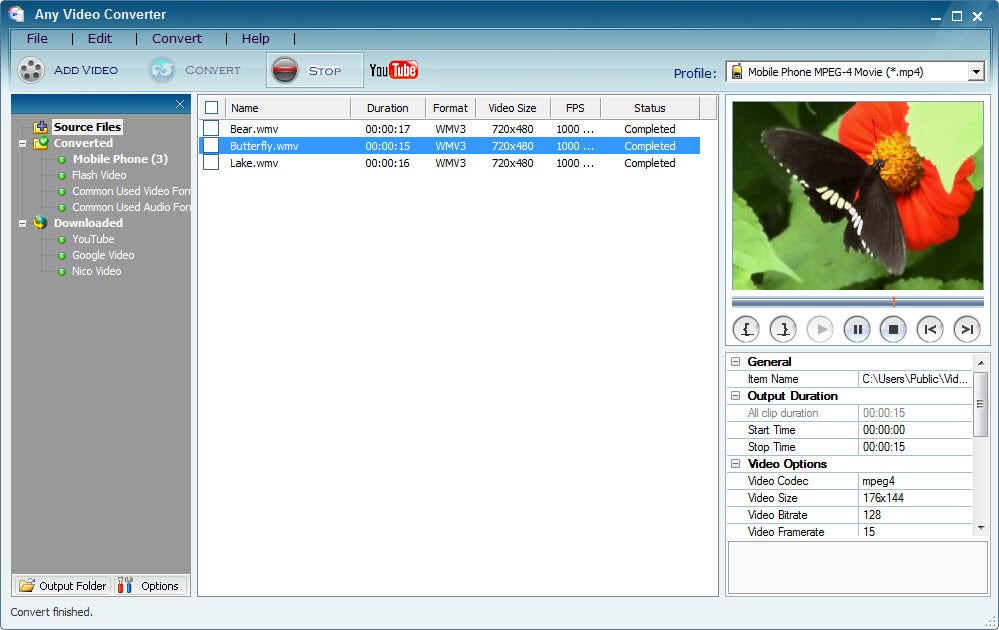 Just about any device these days--an iPod or another MP3 player, a cell phone, a PlayStation Portable--can play video. But what do you do when you have videos on your PC that you want to play on those devices? PC formats won't necessarily play on the devices; and even when they do, their dimensions are often wrong.
Any Video Converter Free comes to the rescue. It converts video files into many different formats, so you can make downloaded videos playable on various portable devices. It even will download YouTube videos for you.
Converting videos is exceptionally easy: You just select a video or videos, choose the desired format, and click the Encode button. That's it--the video is then ready for transfer and playback.
Download Any Video Converter Free Version | Price: Free
Video DownloadHelper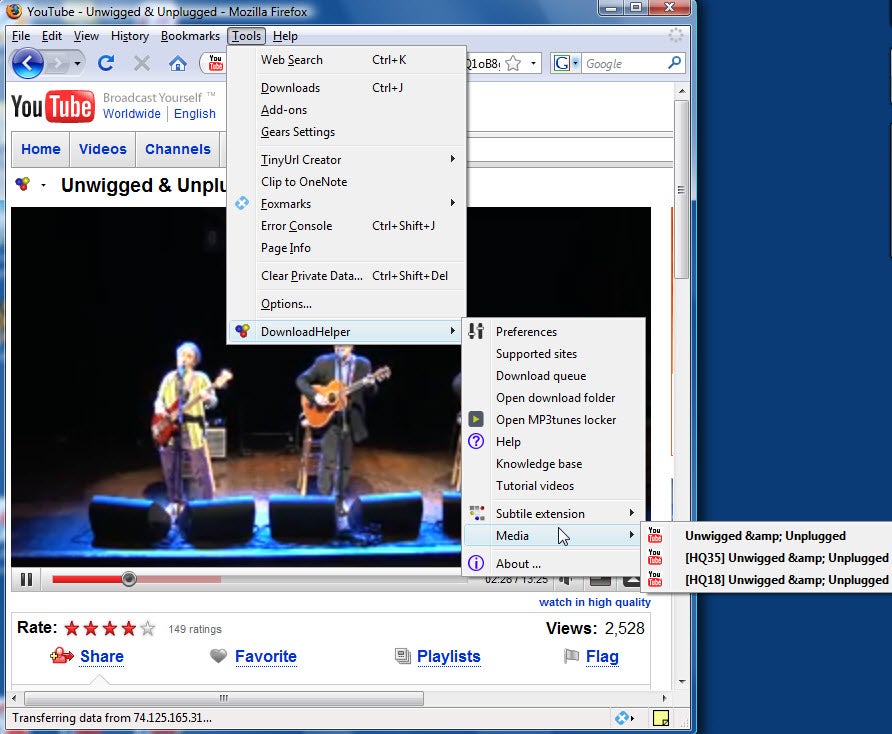 With this free Firefox add-on, not only can you download and save videos from popular Web sites, but you can also convert video files from one format to another. The conversion function is particularly important because downloaded videos from YouTube (and often from other sites) are in the .flv format, which few media apps will play. To convert videos, you'll have to download another program called ConvertHelper, but DownloadHelper has details on how to do that. When you see a video online that you want to save to your local disk, simply press a hot-key, and Video DownloadHelper does the rest.
Download Video DownloadHelper | Price: Free
YouTube Downloader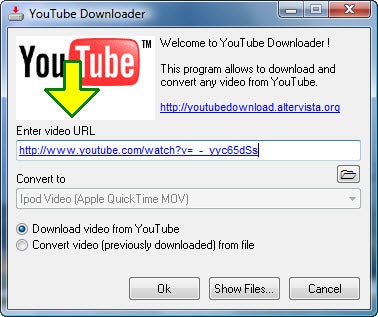 If you're looking to download videos exclusively from YouTube, and you need to convert the clips for watching on your iPod or cell phone, or to change them to another video type, then you'll want YouTube Downloader instead of Video DownloadHelper. YouTube Downloader runs as a small applet, and is exceedingly simple to use. You just copy the URL of the YouTube video into it (you can find the URL in the upper right of the YouTube video page), and then tell the program to do its work. You can choose the destination folder and name the downloaded video too.
Conversion is similarly straightforward: After you choose the downloaded file you want to convert, select the download format, and click OK, the applet does the job. You can convert to many different portable-device formats, including for the iPod, iPhone, cell phones, and PlayStation Portable, as well to as common PC formats such as MPEG and Windows Media (.wmv). Given that all this is free, what's not to like?
Note that when you install this software, by default it will install the Yahoo Toolbar and make Yahoo your default search engine. If you don't want that to happen, make sure to uncheck the appropriate boxes before installation.
Download YouTube Downloader | Price: Free
Audio and Video Editing
Interested in not just being a consumer of multimedia but also editing it or creating it? We have what you need. Here are two no-cost programs that can handle your multimedia projects, one for audio and the other for video.
Audacity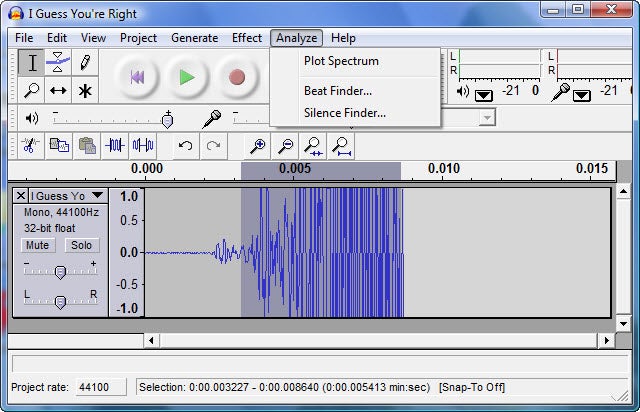 This powerful, free, open-source tool is great for creating, editing, and mixing audio. After you record your audio with Audacity, you need to edit it, and the program offers a surprisingly robust set of tools in that regard--in all likelihood, it has more horsepower than you actually need. Among other features, it lets you add any of several dozen sound effects, and provides a powerful mixer as well. The program works with files in the MP3, .wav, AIFF, and Ogg Vorbis formats.
What can you do with it? For starters, you can cut and paste sections of a recording, or delete entire sections. You can use fades and other effects, and mix an unlimited number of tracks. You can even create your own "soundscapes" by generating sounds and mixing them. All kinds of great features make this software ideal for audio engineers, as well as for anyone who just wants to play around with sound.
Download Audacity | Price: Free
VirtualDub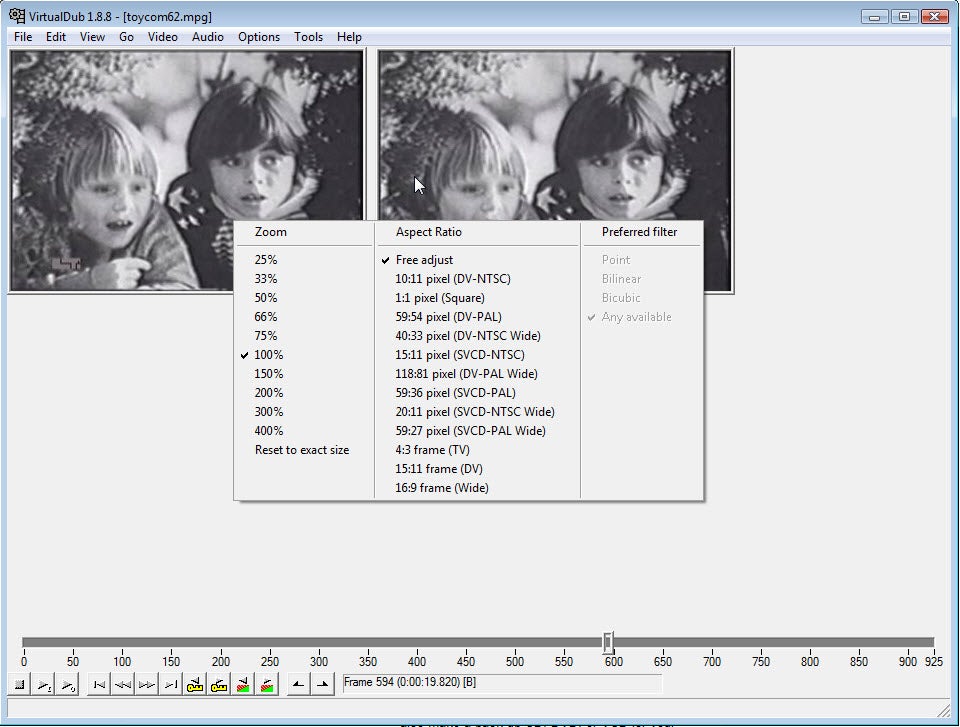 If you're involved in processing video, try this piece of open-source software. It's well suited for cleaning up, editing, and trimming. You can change the color depth, frame rate, and compression, as well as crop video and remove and replace audio tracks without altering the video. VirtualDub does an excellent job of capturing video too.
The program has far more sophisticated capabilities as well, but overall it's more appropriate for basic tasks than for true, in-depth video editing. Nevertheless, it's free and it does the job. The only drawback is that it doesn't handle Windows Media (.wmv) files.
Download VirtualDub (32-bit version) | Price: Free
Download VirtualDub (64-bit version) | Price: Free

Amazon Shop buttons are programmatically attached to all reviews, regardless of products' final review scores. Our parent company, IDG, receives advertisement revenue for shopping activity generated by the links. Because the buttons are attached programmatically, they should not be interpreted as editorial endorsements.