PMA Roundup: First Look at the Year's Coolest Cameras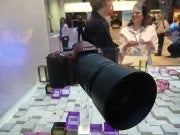 Have you noticed a lot of new digital camera announcements lately? There's a reason for that.
All last week, major companies were offering some hands-on time with their 2009 digital camera lines at the Photo Marketing Association show in Las Vegas.
Though the companies made only a handful of new digital camera announcements at the show itself, the models they revealed were pretty exciting.
In addition to those surprises, the show offered some hands-on time with several highly anticipated cameras that had been announced over the past few months.
Eager to see even more cameras? Take in our complete PMA 2009 coverage by clicking the links at the top right, and embark on a virtual tour of the PMA show floor by checking out our slide show of PMA's hottest cameras.
New Cameras Galore: Complete PMA 2009 Coverage

Amazon Shop buttons are programmatically attached to all reviews, regardless of products' final review scores. Our parent company, IDG, receives advertisement revenue for shopping activity generated by the links. Because the buttons are attached programmatically, they should not be interpreted as editorial endorsements.