Downloads for Better Digital Photos
Photo Management, Album Creation, and Viewing
If you're like most photographers, you have plenty of photos on your hard drive (too many, most likely). How to keep track of them all? With photo managers--and many of the photo managers we've encountered can also do double-duty as image editors.
Just managing and viewing your photos isn't enough, though; you want to be creative with them and share them, too. So we've also rounded up a few programs for making albums and slide shows.
ACDSee Photo Manager 2009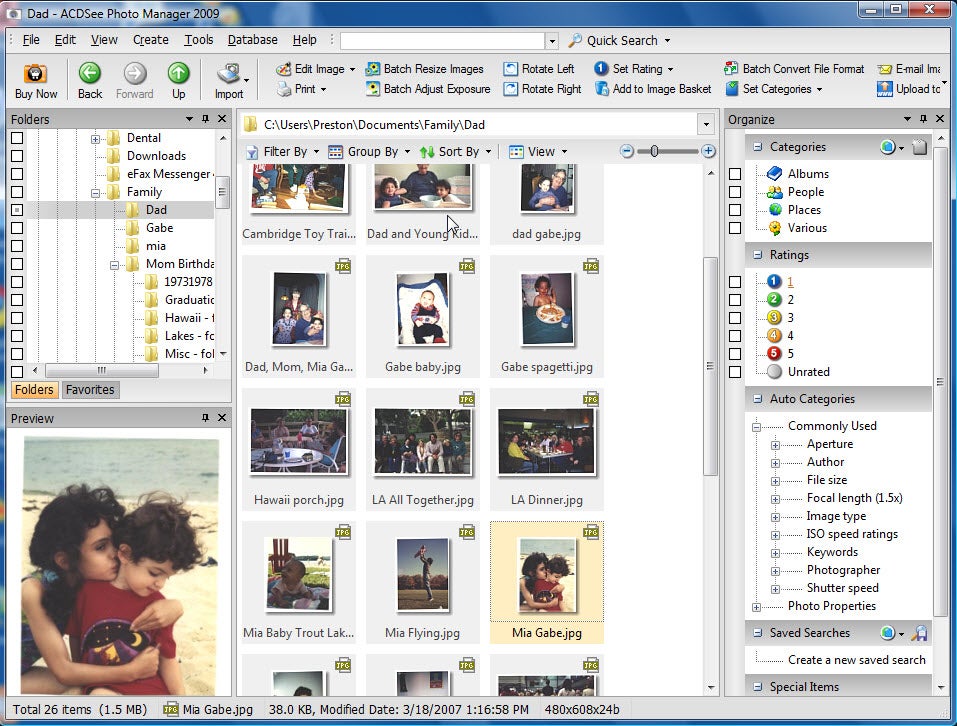 You won't find a more comprehensive photo-management tool than ACDSee. Name a feature, and this program has it. Start with its excellent organizational tools, which allow you to view photos by folder, by content (whether they have people in them, for example), by rating, by those most commonly used and viewed, and by other criteria. Want to view photos categorized by the camera make, model, and owner? It can do that. How about by the aperture, shutter speed, or focal length? No problem.
If all ACDSee did was organize your photos, it would be a great piece of software. But it also has extremely good editing tools, including features that can crop, resize, change the exposure, reduce red-eye, sharpen, and add special effects. In addition, you can convert your photos into other formats--either individually or in batch mode--and you can send them by e-mail or upload them to the Flickr and SmugMug sharing sites.
This program isn't free, but if you're committed to managing your photos, it's well worth the $50 registration price. Note that when you install it, by default it will install the Yahoo Toolbar; if you don't want the toolbar, make sure to uncheck the appropriate box during the installation procedure.
Download ACDSee Photo Manager 2009 | Price: $50 (free 30-day trial)
IrfanView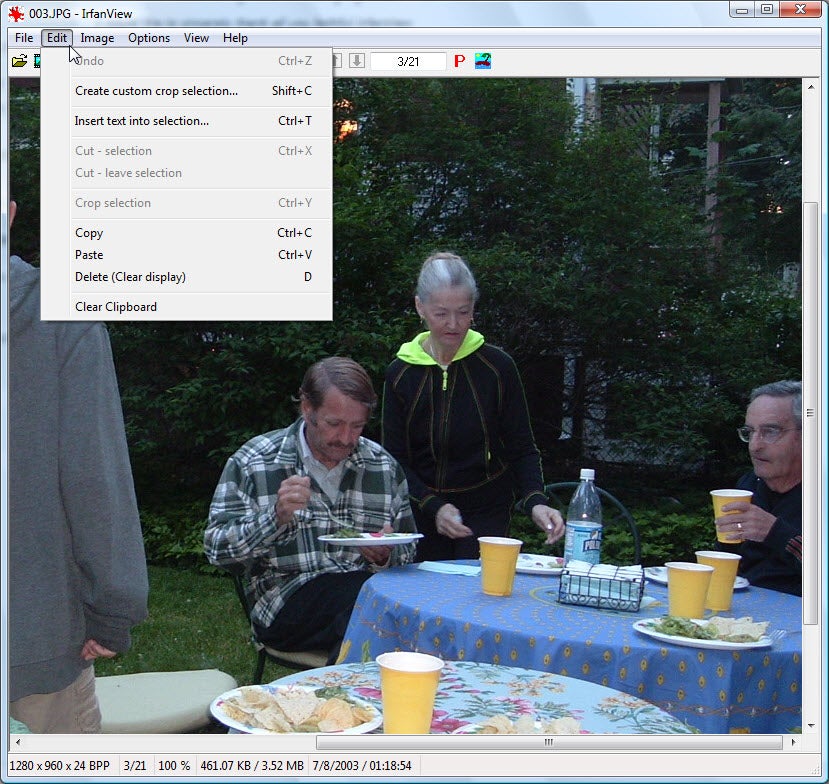 IrfanView is the best graphics viewer you can find, and it's ideally suited for viewing and working with digital photos. This free program is exceptionally fast, and in addition to letting you view photos, it packs a surprising number of editing tools.
The app opens a photo instantaneously, and shows information about it--including the resolution, the image size, and how many photos are in the current folder--across the bottom of the screen. You can crop, flip, and rotate the photo, too, but that's just the start, since you can also adjust colors, change the contrast and brightness, reduce red-eye, convert a color photo to grayscale, turn the photo into a negative, and make all sorts of other changes. The program is great for image conversion, and it handles batch conversions. IrfanView is the app I use for viewing all my photos and graphics. Give it a try, and it'll probably become your favorite, as well.
Download IrfanView | Price: Free
Kodak EasyShare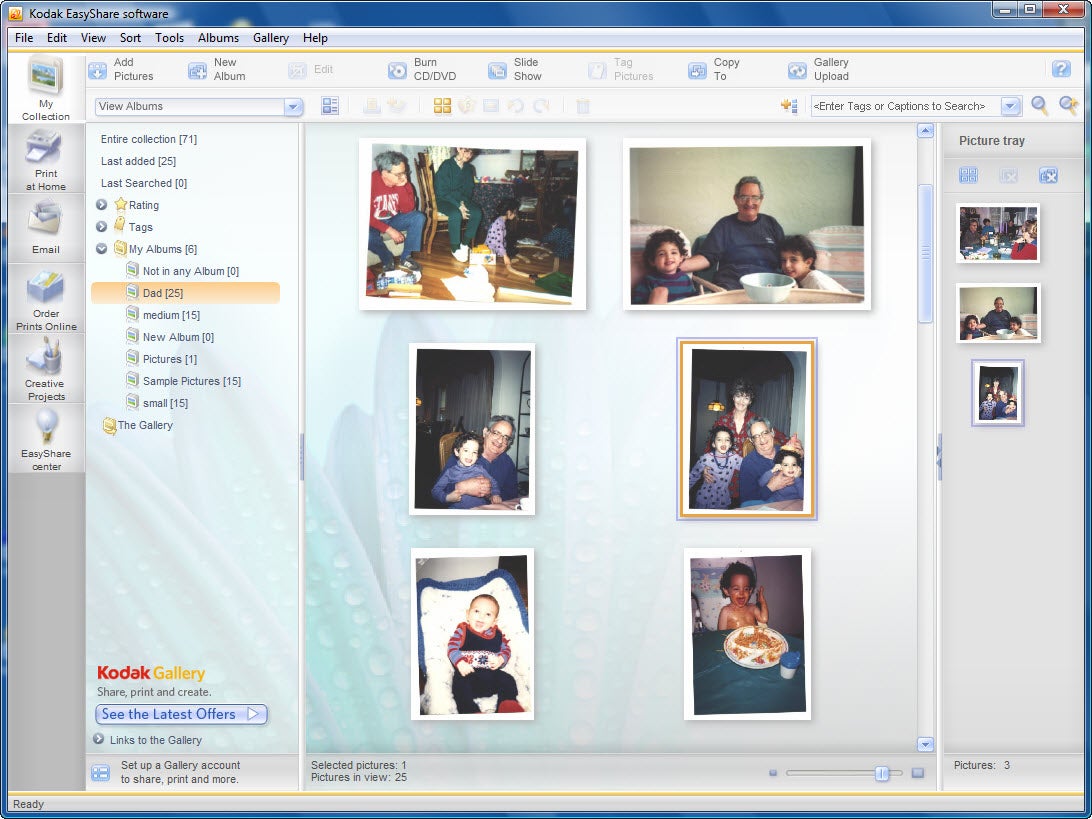 This no-cost software from photo giant Kodak offers excellent tools for organizing your photos into albums and managing them. You can view photos not only by folder but also by the date they were taken, by the date you added them to your hard drive, by size, by rating, and even by caption. You can create multiple albums for viewing, as well, and the software will synchronize photos with your digital camera.
Among EasyShare's photo editing functions are tools for eliminating red-eye, balancing color, rotating, cropping, retouching faces, and adding effects (such as tinting images sepia and turning a photo into a cartoon).
The software will burn photo collections to CDs or DVDs and create slide shows. It also links directly to the Kodak Gallery Web site, which lets you share albums, order prints, and create photo projects, including making cards for mailing.
Download Kodak EasyShare | Price: Free
MemoriesOnTV Home Edition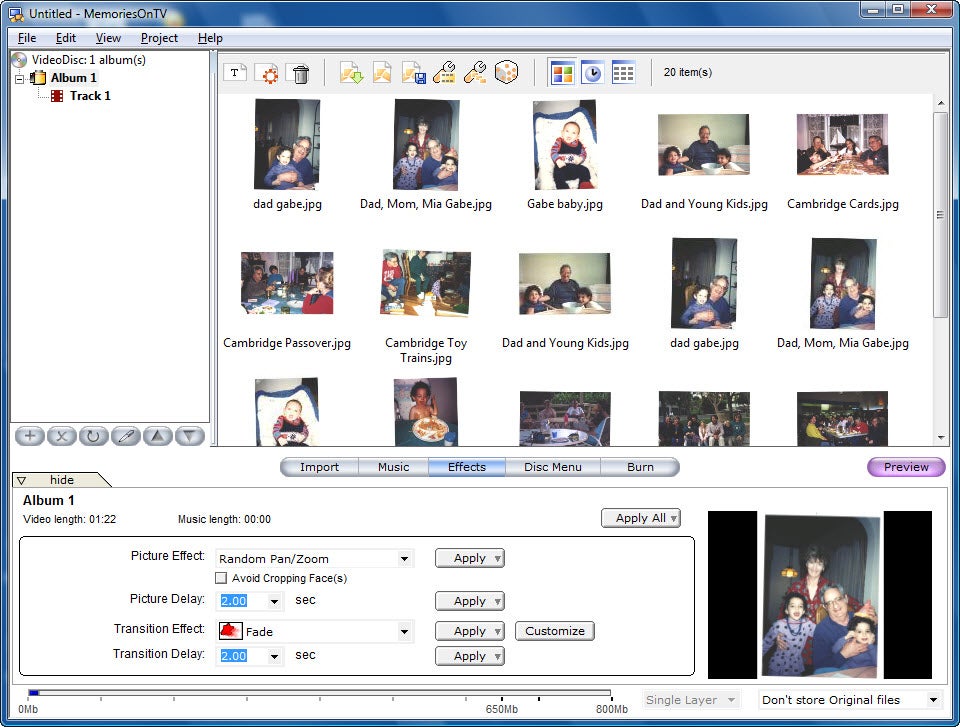 Want to share your photos with anyone, anywhere--even if they don't have a computer? This unique program lets you create slide shows, complete with multimedia, and then burn them to CDs, as well as to DVDs that can play on a traditional living-room DVD player. You can include both still photographs and videos.
The program comes with a full complement of tools for creating surprisingly sophisticated slide shows. You can insert special effects easily: Just drag your photos to an authoring screen, highlight any photo, and add the effects, such as panning or fading. You can put in various transitions between photos, too, and you can import a music soundtrack. The app shows a preview of the slide show before authoring it. Once you're ready, you can burn it to disc with a click or two.
The one main drawback to this program is that it puts a watermark over your slide show until you buy either the Home or Pro version.
Download MemoriesOnTV Home Edition | Price: $60 (free trial)
Microsoft Photo Story 3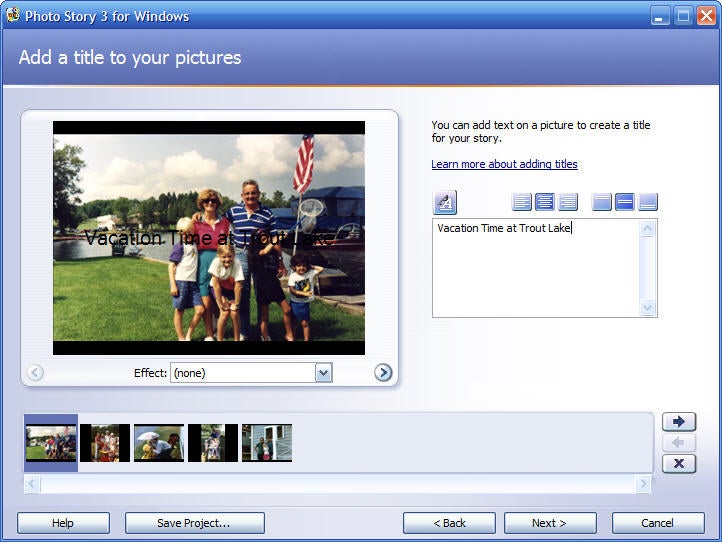 The name of this program says it all: With Photo Story 3 you can create multimedia "stories" from your photographs that you can play back and narrate. You can play the stories on a PC through Windows Media Player, send them in e-mail messages for others to see in WMP, play them on a Pocket PC or smart phone with Windows Media Player Mobile, or view them on a Portable Media Center.
In each story, your photos display in succession with transitions in between, and you can apply effects, including panning, to each photo. You can also record audio narrations that play as the photos appear. Think of the stories as slide shows that are embellished with special effects and audio but are simple to create and distribute.
Assembling stories is exceptionally easy: Select the desired photos, add a beginning title, include any music, and tell the program to create the story. You can customize the transitions and motions, too. The preview allows you to edit the story until everything is just right.
Although this program won't make self-running shows that you can distribute on CD or DVD, you can import the .wmv file that Photo Story 3 creates into a CD or DVD authoring program to produce the same result.
Download Microsoft Photo Story 3 | Price: Free
Photozig Albums Express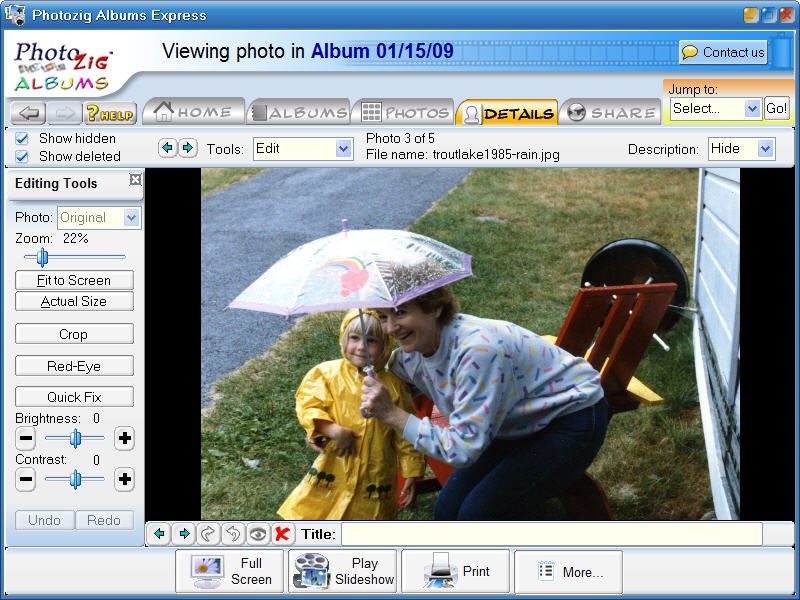 This free program offers an excellent way to organize, view, manage, and edit your photos, by creating photo albums with them. Once you have your images organized, you can play a slide show of each album, upload albums to a Web site, and send albums via e-mail. You can also send photos via e-mail, copy images to a CD, copy pictures to a memory card, or create a screen saver.
The program includes some solid editing tools for cropping, fixing red-eye, and altering the brightness and contrast. It also offers a one-click Quick Fix feature that will automatically clean up photos for you.
Creating an album is easy: Just point at a folder, and the app automatically imports all the photos within. If you have a lot of photos on your PC, though, when you install the program, don't let it automatically search for and import all your photos, because that could take a substantial amount of time. Unless you want to wait a while, or if you need to import your pictures all at once, you'll be better off manually pointing the application at folders.
This free program is a stripped-down version of the for-pay Photozig Albums software (which comes in both Deluxe and Premium editions). The no-cost Express version has some limitations, such as a cap on the number of images you can copy to a CD (100) and on how many photos you can e-mail at a time (12). If that's problematic, you can always pay for one of the full versions; but if you can live with the minor limitations, you'll find that this free software is a great bet.
Download Photozig Albums Express | Price: Free
Picasa 3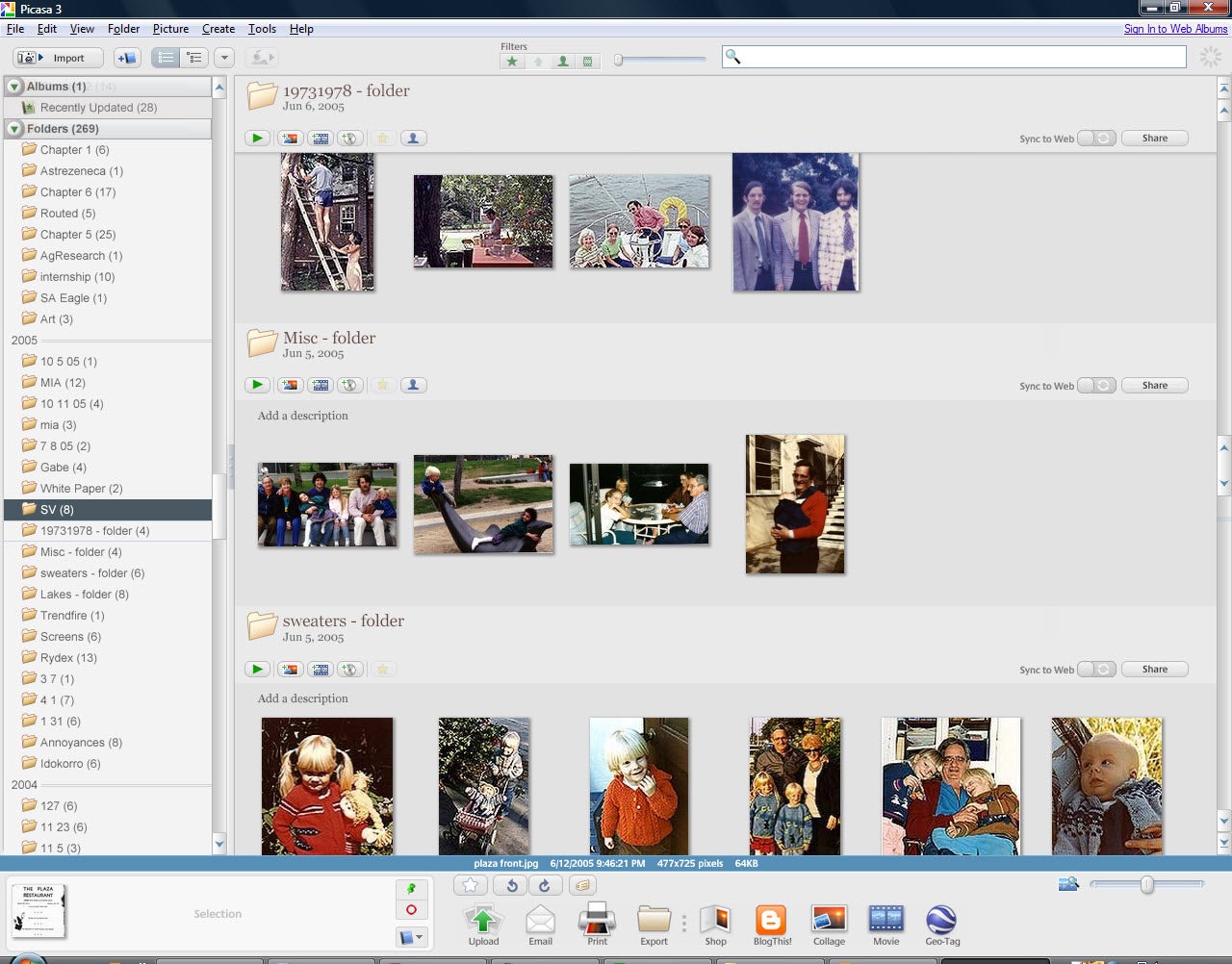 No doubt: This is the best free piece of photo managing and editing software you can find. Not surprising, given that Google owns it.
What does Picasa do? The better question to ask is what it doesn't do. At its most basic, it's a photo manager and viewer. Fire up the software, and you can browse through all of your photos organized by folder, as well as by the year you stored them on your hard drive.
When you first install the software, it scans your hard drive for photos. Normally that kind of process can take a very long time, but Picasa conducts its business with remarkable speed, so you won't have to wait forever. Even better, it displays the photos as it finds them so that you can immediately begin working on images even while Picasa adds new ones. It's also a great file viewer--you can use it instead of the one built into Windows.
Picasa has a full complement of editing tools, and it lets you create photo CDs, collages, screen savers, and posters. It will upload your files to Google's Picasa Web Albums photo site and publish your photos to your Blogger blog, as well. Even if it were a for-pay program, you'd want it. Given that it's free, any digital photographer ought to download it.
That isn't to say that Picasa is perfect: The countless features are not all organized particularly well, so the app can be confusing to use. Once you get the hang of it, however, you'll be amazed at its power.
Note that when you install Picasa, it makes Google your default search engine. If you don't want that, be sure to uncheck the box next to the option when installing the program.
Download Picasa 3 | Price: Free
Pictomio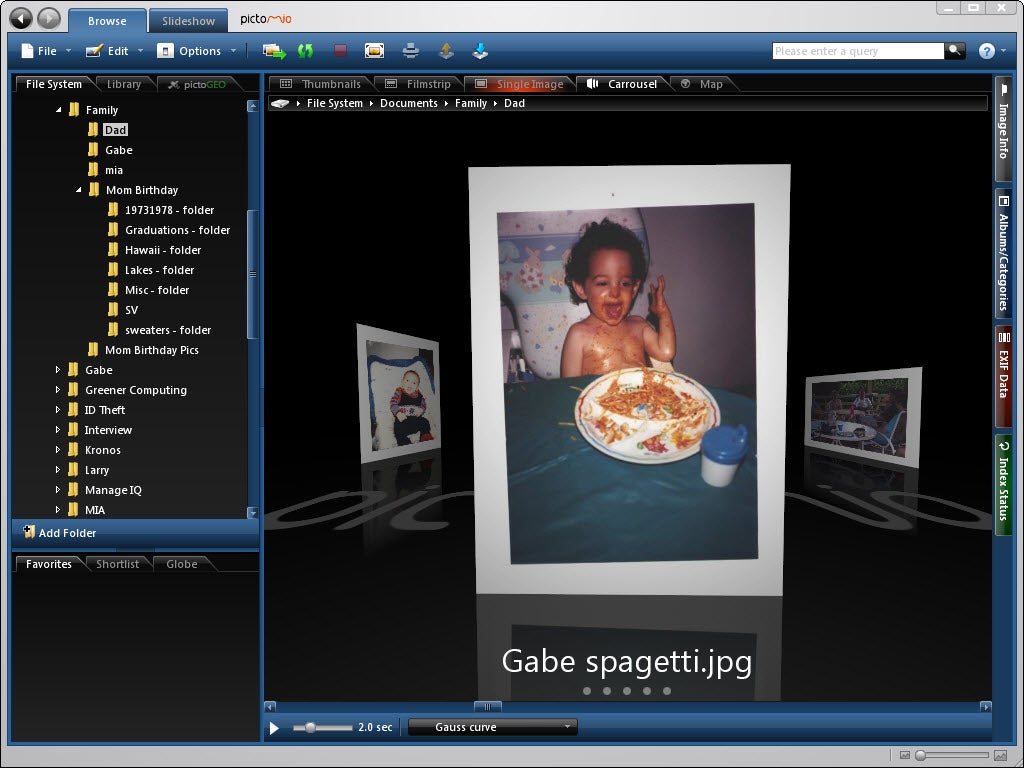 If you want to create slide shows or carousel-style views of your photos (much as you can see them in Mac OS X Leopard), grab this free application, which may be the best slide-show and carousel creator around.
After you install Pictomio, it finds all of your photos lightning-fast and displays them in thumbnails by folder. You can view photos as thumbnails, in a filmstrip, individually, or in a carousel. For each image, the app provides an amazing amount of data, including not just the usual file size and date but also the shutter speed and aperture used to take the photo, as well as other kinds of data that photo pros will love.
The program has a considerable number of features for organizing and displaying photos, but very few editing tools. Keep in mind, too, that not everyone will be able to run this software: It requires a ShaderModel 2.0 graphics card with at least 128MB of graphics memory. If you're not sure whether your graphics board meets the requirements, check your board's documentation.
Download Pictomio | Price: Free