Numark's Cheap and Complete Package For Budding DJs
These days you can keep a party going with nothing more than an iPod and an eclectic taste in music, but a truly great DJ is able to create a seamless and fun listening experience--creating compelling mixes, making fluid transitions, and incorporating tasteful effects--all in real-time.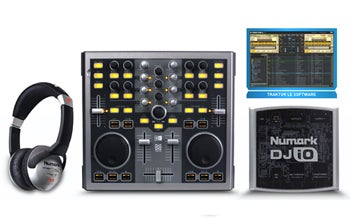 Gone are the days when aspiring disc jockeys had no choice but to lug cumbersome turntables, mixers, and garage-sale vinyls. Though there will always be a niche for analog audio, laptops and digital mixing have made your spinning dreams a reality simpler realized. And to make things even easier, Numark just recently started shipping its Total Computer DJ in a Box bundle that includes everything you need to hit the ground running.
The package retails at $649 (though I've seen it for as low as $349) and includes Numark's Total Control DJ controller, DJ|iO USB audio interface, HF125 headphones, and Native Instruments' Traktor 3 LE DJ software.
First Impressions
If you already own a laptop and an extensive digital music library--and you're looking to break into computer DJing--Numark's package is a feature rich and affordable place to start. However, as many consumer "bundle" packages often are, Computer DJ in a Box is not without its limitations.
For one, the overall feel of the sliders and scratch wheels is a little cheap. Secondly, it would have been nice if the features of the DJ|iO interface would have been integrated into the controller rather than being a separate unit. And though the HF125 headphones get the job done, they definitely leave something to be desired for audiophiles.
But limitations aside, Numark's Total Computer DJ in a Box is a terrific starting point for prospective digital DJs.
More experienced spinners might want to look at more pro offerings by Rane, Serato, or M-Audio.
This story, "Numark's Cheap and Complete Package For Budding DJs" was originally published by PCWorld.
Shop Tech Products at Amazon