Page 4 of 4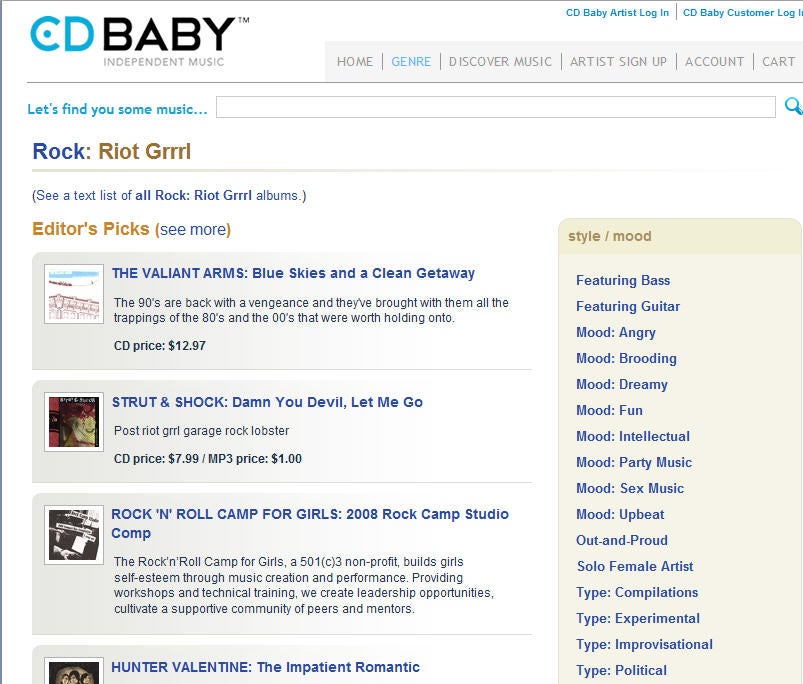 CD Baby: This Portland, OR-based online record store sells albums by independent musicians in both CD and MP3 format. You can browse CD Baby's collection by genre or mood (or both), or use its Discover Music search engine to find something new. I was in the mood to listen to something that matched the weather outside, so I typed in "dark" and "stormy." CD Baby pulled up a couple of different albums with short descriptions and listed similar artists. MP3 and CD prices vary depending on artist and album length. It is important to note that you cannot buy individual MP3s on CD Baby; you can only buy entire albums.
LimeWire Store: The developers of the file-sharing client LimeWire launched a music store in May 2008. They're now up to almost 2 million tracks from a wide array of indie labels and continue to grow steadily. Users pay $1 per MP3 (in a high-quality 256k format) or can choose from monthly subscription plans that reduce per-song cost dramatically (Platinum brings the cost down to $0.27 per track!). Eventually, LimeWire plans to integrate the store within its file-sharing software, so purchase links can appear alongside its search results.
This story, "10 Best (and DRM-free) Online Music Stores" was originally published by PCWorld.