Sony HDTVs Rated Most Reliable by PC World Readers
When Phil Harris of Washougal, Washington, brought home a 42-inch Vizio plasma set from Costco, the TV had issues from day one. "The colors went out, and there were white spots all over the screen," says Harris, a retired engineer. Vizio sent techs, who "changed a bunch of components, but that didn't work."
The vendor then sent a refurbished model, which also didn't work properly. Finally, Vizio shipped a new 42-incher--a higher-quality set than Harris's original--which has worked fine for over a year. Would he buy Vizio again? "I guess if I bought another one, it'd be at Costco, and it probably would be a Vizio," he says.
While Harris's story isn't exactly a glowing tribute to Vizio quality control, it illustrates a key point: An HDTV vendor can earn a customer's respect, and repeat business, by correcting its mistakes. The story also suggests that buyers might show a bit more patience and understanding to a low-cost manufacturer like Vizio.
Readers Rank the Best HDTV Brands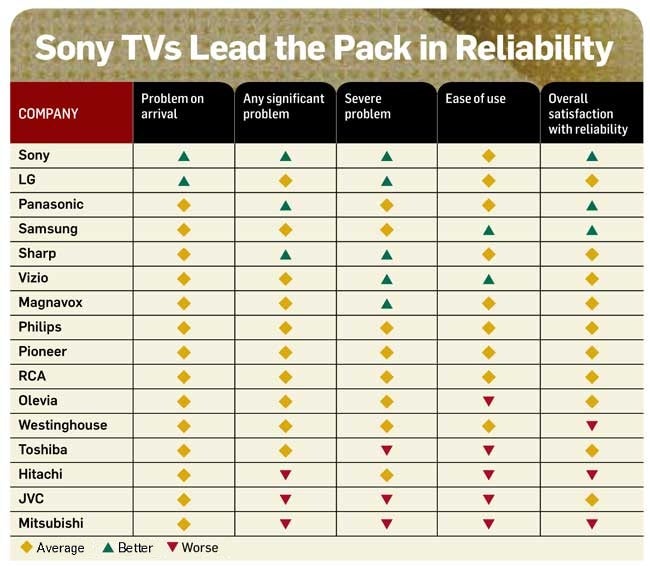 PC World's annual Reliability and Service survey lets our readers rate leading vendors in several tech-product categories. This year more than 16,000 respondents shared their likes and dislikes about their high-def TVs and the companies that sell them. Participants rated each company and its products relative to competitors by nine measures, such as customer satisfaction, quality of phone service, severity of hardware problems, and ease of use (our chart here shows five).
Sony HDTVs Win Big; Mitsubishi Struggles
The big winner was Sony, which was better than average in seven of nine measures. The electronics giant, known for high-quality, high-end HDTVs, earned praise for hardware reliability and customer service. It received average marks in ease of use and phone hold time. Five companies--LG, Panasonic, Samsung, Sharp, and Vizio--had two high scores each. Overall, readers reported greater satisfaction with the reliability of Panasonic, Samsung, and Sony sets. They also gave credit to LG, Sharp, and Vizio for making TVs with fewer serious issues.
Mitsubishi fared the worst, with four below-average scores. Readers reported a higher-than-average incidence of severe problems (and problems in general) with the TVs, and lower-than-average satisfaction with the sets' reliability and ease of use. Hitachi and JVC didn't do well either: Each had three low grades.
Sony's HD sets may be well made, but seldom are they a bargain. Why the rave reviews? "I've gone with Sony for many years. I find them to be reliable and high-quality, and they last a long time," says Alan Ronkin, who bought a 40-inch Sony Bravia LCD a year ago and is pleased with it. He considered Panasonic and Samsung sets, too, but "at the end of the day, brand loyalty was probably the most important factor," says Ronkin, who manages a nonprofit in Brookline, Massachusetts.
"What Sony has going for it is years of brand image and brand building," says iSuppli TV analyst Riddhi Patel. That brand loyalty may be well deserved and might be based on more than just hype. Like most HDTV makers, Sony doesn't manufacture its own LCD panels but rather buys them from suppliers, says Richard Doherty, research director for The Envisioneering Group. But there's more to it. "One reason Sony's able to keep their high prices and profits is that they have different electronics," Doherty says. In other words, Sony's experience with HD technology means that it can produce a better picture.
High-End HDTVs Have Fewer Problems
HDTV reliability has improved markedly, analysts say. Doherty notes that most HDTV problems occur in pre-2006 sets, although owners of new rear-projection models will still have to replace expensive bulbs over time. (In our survey we asked readers to rate sets that were less than three years old.) Just a few years ago, "plasma's fan noise was an issue, as was plasma's burn-in," says IDC analyst Eric Haruki. "Neither is an issue anymore." (Burn-in refers to ghost images that stay on the screen.)
In addition, LCD TV backlights "disintegrate at a different rate over a period of time," says iSuppli's Patel. "So you might start to see some sort of shading if one backlight isn't performing as well as the others surrounding it."
Some shoppers don't mind spending more for a high-end set. Bob Mariotti of Marlborough, Connecticut, bought a 40-inch Samsung LCD set a year ago. He had anticipated paying $1000 to $1400, but wound up spending $2200 after seeing a Samsung at Best Buy. The picture quality "absolutely blew us away," says Mariotti, a bank executive. "Buy the best you can afford, and most times it'll pay for itself in satisfaction."
Vizio, unlike other vendors that fared well in our survey, doesn't sell high-end HDTVs; it focuses on affordable, if unremarkable, sets. Vizio offers "a compelling value," says Haruki. But he notes that Vizio's low-price advantage is eroding as top vendors such as Samsung and Sony reduce their prices to compete.
Vizio's partnership with Costco has helped. If Costco customers have problems with their Vizio TVs during the first three months of ownership, they can return them, no questions asked.
Users Reveal Their HDTV Problems
Of course, poor reliability and service drive away customers. When Jim Giblin of Wayne, New Jersey, paid $5000 for a 73-inch Mitsubishi Diamond Series set three years ago, he expected a top-of-the-line, rear-projection HDTV that would last for years. "I had owned Mitsubishi big-screen TVs in the past, and I would've sworn by Mitsubishi," he says.
Within 18 months six bulbs burned out; lucky for Giblin, all but one of the $239 bulbs were under warranty. The DLP light engine (a pricey component that produces the color images) failed too. Customer support said he'd have to wait months for a new engine.
After seeing the name of a Mitsubishi product manager in a magazine, Giblin e-mailed the man and described his plight. "I pleaded on a human level," says Giblin, a self-employed small-business coach. "I said, 'What if you spent $5000 on this thing and it was sitting in your house for six months, useless?'" To Mitsubishi's credit, the product manager responded within 5 minutes. The next day Mitsubishi authorized shipment of a brand-new 73-inch HDTV, which arrived two weeks later.
Still, the experience has shaken Giblin's faith in the company: "I haven't run them off my list, but I would no longer just blindly go get a Mitsubishi."
Charles Chaney of Westlake, Ohio, purchased a 57-inch Mitsubishi DLP set two years ago and had to replace the light engine after the warranty expired. He tried ordering the $256 part on the Web site, but never saw a confirmation.
When he finally reached a rep on the phone, she said the part was out of stock, but changed her mind after asking a supervisor. Chaney received the part, but the experience "was a pain in the ass," he says. "I'm still reluctant to go with Mitsubishi the next time."
Not all Mitsubishi buyers have tales of woe. Steve Smith of Houston got a Mitsubishi rear-projection set in 2004, and it has been flawless. He may buy the brand again, but he plans to shop around since prices are lower. Mitsubishi declined to comment for this article.
Readers griped about Hitachi, too. After Bernie Wheaton of Tom's River, New Jersey, bought a 42-inch Hitachi plasma set two years ago, his wife heard a distorted, scratchy sound coming out of the speakers. Hitachi subcontracted the case to a local repair shop. For the company to make a diagnosis, the TV set would have to be sent to a service center--but Hitachi refused to provide a replacement. "That was a disappointment," says Wheaton, who intends to buy a Panasonic plasma next time.
Lower HDTV Prices Mean Challenges
What's ahead for HDTV? Even lower prices and more cutthroat competition, as vendors push for market share and consumers shop for their second or third set. "Now the 52-inch goes to the living room, and the 37-inch or 42-inch retires to the bedroom or den," The Envisioneering Group's Doherty says.
But will quality suffer? Possibly for a while, IDC's Haruki predicts, as vendors beef up manufacturing and support to handle increased sales and users. "Vendors will need to increase service, or they'll have a lot of dissatisfied customers," he says. Manufacturing will move to countries with cheaper labor, too. Vendors "may have issues...but only because it's a transitional period," Haruki adds. "As time goes on, they'll figure it out and become more reliable."
What the Measures Mean
We asked readers to rate HDTV manufacturers using five reliability measures and four service and support measures. We then judged each company as "worse than average," "average," or "better than average" based on statistically derived scores relative to competitors. If a TV maker drew fewer than 50 reader responses for a measure, we discarded the results, deeming them statistically unreliable. Some smaller HDTV vendors received too few votes for us to rate their reliability and service accurately.
Reliability Measures
Problems on arrival: Based on the percentage of survey respondents who reported one or more problems with the TV set out of the box.
Any hardware or software problems: Based on the percentage of survey respondents who reported any problem at all during the TV's lifetime.
Severe problems: Based on the percentage of survey respondents who reported a problem that rendered the TV impossible to use.
Ease of use: Based on the percentage of survey respondents who rated their TV as extremely or very easy to use.
Satisfaction with reliability: Based on the owner's overall satisfaction with the reliability of the TV.
Service Measures
Phone hold time: Based on the average time a product's owners waited on hold to speak to a phone support representative.
Phone rating: Based on a cumulative score derived from the owners' ratings of several aspects of their experience in phoning the company's technical support service. Among the factors considered were whether the information was easy to understand, and whether the support rep spoke clearly and knowledgeably.
Failure to resolve problem: Based on the percentage of respondents who said their problem was unresolved after they contacted the company's support service.
Service experience: Based on a cumulative score derived from TV owners' responses to questions focusing on 11 particular aspects of their experience with the company's service department.