Have a question about digital photography? Don't keep it to yourself. Send it to me. I reply to as many as I can--though given the quantity of e-mails that I get, I can't promise a personal reply to each one. I round up the most interesting questions about once a month here in this newsletter.
For more frequently asked questions, read my Digital Focus newsletters from March, April, and May.
Converting Video Formats
I have a digital camera that can take short videos. I recently shot a video and then discovered that the file was saved in .mov format. How can I convert this to a more common format?
--Ray Clemons, Jacksonville, Florida
There are a lot of utilities around that can help you convert files between various video formats, Ray. In fact, you can find a few options in the PC World Download Center.
The $25 SoftPepper MOV Converter, for example, lets you turn your MOV files into WMV, AVI, and even MP4. Xilisoft MOV Converter is a $29 program that ups the ante by including support for MPEG-2 and DIVX. Want more options? Here are some 500 search results in our Downloads library.
More Details About Megapixel vs. Megabytes
I just read your article on megapixels vs. megabytes. You clarified the difference between megapixels and megabytes, but there's more that can be said.
The reader was concerned about a 4MB file vs. a 10-megapixel camera. A more detailed explanation would say that each pixel is three color dots (representing the three primary colors, red, green and blue). Each color uses 1 byte, so there are 3 bytes per pixel. As a result, a 10-megapixel camera requires 30 megabytes (30 million color-dots), but this gets compressed by the camera when the picture is saved in JPEG format. Typically, cameras use an 8:1 compression ratio for JPEG pictures, which reduces that 30 megabytes to 3.75 megabytes--very close to what the reader reported.
--Dennis Foreman, Binghamton, New York
Thanks, Dennis. That is a very thorough summary of how you get from megapixels to megabytes.
A long time ago, you explained how to fix Windows when it gets confused and does not let you save JPEG pictures from your browser. I vaguely remember that some temporary files should be deleted. Can you remind us how to fix this problem?
--Alf Reider, Southampton, New Jersey
Sure thing, Alf. This is a known problem with older versions of Internet Explorer. In fact, this problem is documented in Microsoft's Knowledge Base.
This can happen to you if "a damaged program file (for example, an ActiveX or Java object) is downloaded to the Downloaded Program Files folder on your hard disk." The solution, according to the article, is simply to empty the Temporary Internet Files folder and to then delete the damaged file from your Downloaded Program Files folder. Check out the Knowledge Base article for the complete directions.
Or, better yet, I recommend that you simply upgrade to the latest version of Internet Explorer.
Signing My Photos
I need to know what programs allow me to apply signatures to my pictures. Sometimes I would just love to see a name in the corner of a picture.
--Donna Brock, Dallas, Texas
The easiest solution is to add text on the top of your photos using a photo editing program like Adobe Photoshop Elements. All of the major photo editing programs have a tool that lets you add free-form text anywhere in a photo. You can choose from a variety of fonts, including script typefaces that look a lot like handwriting. You could also scan in your signature and add it as a layer on top of your photo, but that's a somewhat more complicated prospect.
Hot Pic of the Week
Get published, get famous! Each week, we select our favorite reader-submitted photo based on creativity, originality, and technique. Every month, the best of the weekly winners gets a prize valued at between $15 and $50.
Here's how to enter: Send us your photograph in JPEG format, at a resolution no higher than 640 by 480 pixels. Entries at higher resolutions will be immediately disqualified. If necessary, use an image editing program to reduce the file size of your image before e-mailing it to us. Include the title of your photo along with a short description and how you photographed it. Don't forget to send your name, e-mail address, and postal address. Before entering, please read the full description of the contest rules and regulations.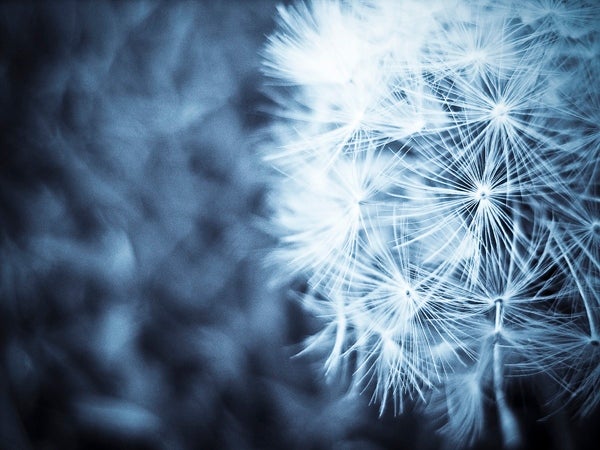 This week's Hot Pic: "Up Close and Personal," by Jackie Pham, Savage, Minnesota
Jackie writes: "I love macro photography and the unexpected beauty and detail that comes with it. I took this photo with a Canon PowerShot SD400 and edited with Adobe Lightroom. I know it's tempting, but try not to blow on it...I have allergies!"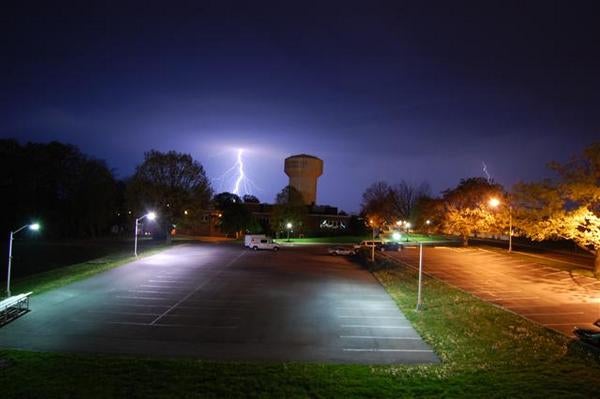 This Week's Runner-Up: "Lightning Behind the Water Tower," by Joseph J. Moore, Horsham, Pennsylvania
Joseph writes: "I'm a meteorology student at Millersville University in Pennsylvania. I saw an isolated thunderstorm coming towards us, so I headed to the top of the parking garage near my dorm. I was able to capture this photo with my Nikon D40 using a 6-second exposure.
See all the Hot Pic of the Week photos online.
Have a digital photo question? Send me your comments, questions, and suggestions about the newsletter itself. And be sure to sign up to have the Digital Focus Newsletter e-mailed to you each week.
This story, "Frequently Asked Photo Questions for June" was originally published by PCWorld.