Page 2 of 2
Stream Music From Your PC With Orb
While you're waiting for MP3tunes to upload all your music, consider installing Orb. This free service turns your PC into a media server, streaming not only songs, but also video, photos, and even TV, to just about any Web-connected device. That means you can tap your music library from your work PC, your Palm Centro, your Nintendo Wii, or your iPhone--to name just a few of the supported gadgets.
The Orb software client requires Windows XP or later and a broadband Internet connection. (If you want to add TV to the streaming mix, you'll need a TV tuner as well--check Orb's FAQ page for a list of supported models.) Once Orb is installed, configure the software to monitor the system folders containing your music (and, if desired, photos and videos). The software will also help you sign up for an Orb account, which requires nothing more than a user name, a password, and an e-mail address.
With the Orb client up and running, you're ready to stream. The hitch, of course, is that you'll need to leave your computer on at all times. If it's configured to go into power-saving sleep mode, no problem: Orb can transmit a "wake-up" command that should get your machine out of bed. (You may need to tweak the BIOS and/or ethernet adapter settings to enable the Wake on LAN option, which makes this kind of remote control possible.)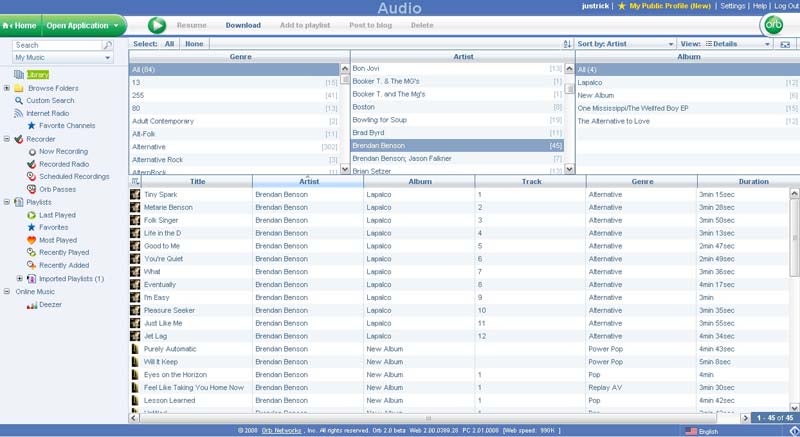 To listen to your tunes, fire up the Web browser on the device you're using--a PC, your smart phone, a game console, or whatever--and then head over to mycast.orb.com. The Orb interface varies depending on the device you use to access it; a PC affords the richest experience, a customizable portal where you can access not just music, but also weather, news, games, and RSS feeds. Click Audio-Random if you just want to shuffle-play your song library, or click the Open Application button, and then Audio, for a familiar media-player interface.
Orb is by no means the only option for streaming music from your PC; others include JukeFly, SqueezeCenter, and Vibe Streamer. Like Orb, these services cost nothing to use, but they stream only music--no video or photos--and their support for mobile devices is limited, or zero. Plus, Orb is a snap to set up and use, making it the obvious choice if you want anytime, anywhere access to your tunes.
This story, "Stream Your Music Collection Over the Net" was originally published by PCWorld.