Now Playing: High-Def Movies
Page 5 of 6
The Disc Alternative: High-Def Movies Delivered via Internet
Not interested in building up a physical disc collection again? Several alternatives to Blu-ray Disc let you watch high-def movies. But be prepared for gotchas.
Hardware Boxes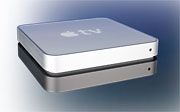 Of the hardware alternatives, one of the most well-known is the Apple TV ($229 for 40GB of storage, or $329 for 160GB of storage). Apple's update earlier this year made the slim Apple TV appliance more versatile than before--it now works without connecting to your computer--and software enhancements have made it easier to navigate the built-in menus for browsing iTunes to find rental and download content. For rentals, high-definition catalog titles cost $4 and new releases cost $5--one dollar more than their standard-definition iterations.
But you won't know whether a rental or download is available for viewing in high-definition until you drill deeper into the movie description, a flaw that makes finding a high-def film a matter of chance.
Apple currently has about 260 high-def Hollywood titles--half the number of Blu-ray titles currently on the market (www.appletvjunkie.com maintains a list). And you get only Dolby Digital 5.1 sound--no rich, uncompressed audio tracks here.
Image quality remains an issue, too, of course. The Apple TV's 720p high-def downloads look better than its standard-def downloads, but they still lack the clarity and detail of Blu-ray Discs, and can be prone to showing image artifacts.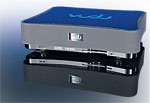 The Vudu ($295 for a compact box holding up to 100 movies at a time) boasts higher-resolution images than does the Apple TV--1080p, at 24 frames per second. It streams video rentals (movies only; move along if you want your Tony Soprano in high-def), so you do need a bit of a buffer before you can start fast-forwarding or rewinding within a movie. Images look good on the Vudu, but can have artifacting issues and a lack of detail compared with a Blu-ray Disc movie. It also outputs Dolby Digital 5.1 audio.
The Vudu service's delivery method has other constraints, too. Currently it has only 116 high-def movies from three studios (Lionsgate, Paramount, and Universal). Though the company says it plans to add 5 to 15 HD titles per month, Vudu's HD offerings will still lag severely behind the availability of films and TV on Blu-ray.
Also, new HD rentals cost $6, while catalog rentals are $4 (same as a new-release standard-def movie). Finally, you'll need a 4-megabits-per-second connection, which may be doable for many cable users but could be a problem for DSL users limited to 1.5 or 3.0 mbps. The Vudu's bandwidth needs may also impact other network activities.
Microsoft Xbox 360 ($350 with 20GB hard drive; $450 with 120GB hard drive and HDMI out) owners can use their game console for high-def movie and TV downloads, via Microsoft's Xbox 360 Marketplace. The catalog includes about a hundred titles each of movies and TV. The 360 outputs its 720p images via an analog component-video connection on all models but the premium Xbox 360 Elite--the only iteration with an HDMI port. Films cost between $4.50 and $6 for 24-hour rentals, while TV shows cost just $3 a pop to download and own.
Web-Based Streaming and Downloads
For all the talk of HD movies on demand, streaming and download-to-PC services on the Web remain in their infancy.
Hulu.com, which began streaming standard-definition television shows for free earlier this year, offers only high-def movie trailers at this time.
CinemaNow.com, long a pioneer in the movie download market, has a handful of high-def movies, but none are from the Hollywood majors. The company is currently working with Technicolor to bring big-ticket studio releases to its existing 10,000-title-strong catalog of movies for rent and download.
In addition, users will soon be able to access CinemaNow's movies via Hewlett-Packard's new media adapter, the HP MediaSmart Connect x280n.
Shop Tech Products at Amazon