Now Playing: High-Def Movies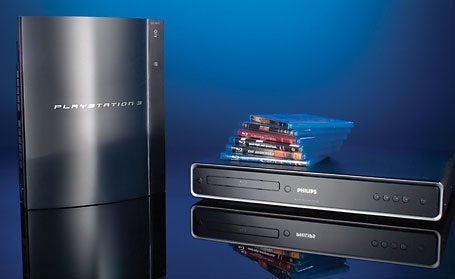 Earlier this year, Blu-ray Disc emerged the victor in its hotly contested next-generation format war with Toshiba's HD DVD. Though that competitor is gone, the broader war for high-definition supremacy in the home is far from over. Both digital downloads and video streaming will compete with Blu-ray Disc for viewers in the near future--although neither of those alternatives can stand up to Blu-ray today, in image quality or in breadth of content.
Before you shop for a Blu-ray Disc player, you need a crash course in new Blu-ray terminology. The Blu-ray Disc format has gone through some awkward growing pains, which has resulted in the messy situation we have now of different players supporting (or not supporting) different Blu-ray features. The format has been shipping for two full years; for nearly the first year and a half of that time, manufacturers were not required to support BonusView and BD-Live, two capabilities currently influencing what kinds of extra features a player can enable.
Blu-ray: Two New Features to Look For
BonusView: For fans of supplemental content like director interviews and making-of documentaries, BonusView is a neat feature--even a must-have one. BonusView (at one time referred to as Blu-ray Profile 1.1) lets you play back picture-in-picture content on BonusView-enabled Blu-ray titles. This means players that support BonusView can handle the processing of both a second video stream and a second audio stream. And the latter capability means that the player can perform audio mixing for sound effects generated within the player (such as menu navigation effects) along with the audio sound track of the film.
BD-Live: The other new feature to look for, BD-Live (also referred to as Profile 2.0), may be used to support Internet-connected activities such as interactive gaming and social networking. Players with BD-Live have, in addition to BonusView, an ethernet port for downloading and streaming content via the Internet, and an internal file system for managing that content. Early examples of BD-Live content have been limited (trailer downloads, for example), but studios are prepping more-complex offerings.
Unfortunately, the Blu-ray specification allows manufacturers to choose whether to include BD-Live's minimum requirement of 1GB of storage in the player. Some manufacturers will provide storage inside the player itself, while others will require you to supply a flash memory card or a USB 2.0 drive to accompany the player.
Featured in this article:
Blu-ray Players: The Current Crop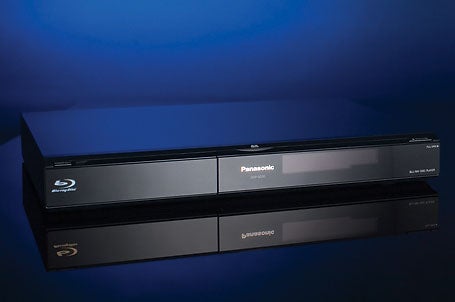 For this roundup, we corralled six Blu-ray Disc players and herded them into the PC World Test Center. Three units--Pioneer's $1000 BDP-95FD, Samsung's $400 BD-P1400, and Sharp's $550 BD-HP20U--are older models that don't support the Blu-ray BonusView capabilities. Two other players--Panasonic's $500 DMP-BD30 and our Best Buy, Philips's $400 BDP7200/37--feature BonusView support, but not BD-Live. The sixth unit, the $400 Sony PlayStation 3, has undergone numerous changes since we last considered the device as a Blu-ray Disc player, including updates to add support for both BonusView and BD-Live.
We conducted our tests in the PC World Test Center using Pioneer's 50-inch PRO-FHD1 plasma display, Pioneer's Elite VSX-82TXS audio/video receiver, and NHT's Classic series 5.1-channel surround-sound system (we configured the players to handle their own audio processing). Our viewing tests included scenes from several movies: the standard-definition versions of The Lord of the Rings: Return of the King and The Phantom of the Opera, and the high-definition Blu-ray Disc versions of Cars, Good Night and Good Luck, Mission: Impossible III, The Phantom of the Opera, and The Searchers.
We also considered video resolution loss and jaggies test patterns from Silicon Optix's HD HQV Benchmark. We conducted our audio-quality tests with the uncompressed PCM audio track of The Last Waltz, a classic that contains some stellar acoustic tracks. (For more on audio codecs, see the discussion under "Advanced Features.")
One thing we noticed very quickly in our comparative tests: Blu-ray players are not all alike. We found a surprising amount of variation in how the six models output our selected movie test chapters to the Pioneer PRO-FHD1 plasma display.
For example, one player, the Pioneer, tended to show crisp, but slightly dark, images. Meanwhile, both the Panasonic and the Samsung generated images that looked a bit washed out, and Sony's multipurpose game console, the PlayStation 3, produced images lacking the three-dimensionality and vibrancy of some of its stand-alone competitors.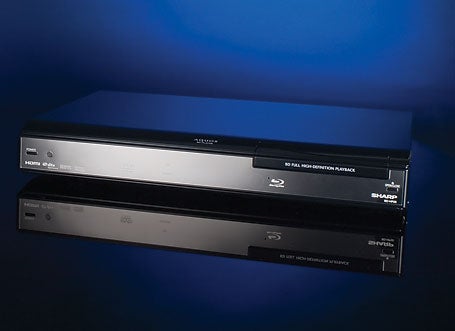 The Sharp produced the best image quality overall. It also garnered the only Superior ratings in our jury's evaluation, thanks to its superb handling of colors, brightness, and contrast (especially evident in the opening scene of the black-and-white film Good Night and Good Luck, and in a tricky-to-render day-for-night scene in The Searchers).
The sixth unit, the Philips, placed a close second to the Sharp in our image-quality tests; it produced some of the most even-keeled results across the board, with both pleasing contrast and well-balanced colors.
In audio performance, the Pioneer and the Sharp tied for top honors: Both produced crisp, full-bodied audio. The Philips and the Sony PlayStation 3 landed in a virtual tie with the frontrunners in our jury testing, though I admit that my sonically sensitive ears could hear a clear difference. The remaining two models--the Panasonic and the Samsung--trailed with mediocre audio reproduction on our test track; their sound was thin and lacked the depth and fullness of their rivals.
Advanced Features: Slow Progress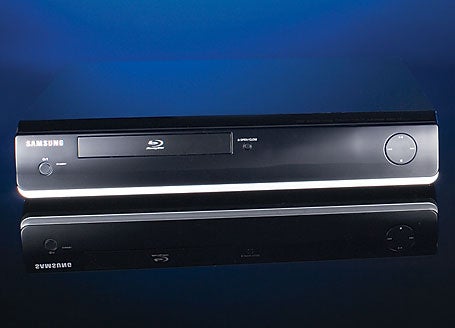 Of the models we tested, three--the Panasonic, the Philips, and the Sony PlayStation 3--offered BonusView. Only one, the PlayStation 3, could handle BD-Live as well. Under the Blu-ray Disc spec, all players should be equipped to handle movie titles packed with fancy, complex menus (authored in BD-Java). One player, the Samsung, failed our BD-Java playback test: It refused to load Disney's Cars, so we could not watch the movie (let alone see the Java-intensive extra features); this was the case even after we waited longer than the 3 minutes that the disc itself recommends.
Beyond knowing which parts of the Blu-ray specification a player adheres to, another buying consideration is what audio codecs a player supports. All the players we reviewed output Linear PCM (LPCM), an uncompressed method of encoding Blu-ray audio. Some players have in-unit decoding for the newer lossless Dolby TrueHD and DTS-HD Master codecs being used for some movie sound tracks; others output audio via bitstream; and still others support only the core audio streams within the codecs (which means you're getting something akin to Dolby Digital, for example).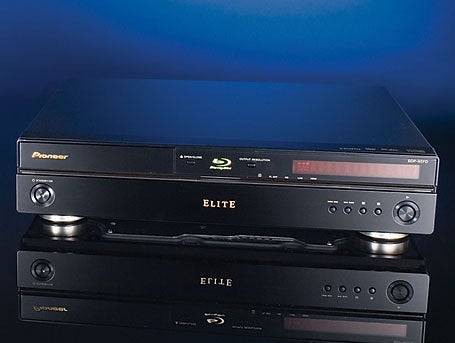 The advantage to having in-player decoding is twofold. First, it means you don't need to use a receiver that supports these relatively new codecs; your five-year-old mainstay receiver should do just fine. Second, thanks to in-player decoding, you'll be able to hear both the audio in the film and the audio on secondary audio-video streams (for example, the sound in a picture-in-picture commentary track). Today's receivers aren't equipped to handle decoding both audio signals, so having a player that can do so is very useful.
In-player decoding of the lossless audio codecs remains fairly rare, though. Of the models here, only the Samsung and the Sharp support Dolby TrueHD. And no model we tested decoded DTS-HD Master audio within the player. Several of the units--the Panasonic, the Samsung, the Sony, and the Pioneer--output the lossless audio codecs via bitstream to an external receiver.
Coming Soon: Next-Generation Players
As summer turns to fall, expect a new crop of players to hit store shelves. Panasonic, Pioneer, Samsung, Sharp, and Sony have all announced models scheduled to come out in that period. These new players will, at the very least, support the picture-in-picture capabilities of BonusView.
Some of the updated models will also offer BD-Live. As mentioned earlier, though, not all forthcoming players may have memory built in. For example, Sony bills its $400 BDP-S350 as BD-Live "ready," but that means the device will require both a firmware update and external memory to handle BD-Live features. Sony's $500 BDP-S550, due in the fall, will come with full BD-Live support and will include 1GB of memory in the player. Panasonic's DMP-BD50, expected in early summer, adds BD-Live; but this $700 player lacks the integrated memory that the Sony BDP-S550 will have.
Audio will be another area of improvement. Both of Sony's new players (its third generation), for example, expand audio output to 7.1 channels and support decoding Dolby TrueHD and Dolby Digital Plus inside the player; the BDP-S550 adds on-board decoding of DTS-HD Master Audio, as well.
With all of these new developments on the horizon, should HDTV-owning movie connoisseurs hold off on buying a Blu-ray Disc player today? The short answer is an emphatic no. A Blu-ray player remains the single best way of getting a crisp 1080p image onto a large-screen, high-definition display. Even with up-conversion via HDMI, standard-definition films simply cannot come close to their high-def counterparts when it comes to showcasing color and detail: Today's technology can't replicate such information if it isn't on the disc to begin with.
I'd recommend that prospective buyers aim for a player supporting Blu-ray BonusView, at the least; I say this even though I realize that not everyone bothers to watch the extra features, or covets the picture-in-picture capabilities that BonusView enables.
If your goal is to start enjoying stellar, high-definition image quality today, our Best Buy, the BonusView-capable $400 Philips BDP7200/37, is a solid value, given its strength in producing both pictures and sound. Sony's PlayStation 3 is an excellent choice as well: Its versatility means that you can start enjoying Blu-ray movies today--and play Grand Theft Auto IV, too.
The Disc Alternative: High-Def Movies Delivered via Internet
Not interested in building up a physical disc collection again? Several alternatives to Blu-ray Disc let you watch high-def movies. But be prepared for gotchas.
Hardware Boxes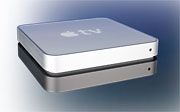 Of the hardware alternatives, one of the most well-known is the Apple TV ($229 for 40GB of storage, or $329 for 160GB of storage). Apple's update earlier this year made the slim Apple TV appliance more versatile than before--it now works without connecting to your computer--and software enhancements have made it easier to navigate the built-in menus for browsing iTunes to find rental and download content. For rentals, high-definition catalog titles cost $4 and new releases cost $5--one dollar more than their standard-definition iterations.
But you won't know whether a rental or download is available for viewing in high-definition until you drill deeper into the movie description, a flaw that makes finding a high-def film a matter of chance.
Apple currently has about 260 high-def Hollywood titles--half the number of Blu-ray titles currently on the market (www.appletvjunkie.com maintains a list). And you get only Dolby Digital 5.1 sound--no rich, uncompressed audio tracks here.
Image quality remains an issue, too, of course. The Apple TV's 720p high-def downloads look better than its standard-def downloads, but they still lack the clarity and detail of Blu-ray Discs, and can be prone to showing image artifacts.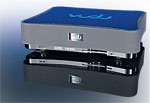 The Vudu ($295 for a compact box holding up to 100 movies at a time) boasts higher-resolution images than does the Apple TV--1080p, at 24 frames per second. It streams video rentals (movies only; move along if you want your Tony Soprano in high-def), so you do need a bit of a buffer before you can start fast-forwarding or rewinding within a movie. Images look good on the Vudu, but can have artifacting issues and a lack of detail compared with a Blu-ray Disc movie. It also outputs Dolby Digital 5.1 audio.
The Vudu service's delivery method has other constraints, too. Currently it has only 116 high-def movies from three studios (Lionsgate, Paramount, and Universal). Though the company says it plans to add 5 to 15 HD titles per month, Vudu's HD offerings will still lag severely behind the availability of films and TV on Blu-ray.
Also, new HD rentals cost $6, while catalog rentals are $4 (same as a new-release standard-def movie). Finally, you'll need a 4-megabits-per-second connection, which may be doable for many cable users but could be a problem for DSL users limited to 1.5 or 3.0 mbps. The Vudu's bandwidth needs may also impact other network activities.
Microsoft Xbox 360 ($350 with 20GB hard drive; $450 with 120GB hard drive and HDMI out) owners can use their game console for high-def movie and TV downloads, via Microsoft's Xbox 360 Marketplace. The catalog includes about a hundred titles each of movies and TV. The 360 outputs its 720p images via an analog component-video connection on all models but the premium Xbox 360 Elite--the only iteration with an HDMI port. Films cost between $4.50 and $6 for 24-hour rentals, while TV shows cost just $3 a pop to download and own.
Web-Based Streaming and Downloads
For all the talk of HD movies on demand, streaming and download-to-PC services on the Web remain in their infancy.
Hulu.com, which began streaming standard-definition television shows for free earlier this year, offers only high-def movie trailers at this time.
CinemaNow.com, long a pioneer in the movie download market, has a handful of high-def movies, but none are from the Hollywood majors. The company is currently working with Technicolor to bring big-ticket studio releases to its existing 10,000-title-strong catalog of movies for rent and download.
In addition, users will soon be able to access CinemaNow's movies via Hewlett-Packard's new media adapter, the HP MediaSmart Connect x280n.
For the Library: Blu-ray Essentials

Aside from our picks of test discs, you can jump-start your Blu-ray Disc library with these ten films, whose crackerjack video and audio quality will add sizzle to your high-definition TV.
Planet Earth (BBC)
2001: A Space Odyssey (Warner)
Ratatouille (Disney)
Casino Royale (Sony)
Blade Runner (Warner)
Pirates of the Caribbean (Disney)
Close Encounters of the Third Kind (Sony)
The Fifth Element (remastered) (Sony)
Dave Matthews and Tim Reynolds: Live at Radio City (Sony BMG)
Lost: The Complete Third Season (Disney)

Scheduled releases to watch for:
Dirty Harry: Ultimate Collection, Heroes (Seasons One and Two), Men in Black, Sleeping Beauty, The Shawshank Redemption, and Stargate: Continuum