Have a question about digital photography? Don't keep it to yourself. Send it to me. I reply to as many e-mails as I can, though I can't promise a personal reply to each one). I round up the most interesting ones about once a month here in this newsletter.
For more FAQs, read my Digital Focus newsletters from November, January, and February.
Do I Need a Sensor Cleaner?
Many new digital SLRs come with a sensor cleaning mode that "shakes" the sensor to keep it clean. Is this feature important enough that I should avoid purchasing one without it? How do you clean a digital SLR camera that doesn't have this new lens cleaning feature?
--Andrew Pliszka, Allentown, Pennsylvania
I bought a Nikon D200 about a year ago, and I briefly considered upgrading to the D300, in part, for the sensor cleaning capability in the newer camera. But I've decided that I'm pretty happy with the D200. The reality, Andrew, is that a sensor cleaning feature is nice, but far from essential. Sensor cleaners that shake dust away are handy for keeping day-to-day grit from accumulating on your camera sensor. However, if you change lenses infrequently--and are careful when you do so--your sensor should stay fairly clean without such a feature.
When you notice dust on your sensor, you can take care of the problem using an inexpensive cleaning kit, as I explain in "Cleaning Your Camera Sensor." And even if your camera has a sensor cleaning feature, chances are you will need to clean it manually occasionally anyway.
The Photo Editing Controversy Continues
Few subjects generate more e-mail than the question of whether digitally manipulated photos are "honest," "fair," or "real." Some readers don't think that edited images should be allowed in the weekly Hot Pic photo contest at all; others think the original, un-edited version should be disclosed along with the final, "Photoshopped" entry. Here are two more letters I've gotten on the subject that take opposing views of this topic.
I'm one of those people who have complained about how unfair it is to accept photo entries [that have been] manipulated by editing programs. Folks with money and computer skills will win every time.
--Mark Kline, Fort Worth, Texas
Dave, I just read your latest column in which readers state that any photo that has been edited should not be considered. Perhaps these folks should have been around in the good old days, when photography was more than just pushing a button and then going to the drug store to have your photos printed. I wonder what these critics would think of an old photographer like me who used filters, "souped" the negative, retouched the negative, put the negative into a photo enlarger, focused and cropped the image, exposed the paper, and then, finally, saw the results of the exposure. Not to mention the arts of dodging, burning, hand rubbing, and more.
--Stan Silvers, Shelton, Washington
Sorry, Mark, but I stand with Stan. You seem to contend that skill, talent, and artistic vision don't count, and that anyone can take a Pulitzer Prize-winning photo given a copy of Photoshop. By the same measure, I imagine that I should be a Grammy contender, since I own a drum kit, a recording system, and a copy of Avid Pro Tools.
The reality is twofold. First, relatively unprocessed photos tend to win the Hot Pic contest about as frequently as edited photos do. Second, editing a photo file is just as much a part of photography as darkroom processing used to be.
Pasting a Photo Into a Different Background
Can you explain how to extract an object from the foreground of one photo and place it over the background of another?
--Al Falk, Royalton, Ohio
This kind of digital trickery can be done with any photo editing program that includes a selection tool, but layer support helps a lot, too. Programs like Adobe Photoshop Elements and Corel Paint Shop Pro do this particularly well. If you have Photoshop Elements, be sure to try the Magic Extractor tool, which makes "punching out" your subject insanely easy.
For step-by-step instructions on how to do this sort of thing, read "Shake Hands with Elvis, Part 1" and "Shake Hands with Elvis, Part 2."
Where Do the Tags Go?
When you attach tags and other metadata to photos using Window Live Photo Gallery, does the data become part of the actual photo file or are the data filed with the Gallery software separate from the photo itself? A friend suggests it's the former but I'm skeptical. If it's the in the photo itself, that would, in my view, give Photo Gallery a distinct advantage over Photoshop Elements in that it would enable people working on different computers to share the tags.
--John Fadd, Toronto
That's a great question, John, because a lot of people wonder about this sort of thing--and not all photo organizers work the same way.
Unlike most programs, in fact, Windows Live Photo Gallery automatically writes the tag metadata to the photo file itself. That's easy to test: Just assign some tags to a photo in Photo Gallery, and e-mail the photo to someone else who also uses Photo Gallery. As soon as that person adds the photo to their Gallery, the photo's tags will appear in the Navigation Pane, as if the photo were still on your PC.
Hot Pic of the Week
Get published, get famous! Each week, we select our favorite reader-submitted photo based on creativity, originality, and technique. Every month, the best of the weekly winners gets a prize valued at between $15 and $50.
Here's how to enter: Send us your photograph in JPEG format, at a resolution no higher than 640 by 480 pixels. Entries at higher resolutions will be immediately disqualified. If necessary, use an image editing program to reduce the file size of your image before e-mailing it to us. Include the title of your photo along with a short description and how you photographed it. Don't forget to send your name, e-mail address, and postal address. Before entering, please read the full description of the contest rules and regulations.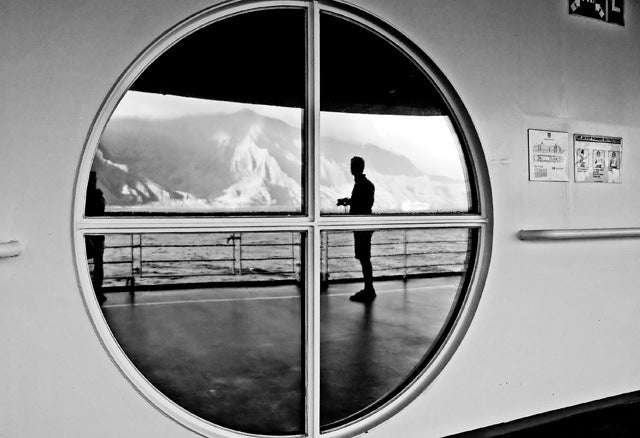 This week's Hot Pic: "Napali Coast Reflection," by Allen Casebolt, Rocklin, California
Allen writes: "I was on a cruise around the Hawaiian islands. The day we passed by Kauai's Napali Coast, it was cloudy and dull--a terrible day to take photos. So I took this photo of a reflection of the coast in a window on the deck. I used my Nikon D70 and converted the photo to black and white using Photoshop Elements."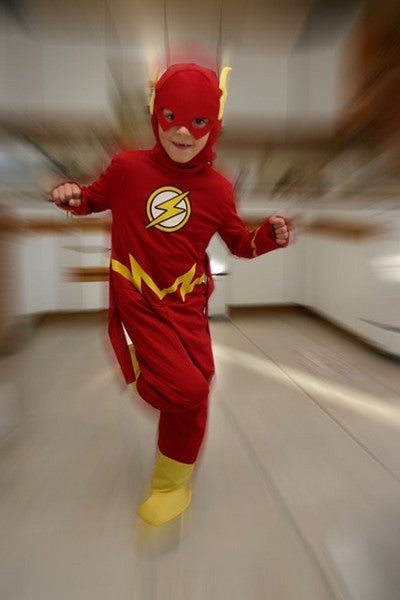 This Week's Runner-Up: "Flash," by Gary Dyrda, Tecumseh, Ontario
Jeff says: "I took this picture of my grandson in his Halloween costume using a Canon Digital Rebel. I then added the zoom effect using Adobe Photoshop CS2. My grandson commented that he didn't think he was that fast."
See all the Hot Pic of the Week photos online.
Have a digital photo question? Send me your comments, questions, and suggestions about the newsletter itself. And be sure to sign up to have the Digital Focus Newsletter e-mailed to you each week.
This story, "Frequently Asked Photo Questions for March" was originally published by PCWorld.