Greatest Hits of Viral Video
Page 9 of 9
High Drama
The Dramatic Hamster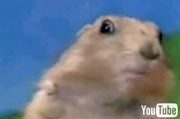 Millions of people have watched this 5-second video, which consists of a zoom shot of a hamster in a cage as it turns around and looks wide-eyed at the camera. It's unclear who the original author of the video is, but Dramatic Hamster is one of the most remixed videos on the Web. One remixer gave the hamster a James Bond theme, somebody else added a Kill Bill touch--and the possibilities go on from there.
Chris Cocker Sez: "Leave Britney Alone!"
The most recent entry into this greatest hits list of viral videos is also one of the most pathetic: It's the androgynous-looking Chris Crocker's impassioned plea that people "Leave Britney Alone!" Huddled under a sheet, with the camera inches from his face, 20-year-old Crocker pleads, begs, cries and whines. It's up to you to decide whether Crocker is serious or is doing some kind of weird performance art. Regardless, Crocker signed a development deal with 44 Blue Productions to make a reality-TV series about his life.
This story, "Greatest Hits of Viral Video" was originally published by PCWorld.
Shop Tech Products at Amazon