Greatest Hits of Viral Video
Page 6 of 9
"Here's Johnny!"
Shining--The Feel-good Movie of the Summer
Remixes are another mainstay of viral video, and this is one of the best-known examples of the art. The video cleverly reassembles scenes from Stanley Kubrick's horror classic "The Shining," and sets it to the feel-good sounds of Peter Gabriel's "Solsbury Hill." The result turns one of the scariest movies ever made neatly on its head. It's said that the video has now been viewed by an estimated 50 million.
Tom Cruise Zaps Oprah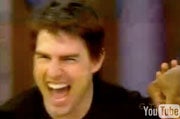 The clip of Tom Cruise's blissed-out 2005 performance on the Oprah Winfrey show is creepy enough as it is, but this remix adds a scary animation of what he might really have been thinking.
Stephen Colbert Roasts Bush
Comic Stephen Colbert uses his super-serious faux conservative talk-show host persona on Comedy Central's The Colbert Report to give one of the bravest, edgiest roasts of a president in Washington history at the 2006 White House Correspondents' Dinner. Colbert lampooned Bush and the Bushites from all sides and from all angles, while Bush sat looking clearly uncomfortable and at times stunned. The day after the dinner, footage of the Colbert speech showed up at YouTube and other viral video sites, and has been viewed millions of times since.
Shop Tech Products at Amazon