Greatest Hits of Viral Video
Page 4 of 9
"I'm Your Manager, Luke"
Chad Vader, Day Shift Manager
In this video series, creators Matt Sloan and Aaron Yonda imagine Star Wars bad guy Darth Vader in real-life scenarios. This time Darth is the manager of a grocery store. Hollywood, take note: You can't miss with a premise like that. "Day Shift Manager" is the most popular of the eight videos Sloan and Yonda have produced so far: It's been viewed more than 5 million times on YouTube, according to the Chad Vader Wikipedia page. The series was also discussed on a Good Morning America segment last year.
George Lucas in Love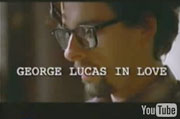 "George Lucas in Love " is a humorous short film made by Hollywood screenwriter Joe Nussbaum, with help from some of his pals from the University of Southern California film school. The film combines and spoofs both Star Wars and Shakespeare in Love. It's pretty "inside Hollywood" stuff (Nussbaum used it as his demo tape for the studios), but despite that, it has proved to be a huge hit on the viral video sites like YouTube. The film portrays a young George Lucas in college struggling against writer's block to write a movie that sounds a lot like Star Wars.
Kramer's Racist Freak-out
Michael Richards--Kramer of Seinfeld fame--is a funny guy, but he became totally unhinged during a comedy gig in Hollywood. Richards apologized for his racial comments a few days later, but he learned that in the age of Internet video, once you say something scandalous, there's no taking it back. (Warning: This video includes profanity and racial epithets.)
Shop Tech Products at Amazon