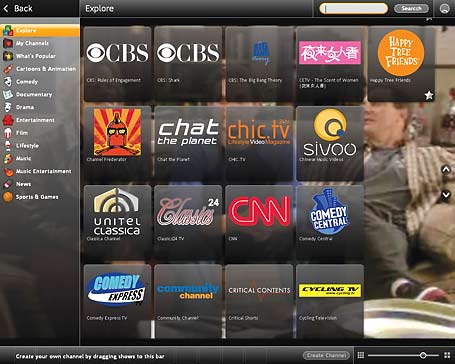 When NBC severed its ties with Apple's iTunes Store in September, everyone knew that downloadable TV was headed for a shakeup. As networks rebel against Apple's one-price model in iTunes, they're turning to new partnerships and fresh approaches for offering downloads via the Web--and legally downloading TV shows to your PC is now easier than ever. But while this TV-download turmoil gives you more options for catching up with the episode of Heroes you missed this week, it can make for some confusing choices.
NBC Chooses Unbox
Shortly after NBC Universal dissolved its arrangement with the iTunes Store, the company began offering shows from its networks (which include NBC, USA Network, Sci-Fi Channel, and Bravo) for download at Amazon's Unbox Video Downloads service. Unbox now boasts a catalog of 2600 current and past shows.
NBC didn't stop with the Unbox deal. The network, which has had a division dedicated to producing digital content for two years, then announced its plans to strike out on its own and offer content for download directly to viewers.
After completion of beta testing in October, the NBC Direct service should launch on NBC.com in November. The service will provide access to current-season shows as well as to previous-season and library content.
At launch, NBC's videos will be limited to downloads for PC viewing; the free, ad-supported files will be tied to your hard drive and will expire seven days after the TV broadcast. For the most part, the content will be the same as what NBC offers as a streaming experience, albeit at a higher resolution and bit rate. NBC has been mum on the exact specifications, such as resolution and encoding, beyond acknowledging that the shows will be WMV files with digital rights management protection. The company has revealed that the offerings will be similar to the files that are provided through Amazon Unbox in DVD-like resolutions at 2.5 megabits per second and portable files encoded at 700 kilobits per second--though the portable downloads may not arrive right away.
Future plans for the NBC service could bring high-definition downloads. "Free, on-demand, ad-supported streaming; free, on-demand, ad-supported downloads; subscriptions; pay-per-view; and download-to-own--it's our intention to make all of those available," as long as the company can find a way to make money with them, according to George Kliavkoff, chief digital officer at NBC Universal.
Most of the other major networks will continue to offer a limited selection of programs from their back catalog of TV episodes, while rolling out more and more current episodes for download via storefronts, such as Apple's iTunes and Amazon's Unbox.
In fact, streaming will continue to enjoy the lion's share of usage, predicts IDC analyst Greg Ireland. NBC, ABC, CBS, Fox, and The CW all provide streaming of select television shows, including hit series, directly from their own Web sites. ABC, for example, features programs in both full-screen and small-screen modes, and in high-definition (though ABC's streaming works only in Internet Explorer).
Streaming Options
CBS says that its main focus is ad-supported, free streaming online, via its various site partnerships--including Joost.com (which has just entered public beta) and AOL.com. And Fox and NBC have partnered to form Hulu.com for streaming video from their networks as well as from others. Hulu in turn will distribute its video via AOL, Comcast, MSN, MySpace, and Yahoo.
All of this choice is bound to cause some consumer frustration, as finding your favorite TV show for download or streaming turns into a scavenger hunt that spans network sites, Web storefronts, and third-party Web sites, all stocked with programs from different subsets of networks and studios. And tangled distribution rights--for example, CBS, not Paramount, now owns the Star Trek franchise--can further muddy the waters.
These new online TV offerings may prove to be difficult to manage, but they're becoming a decent way to augment, though not replace, normal TV viewing.
This story, "Online Television Turning Into a Scavenger Hunt" was originally published by PCWorld.