39 Ways to Put Yourself on the Web
Page 6 of 8
Become a Music Sensation
Maybe you don't need a major label to make it big in the music biz. These sites help you promote and sell your tunes.
The eye-bleedingly ugly page designs on MySpace haven't stopped the site from becoming the top promotional resource for fledgling musicians. Sign-up is free, and the site's music-related content runs deep, including dedicated classifieds and forums. One drawback: You can upload only four songs total. Competing sites let you post more.

You may know GarageBand as the Mac software for creating music, but a Web site by that name--unaffiliated with Apple, apparently--also exists. Musicians get a generous 200MB of free storage for their songs. To have your tunes rated by other members, you first must review 30 songs from other artists, or pay $20. If you're not a starving artist, a Gold membership ($100) buys ad placements on the site, a contest entry, and other perks.

Jamendo lets you post and share as much of your music as you want, but you must post at least an album's worth, not a single or selections from an album. You can distribute your tracks free of charge--allowing others to remix or alter your creations if you choose--while retaining the right to sign an exclusive deal with a label.

Magnatune splits purchases 50-50 with its artists and allows them to set a purchase price, within reason (for example, artists can't charge less than $5 for their CDs). You're responsible for recording your own tunes and paying for any studio time, if necessary. And if a record company just gave you a big advance (whether or not your tires were slashed and you almost crashed), that doesn't mean you can't keep peddling your wares here.
MusicSubmit helps you promote your music by sending your MP3s and artist/band info to hundreds of Internet radio stations, music magazines, blogs, and other sites. Sign-up is free, but promotional services range from $17.50 a month to a one-time fee of $239. (When we tried the service, it was offering special rates of $99 for 400 submissions and $210 for 800 submissions.) If you'd rather sell your own CDs, you can let people play the music on your own site by embedding the MusicSubmit player there for free.

Sony's slick AcidPlanet site allows artists to review other people's songs, and maybe get discovered by making the site's Top 25 list of the most-popular tunes. Among the useful freebies is the AcidExpress music-creation software. As on similar sites, the more you review other artists' songs and join in the forums, the more likely others will check out your music.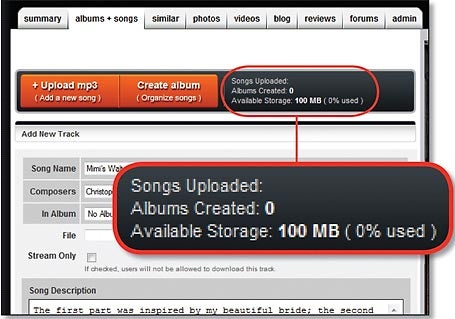 Musicians receive a lot for free at MP3.com, including 100MB of storage for their music, 10MB for photos, and unlimited space for video clips. The site has an egalitarian feel, with lesser-known acts enjoying equal billing alongside major-label stars.
Shop Tech Products at Amazon