39 Ways to Put Yourself on the Web
Page 5 of 8
Get Help for a Business or Workgroup
You have a business to run, and you don't have the time or skills to build a Web site from scratch. Let these services do the heavy lifting for you, allowing you to focus on more important management matters.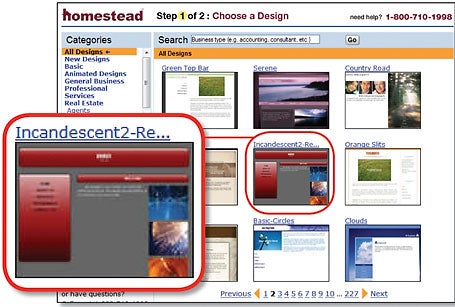 The Homestead hosting service has a great tool kit for building a professional site, even if you can't tell "HTML" from "BYOB." The Design Gallery has more than 2000 templates, so chances are good that your site won't be a clone of your competitors'. Homestead's drag-and-drop tools let you easily add your company's logo and other brands. Homestead's least-expensive hosting service for businesses costs $20 a month, plus a $25 setup fee (skip the "Starter" package, which is too limited to be useful). For more-affordable hosting, try Yahoo Small Business: Prices start at $9 a month, and when we signed up the startup fee was waived. The page-design tools are serviceable, although they can't match Homestead's. Constructing an e-commerce site is easy, and you get plenty of tips to help your site succeed.

Google Custom Search is a free, Google-hosted search window that you place on your business's site. You choose the pages that are searched when your visitors enter a query. For professional sites, the fee-based Business Edition is worth the cost (rates start at $100 a year). Business Edition removes the Google logo from the search window and Google ads from the search results, while adding more tools and support.
The Microsoft Small Business Center supplies free technical support for the company's popular business-oriented apps, including Windows XP Professional, Live Meeting, and Small Business Accounting. The Startup Center provides advice for entrepreneurs as well as an eclectic mix of business essays, such as the always-popular "5 rules for on-the-job romance."

The EarthLink Business Resource Center provides Web hosting, e-commerce, and other business services. Its Traffic Builder optimizes ad copy and search terms to boost your visibility on search sites.
Shop Tech Products at Amazon