Best Products to Stream Audio and Video With Ease
Page 6 of 7
Restrictions on Cable TV Recordings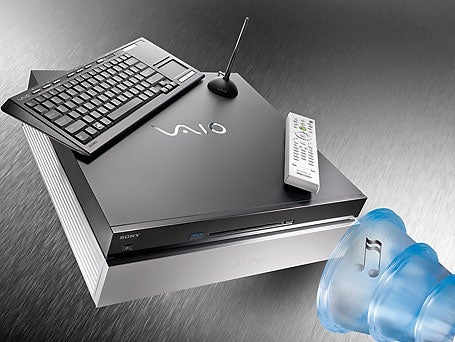 Why stream from a PC when you can connect one directly to your TV? Some new Media Center PCs, such as Sony's VAIO Digital Living System VGX-XL3 (pictured), can play anything that a home media streamer can, and they can record and play back premium cable TV content without requiring a cable set-top box.
The $3300 VGX-XL3 is one of the first PCs to ship with ATI's TV Wonder Digital Cable Tuner, which has a slot for a CableCard for decrypting premium content (like HBO or Showtime) and recording it. Media Center PCs without the card (or a cable set-top box) can't display or record premium content.
But Sony product manager Xavier Lauwaert warns that you can stream protected recorded content only to the Xbox 360. Moreover, once you've installed a CableCard in the PC, the content restrictions will prevent you from recording TV shows to the VGX-XL3's Blu-ray drive.
Any PC that uses the ATI product carries the same set of restrictions. The ATI card works exclusively with PCs that run Windows Vista, and it's the only PC-based TV tuner that's approved for use with a CableCard. "A content protection layer has been built around [ATI's] solution," says Lauwaert. "We're definitely locked into that card."
Like many other Media Center PCs, the VGX-XL3 has Intel's Viiv certification, meaning that it can share certain content among Viiv-certified devices (like Buffalo Technology's LinkTheater Wireless A&G Network Media Player). But Viiv has no relation to CableCard, so forget about bypassing the restrictions associated with the ATI tuner to stream HBO shows from your living room to your den.
Alan Stafford
Shop Tech Products at Amazon