Best Products to Stream Audio and Video With Ease
Page 4 of 7
Beam Music Around Your Home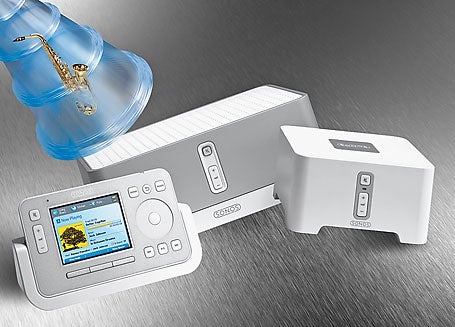 Network music players specialize in sending .mp3 and other music files from your PC to any stereo in the house. In most cases, you install server software on a PC, set the streamer to work with your Wi-Fi network, and then simply plug it into your stereo. Many streamers also play Internet radio directly from your broadband link--no PC required.
Sonos's ZonePlayer products are among the fancier audio streamers. You can set up multiple ZonePlayers, each one plugged into a different stereo located in a different room. To manage them, you use a remote control equipped with a 3.5-inch LCD screen.
The $1000 Bundle 130 consists of two ZonePlayers--one with a built-in amplifier--and a controller. But one of those ZonePlayers must connect to the network via ethernet, which means that only one can stray far from your PC or router. Cheaper yet still stylish options include Roku's $200 SoundBridge M1001 and Slim Devices' $300 Squeezebox. Less expensive again are Apple's $99 AirPort Express Base Station with AirTunes and Linksys's $70 Wireless-G Music Bridge. Both use software to divert music wirelessly from your PC to the devices themselves, which in turn connect to your stereo--a very simple way around DRM and compatibility issues. The only problem is that you have to run to the room where your computer is to change your playlist.
The cheapest solution of all? Use a $7 Y-adapter audio cable with a stereo miniplug (like the one on your earbuds) on one end, and left and right RCA connectors on the other. Plug the RCA connectors into the back of your stereo; when you want to listen to music, plug the other end into your audio player or notebook.
Lincoln Spector
Shop Tech Products at Amazon