Power-Line Shines at Multimedia
Power-Line Shines at Multimedia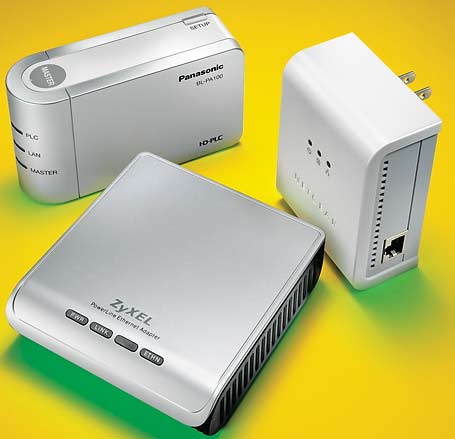 Watch out, Wi-Fi. New power-line networking gear, which sends data over a home's existing electrical wiring, outperforms even the fastest Wi-Fi in streaming video, our tests show.
Networks based on the HomePlug Powerline Alliance's HomePlug 1.0 specification have been around since 2002. But while comparable in speed to 11-megabits-per-second Wi-Fi, these products were eclipsed by Wi-Fi's untethered glamour. Now, however, three new competing power-line technologies with theoretical top speeds of 190 to 200 mbps promise the long-distance throughput and consistency needed for smooth video streaming.
We tested shipping Netgear Powerline HD adapters ($165 a pair, $130 each), based on Spanish vendor DS2's chips; shipping Panasonic HD-PLC adapters ($200 a pair, $130 each), which use Panasonic's own chip set; and preproduction Zyxel HomePlug AV PowerLine & Coaxial adapters ($114 each), which employ the HomePlug Alliance's new HomePlug AV standard.
Faster than Wi-Fi
To set up a power-line network, you connect one adapter to an ethernet port on your router and plug it into a power outlet. You can then add up to 16 devices by plugging an adapter into each device's ethernet port and a nearby outlet.
In our test with networked PCs upstairs and downstairs, about 30 feet apart in a home, all three networks transferred files more quickly than a similar Wi-Fi setup. All streamed standard-def video flawlessly, something even the fastest draft-802.11n Wi-Fi couldn't handle. But only the Zyxel HomePlug AV adapters could stream high-def video perfectly. The Panasonic gear fared worst, making the video look more like a slide show.
Because other electrical devices on the same circuit create noise that can affect a power-line network's performance, we also ran our tests with a 1600-watt hair dryer plugged in. Quality dropped dramatically, but Zyxel's units handled it best, with just 11 brief glitches. Zyxel also transferred files the fastest with interference, although Netgear took the crown when we turned off the hair dryer.
Linksys has said it would be shipping HomePlug AV products by the time you read this; D-Link has shipped DS2 gear, as well, but at this writing we haven't seen other takers for Panasonic's technology.
None of the three technologies interoperate, so stick to just one. Expect performance drop-offs as you add devices: As with any network, overall bandwidth must be shared.
Based on our tests, we recommend HomePlug AV over other power-line technologies (and Wi-Fi) for multimedia tasks. Zyxel's gear streamed HD video best and, bought individually, cost the least.
Becky Waring
Power-line Face-off: HomePlug AV Wins
Netgear's DS2 gear transferred files the fastest, but faltered at streaming high-def video.