Consumer Watch: Is That a Sales Pitch in Your Pocket?
Is That a Sales Pitch in Your Pocket?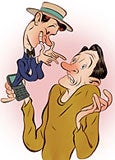 To you or me, it's a communications device, good for making phone calls, sending text messages to friends and colleagues, and maybe checking e-mail or looking up something on the Web. But to marketers, your cell phone is an enticing potential conduit to your wallet--and the race to exploit it is gathering steam.
It's easy to see why the marketing community is so excited about gaining access to cell phones. How often are you separated from your cell phone? It's almost always close at hand, and unless you neglect recharging (as I frequently do), it's almost always turned on.
Even more appealingly, from a marketer's standpoint, it's very personally yours. Several people in a home might watch the same TV or use the same PC, but few people share a cell phone. As a result, any usage data collected for a given phone number can easily be pooled to create a profile of you to serve as a basis for future targeted ads.
The downside for marketers: Carriers charge their customers for data services on cell phones, and customers don't want to pay for ads they haven't requested.
Text Spam
Text messaging in particular has been in the vanguard of mobile marketing efforts. In Europe, where text messaging has been a popular means of communication for several years, text-message spam has been a problem. But text messaging was slower to catch on in this country, giving legislators and carriers time to put some effective safeguards in place.
The federal CAN-SPAM law expressly prohibits sending unsolicited commercial messages to wireless devices. Unfortunately, according to the Federal Communications Commission's Web site, the ban applies only to messages that are sent using the Internet address format (a user name followed by @ and a domain name). The law doesn't apply to phone-to-phone messages or to short-code messages such as the ones people use when voting for American Idol participants.
For comprehensive coverage of the Android ecosystem, visit Greenbot.com.