Apple Revamps iPod Lines
Apple's revamp of the three current members of its iPod line--the iPod, the Nano, and the Shuffle--should address customer complaints about battery life and scratching; and the players' prices should lure buyers as the holiday season approaches.
Highlights of today's hardware announcements from Apple include a new 80GB iPod that Apple says has an improved display and battery life, Nanos with brightly colored metallic cases, and a tiny iPod Shuffle that Apple CEO Steve Jobs called "the world's smallest MP3 player."
Larger-Capacity iPod
Debuting today, the updated full-size iPods come in two versions: a 30GB model (available in black or white) priced at $249, and an 80GB model (available in black only) for $349.
The large iPods--and the new Nanos--have brighter screens and longer battery life, according to the company. Apple also announced new earbud headphones that the company says are more comfortable than the previous-generation version.
Both of these types of iPods offer gapless playback, eliminating the pause between digital audio tracks. This feature is popular with audiophiles.
The Return of Color

The second-generation Nanos sport a new aluminum case available in any of five colors (silver, green, pink, blue, or black). These colors appear to be slightly brighter than the corresponding ones on the old iPod Mini.
"It was a big deal to bring color back with the Nano because color was a very, very popular [quality] about the Mini, particularly among women who care more about color than men do," says Van Baker, an analyst with Gartner Industry Advisory Services.
New 2GB ($149, silver only), 4GB ($199), and 8GB ($249, black only) models are available now. According to Jobs, they offer twice the storage of the corresponding first-generation Nanos for the same price. Baker points out that the new case and screen address complaints about scratching and cracked screens on the earlier Nanos. Other improvements claimed by Apple include longer battery life, slimmer size, and a brighter screen.
Silvery Shuffle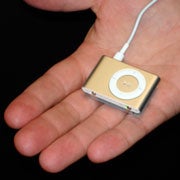 The $79 1GB Shuffle, which ships in October, is half the size of the original model. On first handling, that appears to be perhaps a little too small--it looks easy to lose.
Its silver aluminum case has a built-in clip for attaching it to clothing or a belt. According to Apple, the Shuffle weighs 0.5 ounce and occupies just 0.5 cubic inch of space. The Shuffle comes with a USB 2.0 dock for easily syncing and charging the player; unlike its predecessor, the new model can't be plugged into a USB port.
The new Shuffle, like the original one, lacks a display for viewing tracks and has a toggle switch for listening to tracks sequentially or in random order.
Search Songs Faster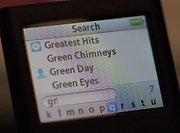 Both the iPod and iPod Nano have song-search enhancements. Going to the Music menu and scrolling down to Search brings up a keypad where you can scroll and enter the first letters of song titles, artists, and albums on an on-screen keypad. The letter combinations bring up the matching songs in your iPod's song library.
Scrolling quickly through tracks prompts the screen to display the first letter of the tracks you've reached. (For example, fast scrolling through tracks starting with the letter L will bring up a block letter L on the interface.) In an informal hands-on test at the event, this feature worked properly only when I scrolled very quickly on an iPod that contained a large number of tracks.
Addressing a major customer complaint, Apple now allows iPods to connect to multiple computers in order to accept songs purchased from the iTunes Store. Previously, Apple had restricted an iPod to play purchased songs from only one computer--a problem if you purchased songs both on your work and home PCs. Of course, all computers must be among the maximum of five authorized to play a specific user's songs and must be loaded with iTunes 7.
Apple also announced the immediate availability of nine new iPod video games, priced at $4.99 each and sold through the new iTunes 7's iTunes Store. (For more on iTunes 7, see our story, "Apple Expands Its Video Offerings.")
The games are designed to be played using the large iPod's scroll wheel. Developed by Apple and Electronic Arts, the current selection of mostly parlor and arcade titles includes Tetris, Pac-Man, Texas Hold'em, and Bejeweled.
Have an opinion on any of the iPod announcements made today? Comment in our Apple announcement forum.
For comprehensive coverage of the Android ecosystem, visit Greenbot.com.