First Look: Logitech Wireless DJ System Stutters
At a Glance
Logitech Wireless DJ Music System

TechHive Rating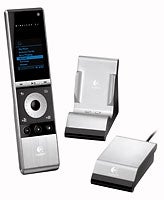 You don't need a wireless network to stream your digital music collection around your house. The $250 Logitech Wireless DJ System promises an easy way to play the tunes stored on your PC through your stereo speakers--no home network required. However, while I appreciated the easy setup and the fact that I didn't have to spring for a router, the system didn't quite live up to my expectations.
The joy of the Wireless DJ System is its simple setup: You just install the included software on your PC, attach its wireless transmitter to a USB port on your computer, and connect its wireless receiver to your stereo with the included RCA cables (preferably you should have an empty pair of auxiliary inputs so that you don't need to unplug your CD player).
The system plays any files associated with iTunes, Musicmatch, or Windows Media Player. The StreamPoint software identifies which audio players you have installed; you can indicate which folders the app should search for music files, or you can tell it to find all of the files associated with those music players. The system also will stream music from Rhapsody and Yahoo Music Unlimited subscription services, as well Internet radio stations. You'll want the latest versions of your players, though; the system was unable to play songs that I had associated with an outdated version of iTunes. The StreamPoint software I tested was not the final 1.0 release, but Logitech says that the final version will prompt you to update older players.
The Wireless DJ System includes a remote control with a 2-inch display that shows a menu for artists, albums, songs, Internet radio stations, and playlists created with your desktop music apps. The remote has a clickable scroll wheel for quick navigation through long lists; volume controls; and the standard fast-forward, rewind, and play/pause buttons. It also provides a button for accessing the remote's own playlist, called the DJ List. To add songs to the playlist, you press the remote's DJ List Add button. When I added some artists and an album to this list, many songs showed up twice in the menus. A Logitech spokesperson suggested that this problem may have been caused by a corrupted music library.
Not-So-Easy Listening
Where the Wireless DJ stumbled most in my tests was on audio delivery. Though the quality was fine, frequent dropouts occurred, likely due to wireless interference in my neighborhood. I live in a dense urban area where as many as 12 wireless networks are often visible, and it's also possible that a neighbor's 2.4-GHz wireless device was causing the trouble.
Most dropouts lasted only a fraction of a second, but occasionally a few occurred in quick succession, some lasting almost a second. In one listening session, these hiccups arose almost every song--severely impacting my enjoyment of the music. We experienced similar interruptions in a review of the $140 Sondigo Sirocco Wireless Audio Bridge, but that device requires you to have a wireless network, whereas Logitech's product does not.
If your music collection is on a laptop instead of on an immobile desktop PC, you might consider my ad-hoc, low-cost alternative: a stereo Y-cable with its 1/8-inch jack plugged into the laptop's headphone port and its two RCA jacks at the other end plugged into the stereo's receiver. Of course, this setup doesn't come with a remote, but it's a heck of a lot cheaper.
Logitech Wireless DJ System
If you can steer clear of wireless interference, this system offers an easy way to stream music from a PC to your stereo--without a wireless network.
Price when reviewed: $250
www.logitech.com
This story, "First Look: Logitech Wireless DJ System Stutters" was originally published by PCWorld.
At a Glance
Logitech Wireless DJ Music System

TechHive Rating
Shop Tech Products at Amazon