Page 3 of 5
Blu-ray Burners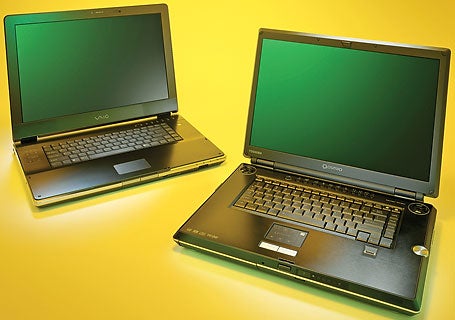 The first Blu-ray offerings--Pioneer Electronics' BDR-101A ($1000) and Sony's AR Premium VGN-AR19G laptop ($3500)are intended more for video and data burning, not home entertainment.
We tested the production-level BDR-101A drive using BD-R media from TDK, and close-to-final software from Sonic Solutions. The unit's appeal for data and video burning is undeniable: In PC World's tests, we were able to pack about 22GB on a single write-once disc (nearly five times the 4.7GB capacity of a single-layer DVD disc), in around 45 minutes. We achieved a throughput of 67 megabits per second, which is very close to the theoretical maximum of 72 mbps--or 9 megabytes per second--for 2X BD-R. It took just a bit longer than that to copy the same disc back to the hard drive.
The promise of so much capacity on a single disc is alluring, not only for storing video and music, but also for streamlining data backups. Backing up your data with the Pioneer will take a little bit longer than burning five single-layer DVD-Rs, but you'll save time compared with burning the same capacity to double-layer DVD+R. And that's not counting the time for disc swaps. (Blu-ray movies were unavailable in time to test playback.)
However, Pioneer made some sacrifices to rush the BDR-101A to market. It does not read or write to CDs, and its write speeds to standard DVD formats are slower than with a dedicated DVD burner (8X DVD+R versus 16X for a standard DVD drive, for example). It also does not write to dual-layer 50GB BD media. The second wave of burners, due this summer, will handle CD writing and dual-layer writes, making those drives more appropriate for data pack rats who want maximum storage capacity.
Another drawback: The drive, geared for the professional authoring market, lacks any software for disc authoring and packet writing.
By contrast, the first laptop to boast a Blu-ray burner, Sony's VGN-AR19G, is clearly aimed at consumers. Out in June, the 8.8-pound unit had a preproduction drive, so we did not test its speed. But we had no problems playing discs we recorded in the Pioneer on the Sony, and vice versa.
For its price, you get a 2-GHz Core Duo T2500 processor, 1GB DDR2 memory, a 17-inch screen powered by nVidia GeForce Go 7600 GT graphics with 256MB of RAM, a TV tuner, and HDMI connectors, making it a well-equipped, if pricey, desktop replacement system.