Page 2 of 5
HD DVD for Home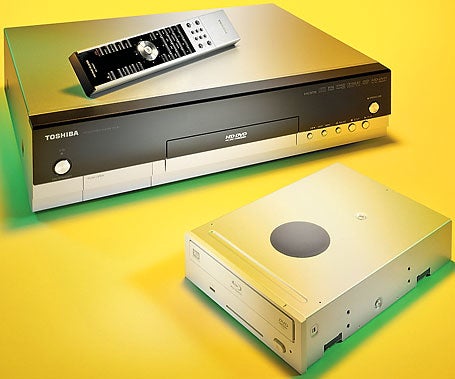 The first HD DVD player to ship, Toshiba's HD-A1, both impressed and disappointed.
The HD-A1 produced video that was eye-catchingly brilliant, as we observed with HD DVD movies such as Serenity and The Phantom of the Opera. And once you've seen the quality that a high-def movie can deliver, you'll be hooked.
We attached the HD-A1 to a Samsung 32-inch plasma TV, whose maximum resolution of 1080i matches the top output of the HD-A1. In the first 15 minutes of Phantom, the high-def advantage was clear, as compared with an upconverted standard-def Phantom DVD. Viewing the HD DVD, we observed more depth, better facial textures and skin tones on the dancers, superior handling of light, fewer artifacts, and details like the individual toes on the chickens' feet, which the comparison DVD rendered as blurry blobs.
But in design and mechanical playback, the HD-A1 falters. The unit is bulky, its buttons felt slow to respond, jumping among different parts of a disc was sluggish, and, most critically, the time the unit took to begin playing after we inserted the disc seemed interminable. Plus, the unusually long remote is awkward to handle. These design quirks are the harder to swallow considering this is a next-generation product targeted at home theater lovers, who are used to the fast response and polished designs of today's DVD players.
We also got a sneak peek at Toshiba's $3000 Qosmio G35-AV650, the first notebook containing a read-only HD DVD drive. This model, shipping in June, is a hefty desktop replacement unit packing a 2-GHz Intel Core Duo T2500 chip, 1GB of RAM, 200GB of hard disk storage, a 17-inch, 1920-by-1200 display, nVidia GeForce Go 7600 graphics with 256MB of memory, an analog TV tuner, and HDMI output at 1080i.