First Look: Windows Media Player 11 and MTV Urge
MTV Does Digital Music
While Microsoft has done some impressive work improving Media Player's interface, the company's real coup involves its integration of MTV's Urge music store into the player. While the specs for MTV's music store are fairly standard--a library of around 2 million tracks, 99-cent downloads of 192-kbps WMA files, and an unlimited download subscription model that lets you sync tracks to a portable player for $14.95 per month--MTV's strength as a music brand is unmatched.
MTV plans plenty of Urge tie-ins with its programming, including channel-specific landing pages for VH-1, CMT, and several popular MTV shows. Most such pages come equipped with custom-programmed playlists that recommend music specific to the channel or show you're looking at.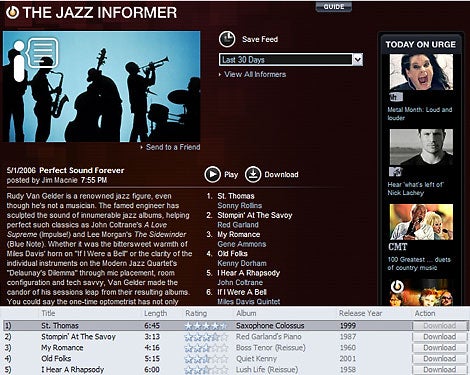 But Urge will feature lots of different sources for music recommendations. For the Informer section of the service, MTV has recruited well-known music bloggers to produce custom playlists in their genres. Future updates of the service should allow users like you and me to start our own music blogs through Urge, recommend songs to friends, and write reviews of tracks or albums we like.

If you'd prefer simply to browse for music by genre, Urge has that covered in a couple interesting ways. Of course, it has the standard genre-based landing pages, but Urge's integration with WMP 11 allows for even more-powerful navigation. By clicking through menu options, you can quickly browse to the most popular tracks in whatever subgenre you like. If you've subscribed to the unlimited downloads service, you can easily grab those tracks as a playlist and move them to your PC or to a portable player.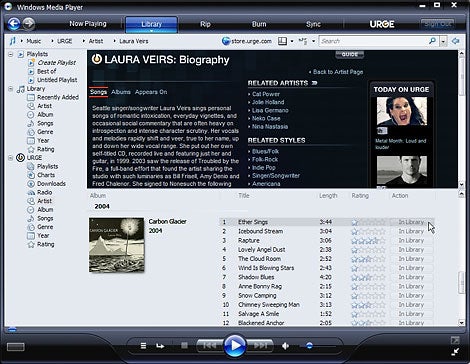 Thanks to that same integration, browsing through the tracks on Urge can feel just like browsing the tracks in your local music library. The same Instant Search function that works with your music library works in Urge, too, and it's almost as fast (though you have to search your local library and Urge offerings separately).
(In case you're wondering, Urge ships its main track listing over as a hefty XML file when you first download the player. Once that's downloaded, you'll receive small updates in the background every time you log in to the service.)
Currently, MTV is calling Urge a beta product, with more community features planned for later in the year. It's one of those Google-type betas, though: The beta that will be available to grab on Wednesday is a fairly finished product. The results so far are fairly impressive, though it remains to be seen whether even MTV can sway a significant portion of the iPod-buying masses over to a service that won't work with their MP3 player of choice.