First Look: Canon's Sharp-Shooting PowerShot SD700 IS Digital Elph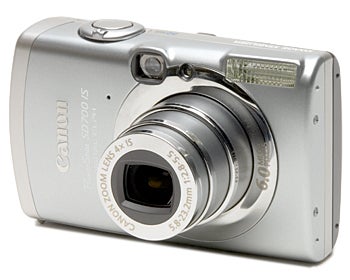 Canon's new PowerShot SD700 IS Digital Elph point-and-shoot digital camera has image stabilization to help it compensate for shaky hands, but at $500 it's not a good choice for people with shaky finances. Price aside, however, its features make it one of the most sophisticated cameras in its class.
PC World was among the first independent media reviewers to receive the SD700 IS for evaluation. We'll perform image-quality tests in our lab soon, but we can already report on some first impressions.
Shake, Shake, Shake
It's difficult to test image stabilization, but Canon's system seems to work. I tried to beat it by shaking the camera while shooting in dim lighting--and more often than not, I got a sharp picture.
The SD700 IS's 6-megapixel sensor is modest compared to the resolutions on many new cameras, but it's plenty for the kind of photography I'd use this model for. I was impressed with most of the shots it took: Colors were nice and even, and I noted few problems with red-eye, even in images that I thought would produce it. In a few of my shots, the flash didn't seem to cover the image well; but wait for our full review for the final word on that, because we evaluate flash coverage in our lab tests.
The camera has an admirably long zoom lens (4X magnification), and its image stabilization should be especially handy when you're zoomed all the way in. In addition, you can use the new high-ISO mode to shoot fast action or in low light; a dedicated ISO button on the back selects this mode (it's actually ISO 800).
The camera focuses swiftly and easily, even when I attempted to beat its image stabilization system. It starts up quickly and takes pictures as fast as you can press the shutter release. (However, if you hold the shutter down, the camera won't take another picture until you release the button; instead, it will show you your last picture.) The quickness makes the camera more usable overall because you don't have to worry about compensating for shutter lag, for example.
Smooth Operator
An excellent 2.5-inch LCD panel dominates the back of the camera. The image is sharp and bright, and it's fast enough that looking at it is like watching a small television. You can choose a movie mode that captures 60 frames per second (albeit at 320 by 240 resolution), and the LCD easily keeps up. Or you can opt for 640 by 480 resolution at 30 fps. The image does get slightly grainy at full zoom--but that has no effect on image quality, of course.
Like previous Elphs, this one lacks manual shooting modes (aperture priority, shutter priority, or full manual). A tiny dial inset into the right side works okay, but I wish that it were a bit larger.
One annoyance: The camera has no quick-review button, so for image playback you must switch to playback mode using the dial. And as with many Canon models, the battery gauge only tells you when you're about out of juice--that's of little help when you're far away from an electrical outlet. Thankfully, Canon still furnishes a great little travel charger that's the same size as the camera, with prongs that fold inward for easy portability.
Digital Jewelry
Digital Elphs are known for their high-quality construction, but the SD700 IS seems designed to take that reputation to a new level. This miniature metal brick, with shiny accents in just the right places, looks like the sort of camera you'd see Pierce Brosnan pull out of his double-breasted blazer pocket. Nevertheless, some people may dislike it because it's chunkier and heavier than many other point-and-shoots. At 6.8 ounces, it doesn't fit too badly in a shirt pocket, but I couldn't shove a pair of sunglasses in with it (and not just because of its size--I wouldn't want to risk scratching up that lovely LCD screen).
Some clever design tweaks deserve special mention. Canon has introduced a brief transitional fade between images when you play them back; and when you show multiple images at the same time, the picture you've highlighted appears slightly larger than the others (in much the same way that the Mac OS X dock highlights icons). Also, an "intelligent orientation sensor" automatically rotates images in playback mode, depending on how you're holding the camera. These minor points make the camera seem more sophisticated.
After having played with it for a couple of days, I think the SD700 IS is pretty nifty. It combines moderately small size, a great LCD, image stabilization, and awesome build quality. But it's not cheap. If you're looking for a digital camera to suit your personal style, the SD700 IS could be the one--if your style includes dressing up and dining at jackets-required restaurants.
Canon PowerShot SD700 IS Digital Elph
Not yet rated
Unparalleled construction quality, image stabilization, and a fantastic LCD make the high price easy to understand.
$500
Current prices
(if available)