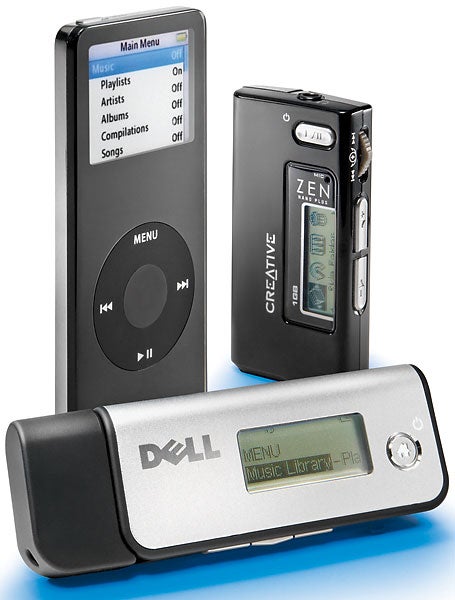 Portable audio players may offer eye-catching features, such as the ability to display photos and video clips, but ultimately the devices must be judged by one thing: How good does the music sound?
For the first time, the PC World Test Center has conducted sound-quality tests on audio players to determine which produce the finest sound. For details about these tests, see the audio players section of "How We Test."
Lightweight audio players with flash-based memory are the best choice for listening to music while at the gym or on the go. Their lack of moving parts makes them less vulnerable to drops than hard-drive-based devices are. And if you don't require that your audio player hold your entire music collection (or if you already have a bulky player that stores it all), one of these small flash players makes the perfect traveling companion. In addition, though their capacities are dwarfed by 60GB hard-drive models, flash players have increased their storage space. A 4GB flash player will hold about 1000 MP3s encoded at 128 kilobits per second.
If you want an armband for listening on the move, however, note that Creative's Zen Nano Plus has one, but the iPod Nano's costs $29 extra.
Flash players come in a mix of shapes and sizes--variables that can impact their usability. There is such a thing as too small. Some of the players we evaluated are about the size of a cigarette lighter (too small and narrow to include a thumb wheel). On the other hand, some rectangular models have room for a larger screen, making navigating their menus easier. The lightest player we tested is the 2GB MobiBlu DAH-1500i (also known as the "Cube"). The unit weighs less than an ounce and is so small you could pop it in your mouth. Despite this novelty, it missed the chart due to its lack of features and mediocre usability.
Shop Tech Products at Amazon