FinePix V10 Offers Big LCD, Average Images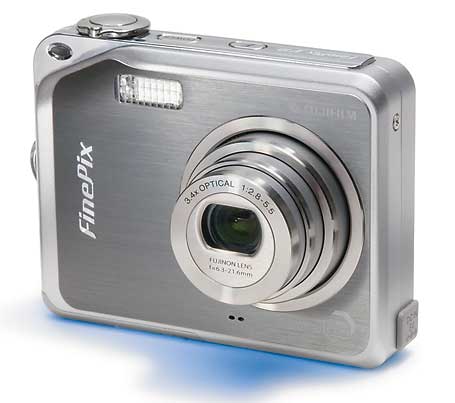 The most striking feature of the compact Fujifilm FinePix V10 is its 3-inch LCD, which almost fills the back of the camera. It's handy for framing shots and makes viewing images a pleasure. The $349 V10 starts up quickly (in less than a second), and shutter lag was generally minimal, though I did sometimes notice it in low light.
The shipping model I tested felt sturdy, despite its relatively slim profile. Operating the V10 with one hand isn't practical, however: The back-panel buttons run all along the bottom because the LCD leaves little room for controls. A dedicated button on the top of the camera offers ready access to the quality mode, ISO, and color settings menus.
The V10 keeps the features simple, with an assortment of six basic but effective scene modes. In the novel Natural Light and With Flash mode, for example, the camera takes two shots in quick succession: one without and one with flash. Unfortunately, the unit lacks basic manual controls such as aperture-priority and shutter-priority modes.
The V10 does offer impressive performance in low light because of its high sensitivity. Its top ISO setting of 1600 lets you take photos of dimly lit subjects without using the flash--the photos we took at ISO 1600, however, had a significant amount of digital noise. In our lab tests, the camera's overall score for image quality was about average. Though its exposure accuracy was good, its images scored lower than the output of most point-and-shoots in sharpness.
The V10's battery was a bit weak: It took only 198 shots on a single charge, far fewer than the 267-shot average for point-and-shoot cameras.
Fujifilm FinePix V10
Its big LCD and high ISO settings are nice, but battery life is limited and image quality is average.
Price when reviewed: $349
Current prices
(if available)